Halloween is fast approaching! These creepy Zombie Guts use store bought cinnamon rolls! Perfect for breakfast Halloween morning… and kids LOVE helping make these!
Craving warm and cozy desserts this Fall? Check out these Cinnamon Apples, Sticky Toffee Pudding, Apple Pie Bars, Salty and Sweet Kettle Corn Cookies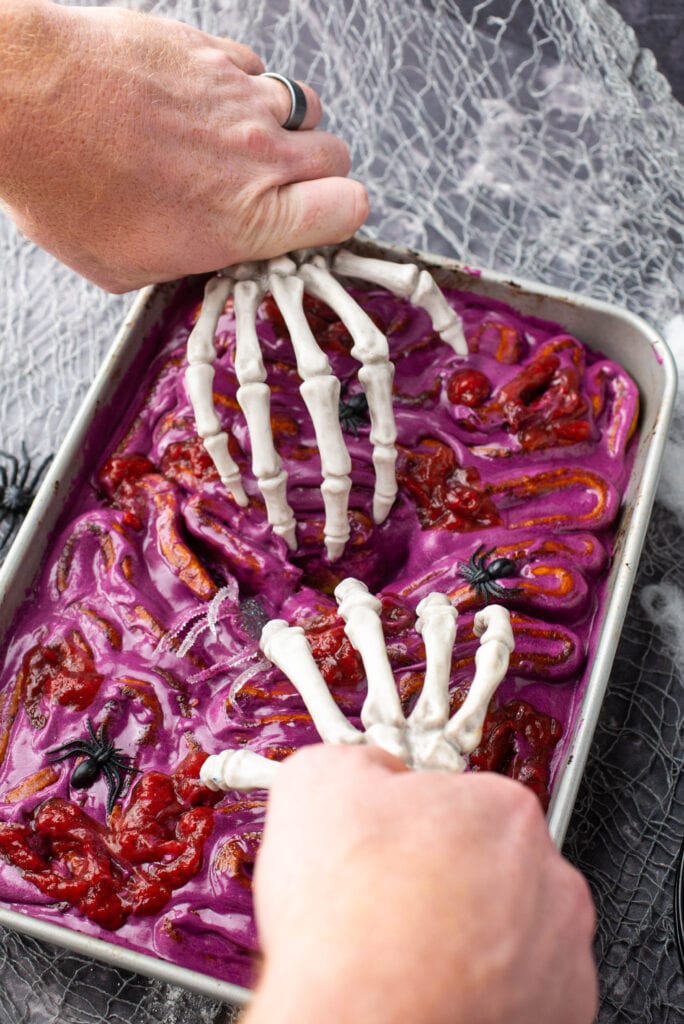 I've seen these over the years and I'm always so grossed out by them. But, at the same time, they are SO fun and really amp up the Halloween spirit! They are made of standard store bought Grands Cinnamon Rolls. They take a little over 20 minutes from beginning to end. You have so many options on how you want to present these – gotta love choices!
Ingredients
Grands Cinnamon Rolls – I used the Original – but use whatever version you prefer – it just HAS to be the Grands
Powdered Sugar
Unsalted Butter
Cream Cheese – I used whipped cream cheese because it is what I had on hand
Kosher Salt
Food coloring of your choice
How to make edible Zombie Guts
Cinnamon Roll Intestines: Open two packages of Grands Cinnamon Rolls. Set the icing aside. Unroll each cinnamon roll. In a 9×13 pan, begin winding each cinnamon roll in the pan in a shape that resembles intestines. Continue with each cinnamon roll. The more variation – the more 'lifelike'. Bake at 400*F for 15-17 minutes.
Cream Cheese Icing: In a medium bowl, add icing from cinnamon rolls, powdered sugar, softened butter, room temp cream cheese, vanilla, and a pinch of salt. Mix until well blended and no chunks of powdered sugar remain.
Dyeing Icing: This is where you can have fun! Personally for me, red is hard to achieve. I used a random combo of red, black, green, orange, and purple to get the purpley-pink you see. I think it's fun and a little bit less super gross and "straight out of a horror movie"! Keep adding and mixing until you are happy with a color you create!
Frosting the cinnamon rolls: Once the cinnamon rolls have finished baking and cool for a few minutes, pour the icing over the pan and spread around. Next, you'll want to use your knife or spatula to help separate the lines to allow the icing to seep into the grooves. This will really allow the Zombie Guts to take shape!! Decorate with plastic spiders, roaches, skulls or anything you think is spooky and the kids will love!
Cut or pull apart (we used skeleton hands) and serve immediately!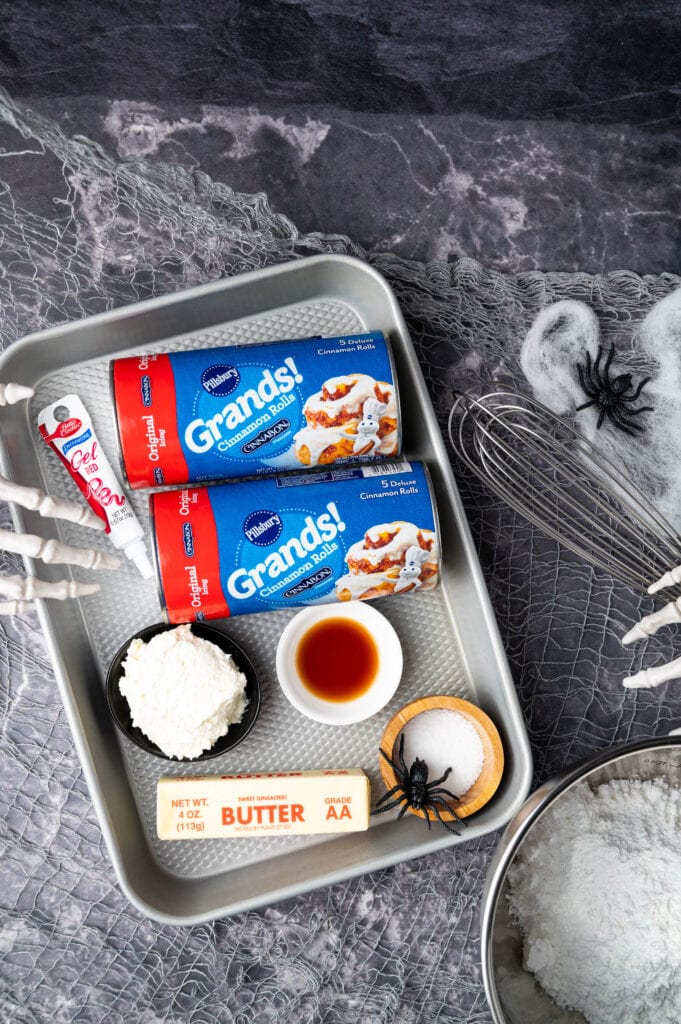 Recipe Alternatives
You can let your imagination run wild here!
I added a few small dollops of low sugar strawberry preserves around these Cinnamon Rolls Intestines and helped them into the grooves with my spatula
If you grew up with cinnamon rolls and chili – I'm talking to you Mid-westerners – I would pull back on the icing by about half and you could add your chili here
Love cinnamon? Add an extra 1/2 teaspoon of ground cinnamon to the icing
You could easily add some fruit – think berries or cherries – and mix them in with the icing
If you want less sugar, mix up the icing that came with the cinnamon rolls and combine until smooth. Add the icing to a small ziplock bag, cut the tip off and drizzle over the Zombie Guts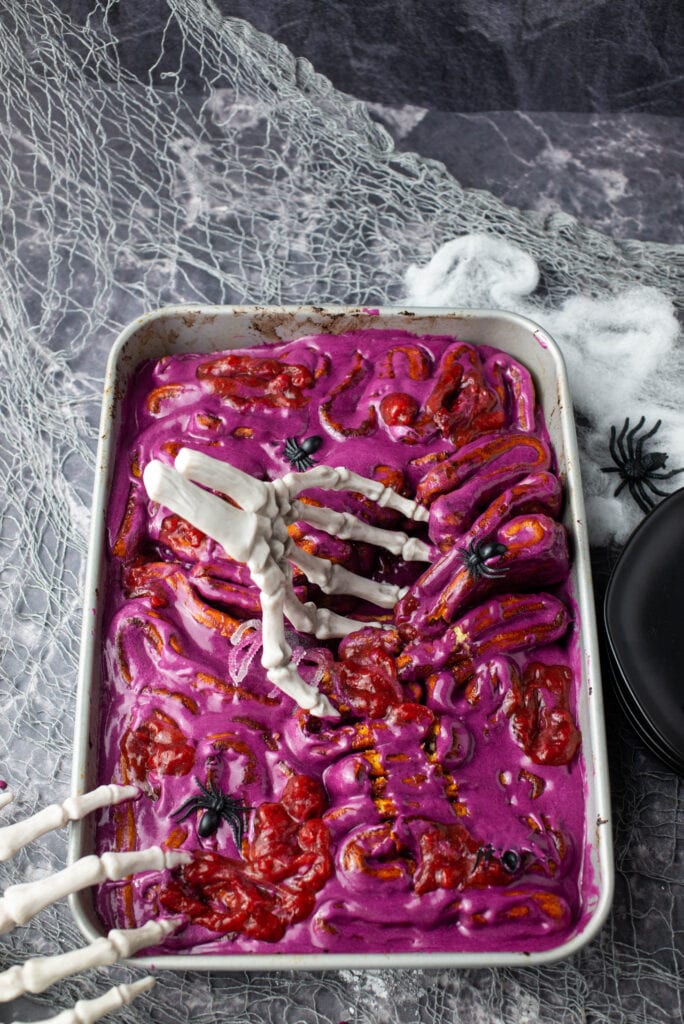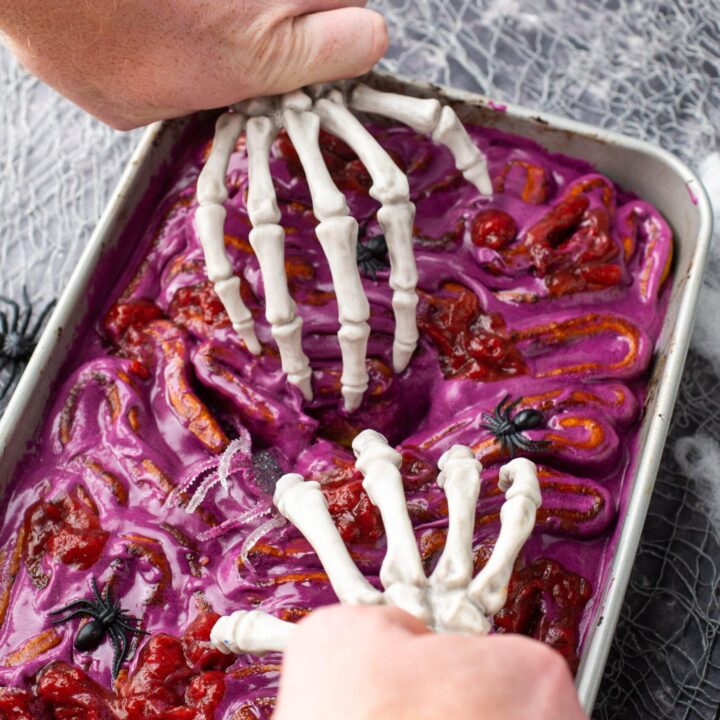 Zombie Guts (Cinnamon Roll Intestines)
Halloween is fast approaching! These creepy Zombie Guts use store bought cinnamon rolls! Perfect for breakfast Halloween morning... and kids LOVE helping make these! 
Ingredients
2 packages Original Grand Cinnamon Rolls (save the tubs of icing)
3/4 cups Powdered Sugar
3 tablespoons Unsalted Butter, softened
1/2 teaspoon Vanilla Extract
1/8 cup (2 tbsp) cream cheese, room temp
Food Coloring of your choice
Instructions
Preheat oven to 400°F (204°C)
Lightly grease a 9x13 baking dish
Unroll all the cinnamon rolls - set the included icing containers aside
Begin winding them into an intestine shape in the baking dish
Continue through all 10 cinnamon rolls - it doesn't have to be perfect the rolls will expand during cooking and fill in most gaps!
Bake for 15-17 minutes until golden brown
While the cinnamon rolls are cooking, make the icing
In a medium bowl, add the icing from the cinnamon rolls, powdered sugar, butter, vanilla, and pinch of salt
With a mixer on medium-low, beat until smooth and no chunks of powdered sugar remain
Slowly add you food coloring of choice or combine whatever colors you have - several drops at a time and mix until coloring is incorporated
Repeat this process until your desired color is achieved
Once the cinnamon rolls are done baking allow to cool for a few minutes
Next, pour the icing over the rolls - use your spatula or knife to help separate the grooves and allow the icing to seep into the cracks highlighting the intestine form
Decorate with any halloween themed props and serve immediately (see notes below)
Notes
If serving to children, please ensure that any decorations are appropriate for the age of child. Please ensure there are no choking hazards and that they can easily be removed from the rolls before eating.
Nutrition Information:
Yield:

10
Serving Size:

1
Amount Per Serving:
Calories:

94
Total Fat:

5g
Saturated Fat:

3g
Trans Fat:

0g
Unsaturated Fat:

1g
Cholesterol:

9mg
Sodium:

71mg
Carbohydrates:

13g
Fiber:

0g
Sugar:

10g
Protein:

1g
The nutritional values above are auto calculated by a nutrition program and can vary based on brands of ingredients used.
This post may contain affiliate links. We are a participant in the Amazon Services LLC Associates Program, an affiliate advertising program designed to provide a means for us to earn fees by linking to Amazon.com and affiliated sites.