40 Clove Garlic Chicken: Chicken thighs cooked in a creamy 40 garlic clove white wine sauce! A lower carb meal packed with a punch of flavor and a hint of sweetness!
Don't miss out on these delicious chicken dishes! Chicken Paprika and Spanish Rice, Instant Pot Butter Chicken and Creamy Cajun Chicken Pasta!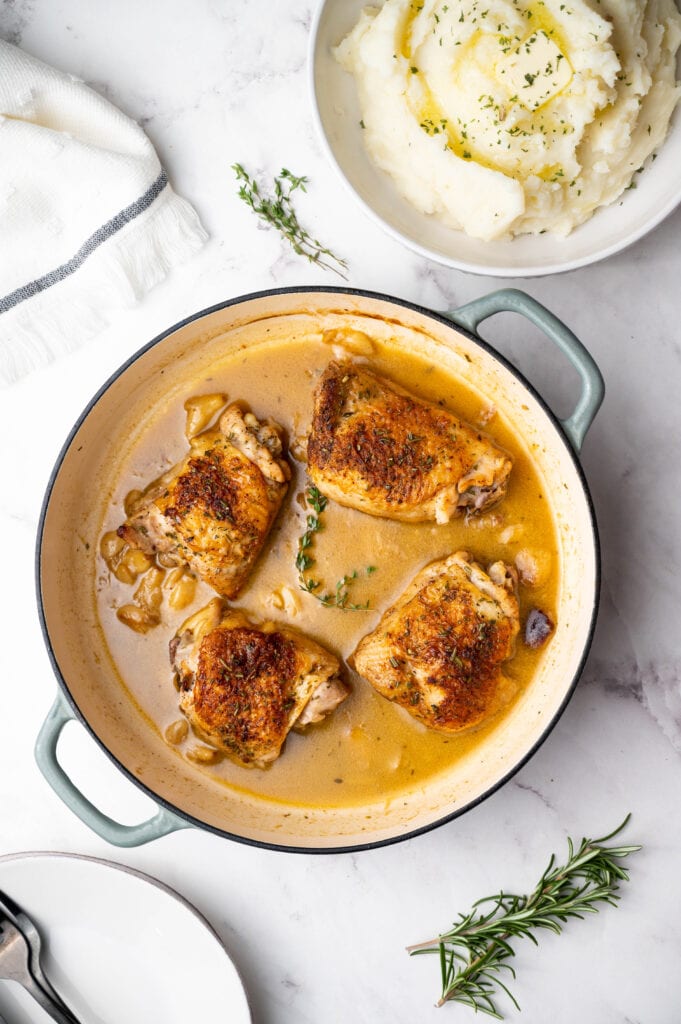 There is something about cooking something delectable and how people just smell it when they walk through the door. Every time I make this, Rick is usually out doing things outside and as soon as he comes in he takes the deepest breath and always says "Yeesss!" That's when I know I'm making something good! In our house, we measure garlic with our hearts. A recipe calls for 1 clove of garlic? We add 5! So this 40 Clove Garlic Chicken is right up our alley! I think most people are surprised how cooking the garlic down allows for a mellow smooth flavor. Even non garlic lovers, love this!
Ingredients
Bone-in, Skin-on Chicken Thighs
Salt
Pepper
Onion Powder
Garlic
Chicken Stock or Chicken Bouillon
White Wine
Thyme
Rosemary
Flour or Cornstarch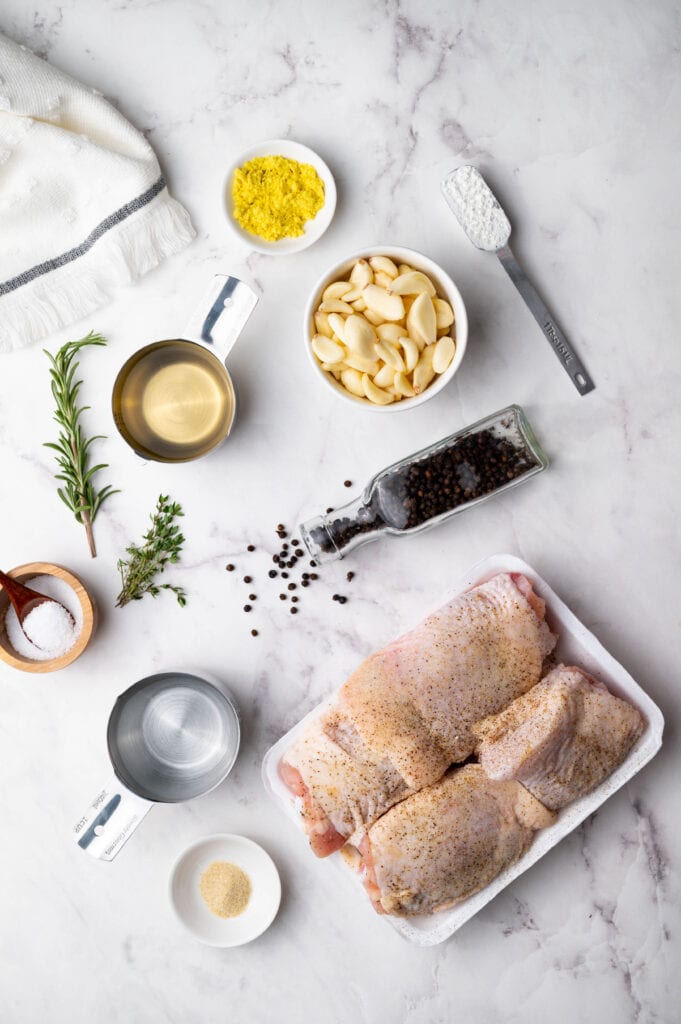 How to Make 40 Clove Garlic Chicken
First, clean your chicken thighs and pat dry. Next, season with some kosher salt, black pepper, and onion powder. Then, begin heating a heavy bottomed pan or dutch oven over medium heat. Add butter. Allow butter to melt. Place chicken into pan skin side down and allow to cook for approximately 5 minutes. Flip the thighs and allow to cook for another 5 minutes.
Remove the thighs from the pan and set aside – make sure to use a bowl of plate with sides to collect the juices. Next, add the garlic to the pan and cook for about 8-10 minutes until the garlic begins to soften. Do not leave the garlic unattended as it can burn if not stirred often enough. Then, add the chicken stock and white wine to the pan. Using a wooden spoon, scrape the brown bits off the bottom of the pan – they make for some additional incredible flavor to this 40 Clove Garlic Chicken. Next, add the chicken back to the pan (juices included). Sprinkle the chicken with the thyme and rosemary. Bring to a simmer, cover the pan and cook on low for 30 minutes.
When 30 minutes is over, please ensure that the cooked temperature is 160°F (71°C). Next, mix the cornstarch with a quarter cup of cold water (or chicken stock) and stir until well combined. Gradually add to the pan liquid and stir until sauce is thickened. If the sauce is too thick, gradually thin out with more water or chicken stock (usually about 1/4 cup of additional liquid). If you like your sauce a little creamier, add a tablespoon of heavy cream. This is totally optional, but ups for coziness of this meal just a tiny bit! Once sauce has thickened and at your desired consistency, remove from heat and serve this Garlic Chicken with your side of choice!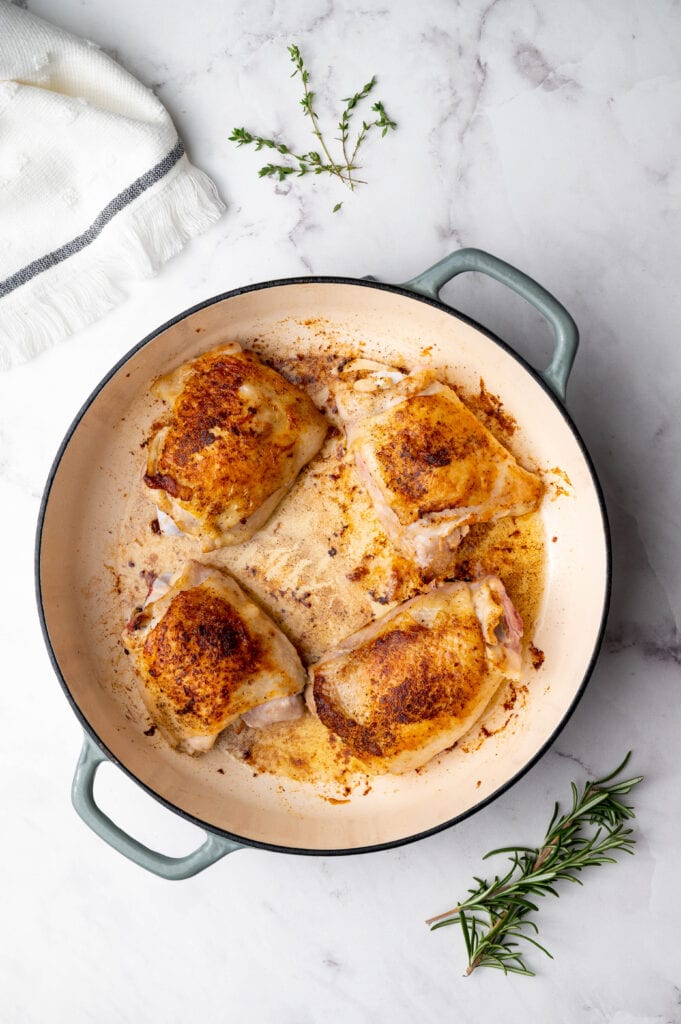 Why so much Garlic?
I know. It sounds like an overwhelming amount of garlic. The name says it all – 40 Clove Garlic Chicken. First, who wants to peel all that garlic? Certainly not me. You'll be happy to know that I get a bag of pre-peeled garlic from my local major grocery store. It has 43 cloves of garlic in it! Makes life so much easier! But, if you're a rebel and like peeling garlic, it's typically right around 3 whole heads of garlic.
Garlic has this incredible tendency to develop a soft, smooth, sweetness when it has the time and ability to cook down. It's very similar to roasted garlic (yes, please!). We love to smear the cooked garlic over some bread along with the rest of the meal. It literally spreads better than butter. Who knew, right?!
I promise that this amount of garlic is not bitter or overbearing in anyway. It smells divine while cooking and as I said above, it develops a sweetness to it that enhances the overall flavor of the chicken. This dish will please the whole family!
What to serve with this Garlic Chicken?
You really can serve this 40 Clove Garlic Chicken with almost anything.
Pasta – I'd suggest a linguini or fettuccini
Rice
Mashed Potatoes
Mashed Cauliflower
Steam some veggies – broccoli, cauliflower, whatever really!
Make some bread and use some of the garlic to make garlic bread
During cooking, the garlic will have softened and sweetened than you can feel free to eat the cloves right along side the chicken!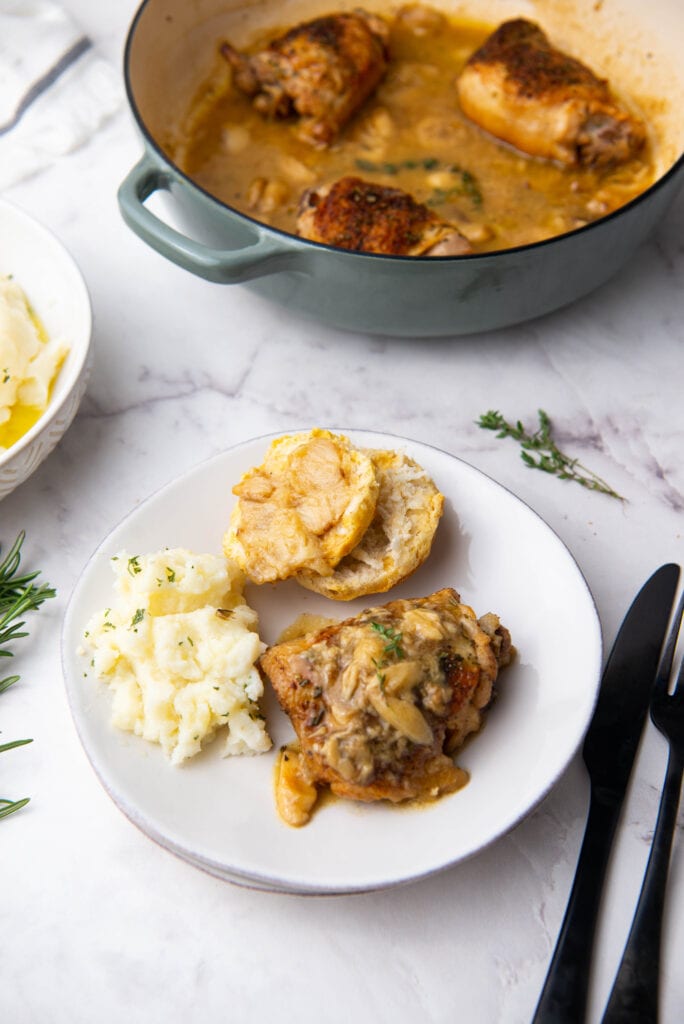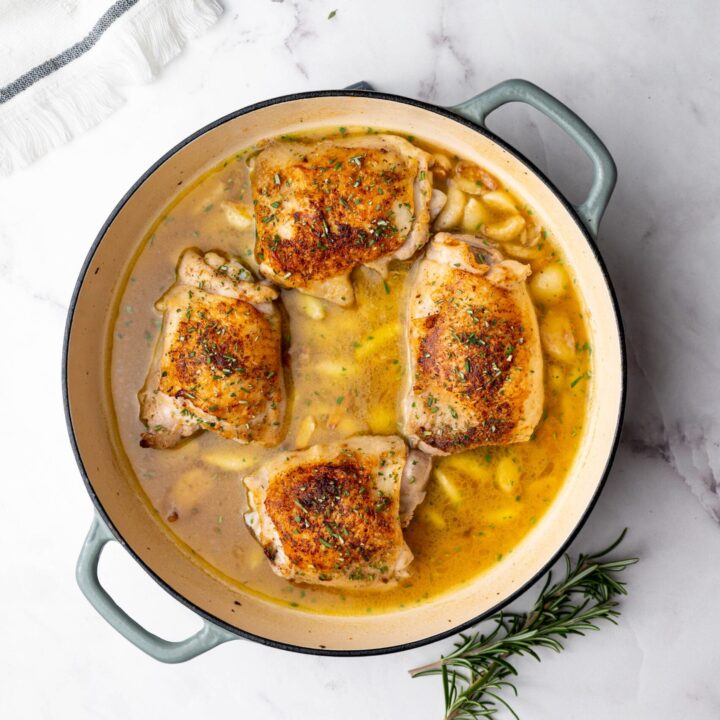 40 Clove Garlic Chicken
Chicken thighs cooked in a creamy 40 garlic clove white wine sauce! A lower carb meal packed with a punch of flavor and a hint of sweetness!
Ingredients
2 tablespoons butter or olive oil
2.5 pounds Bone-in, Skin-on Chicken Thighs (approximately 4-6 thighs)
1 teaspoon Kosher Salt
1/2 teaspoon Black Pepper
1/2 teaspoon Onion Powder
40 cloves Garlic, peeled (see note below)
3/4 cup Chicken Stock
3/4 cup White Wine
1 sprig fresh Rosemary, finely chopped
4-5 spring of fresh Thyme, finely Chopped
1/2 tablespoon Cornstarch
1/4 -1/2 cup water (or chicken stock)
(optional) 1 tablespoon heavy cream or milk - for just a little bit of extra creaminess!
Instructions
Clean and pat dry chicken thighs.
Season both sides with kosher salt, pepper, and onion powder.
Next, over medium heat, melt the butter and add the chicken thighs skin side down. Allow to cook undisturbed for 5 minutes.
Then, flip the thighs and cook for another 5 minutes.
Next, remove the chicken from the pan and set aside in a vessel that will collect any juices while resting.
Add the garlic cloves to the pan (if you find that most of the fat has been cooked off, add a pat of butter or a tablespoon of oil)
Stirring every minute or so, allow the garlic to cook in the fat and begin to soften.
Pour in the white wine and chicken stock and stir until combined.
Next, add the chicken thighs and accumulated juices back to the pan and sprinkle chicken with the finely chopped rosemary and thyme.
Reduce heat to low and bring to a gentle simmer.
Once simmering, cover and cook for 30 minutes.
After 30 minutes, ensure that the chicken is cooked through - 160°F (71°C).
Then, make the slurry of cornstarch and 1/4 cup of water (or chicken stock) and mix until smooth.
Gradually add the slurry into the pan liquids and stir until thickened.
You may add up to another 1/4 cup of water or chicken stock to help thin out the sauce if you find it too thick.
Note: The sauce can reduce down more than intended during cooking - adding more liquid gradually ensures that the sauce reach the desired consistency won't become too liquified.
Optional: If you desire more creaminess to the sauce, feel free to add a tablespoon of heavy cream and stir until combined.
Serve immediately with your sides of choice!
Notes
We get a bag of pre-peeled garlic cloves at our local grocery store. It will cover this recipe with a few bulbs left over. If you prefer to peel the garlic yourself, 3 full heads of garlic should be enough.
This recipe has been tested with bone-in, skin-on chicken thighs. We cannot attest to boneless skinless chicken (whether thighs or breasts) in the directions given here.
Nutrition Information:
Yield:

4
Serving Size:

1
Amount Per Serving:
Calories:

390
Total Fat:

19g
Saturated Fat:

6g
Trans Fat:

0g
Unsaturated Fat:

12g
Cholesterol:

156mg
Sodium:

831mg
Carbohydrates:

17g
Fiber:

1g
Sugar:

2g
Protein:

32g
The nutritional values above are auto calculated by a nutrition program and can vary based on brands of ingredients used.
This post may contain affiliate links. We are a participant in the Amazon Services LLC Associates Program, an affiliate advertising program designed to provide a means for us to earn fees by linking to Amazon.com and affiliated sites.