Look no further than this family friendly 25 minute Creamy Cajun Chicken Pasta for a quick and easy weeknight meal! Easily customizable sub in Shrimp and any of other veggies you prefer!
I love 30 minute meals. They make life after a busy day that much easier. Here is another one of my favorties. Try this Easy Pesto Risotto.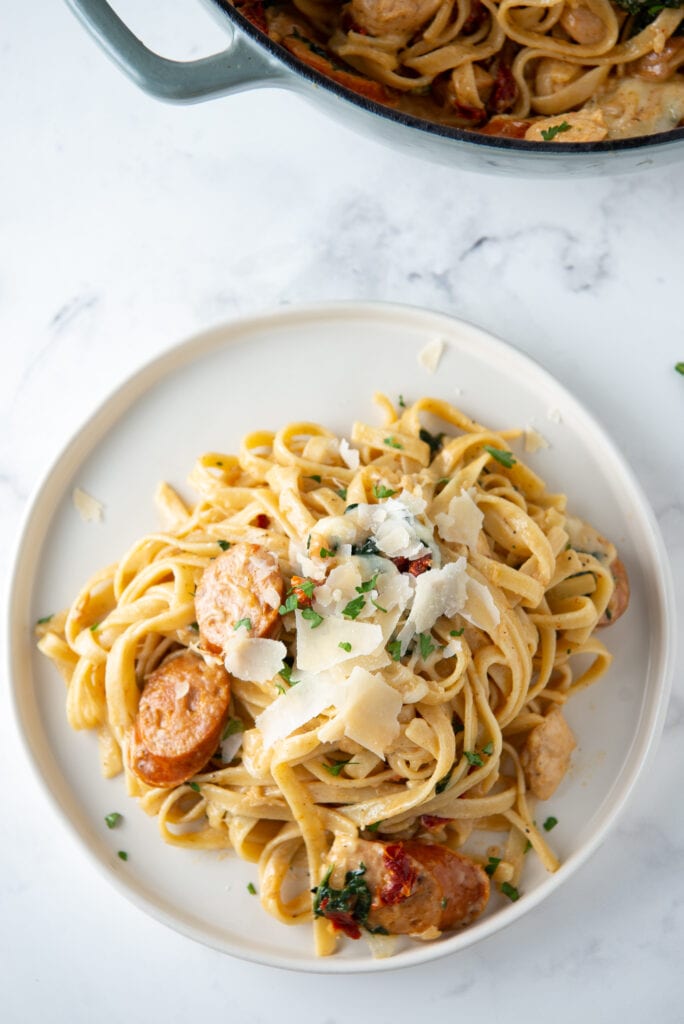 If you stick around here long enough, you'll find out that I have an immense love for cajun flavors. What more can you ask of a Southern Girl? This is not a super spicy dish, but it also does not lack in flavor. I am all for a meal that can be ready in less than 30 minutes. My full-time job requires a lot of brainpower during the day, so usually the easier the better for me!
Ingredients
Chicken Tenders – refer to this video for an easy hack to remove the tendon without wasting meat!
Andouille Sausage
Fettuccini
Butter
Yellow Onion
Minced Garlic
Fresh Basil
Fresh Baby Spinach
Heavy Cream
Chicken Stock
Sun Dried Tomatoes – I buy pre-cut Julienne Cut Sun Dried Tomatoes in a bag not stored in oil from my local grocery store produce department
Kosher Salt and Fresh Cracked Pepper
Cayenne Pepper
Shaved Parmesan
Shredded Mozzarella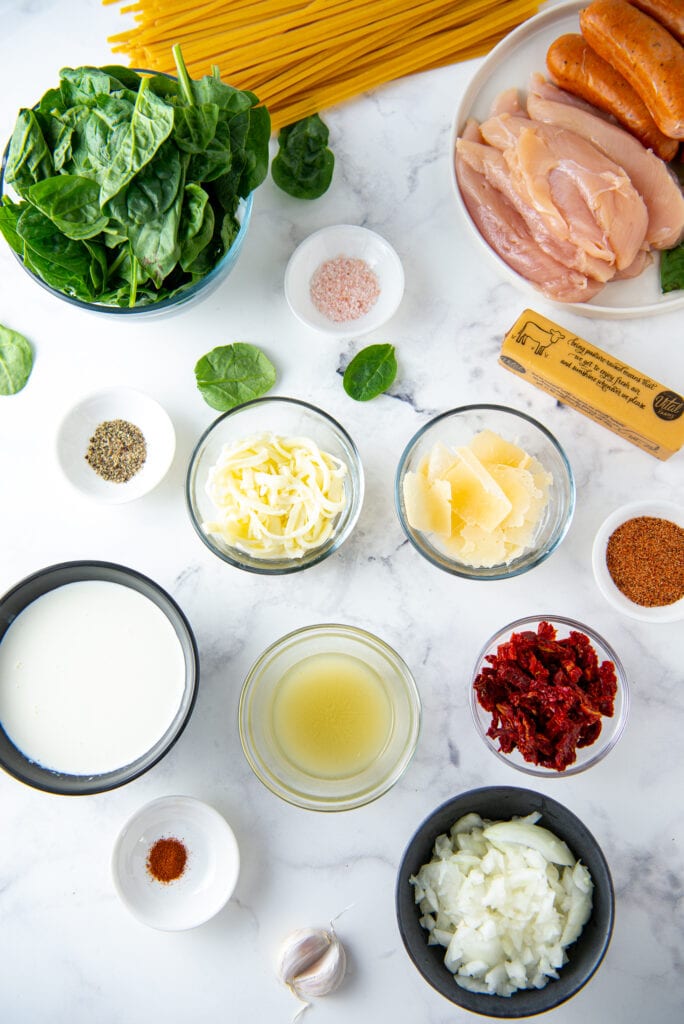 How to make Creamy Cajun Chicken Pasta
Cook Fettuccini according to package directions
If using chicken tenders, remove the tendons from the meat
Cube the chicken and slice the sausage
Add butter and cook chicken and sausage until cooked through
Brown the onion and garlic, add cajun seasoning
Add basil and cook for about 1 minute
Add heavy cream and chicken stock, cook until sauce thickens slightly – 2-3 minutes
Next, add sun dried tomatoes, salt, pepper, and cayenne – stir until combined
Add cheese and stir until melted
Toss with pasta and enjoy!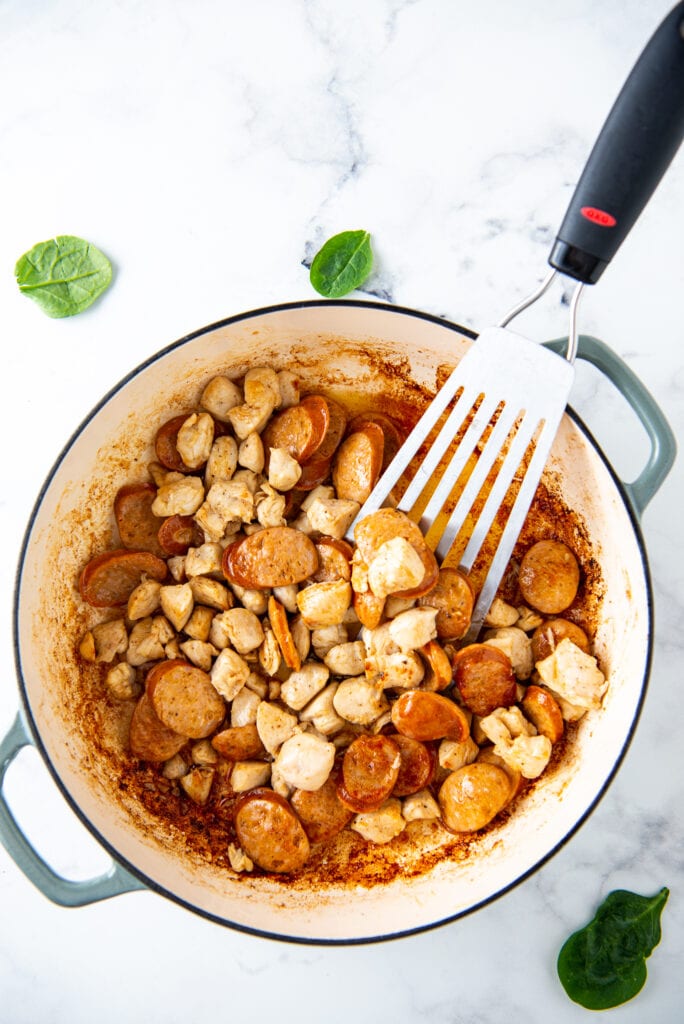 Creamy Cajun Chicken Pasta Recipe Alternatives
Exchange Heavy Cream for Whole Milk – I typically have heavy cream on hand and really think it adds to the creaminess of the recipe. The fuller fat the milk, the creamier it will be.
Exchange Fettuccini noodles for a Penne or Ziti Noodle – I usually use what I have on hand. They swap out 1:1.
Andouille Sausage typically has a nice kick of heat behind it. If you are looking to swap it out for something with less heat, consider subbing it out for a Chicken Sausage. My grocery store has a Cajun Chicken Sausage that carries very little heat but a nice flavor.
If you aren't a big sausage fan, you can leave it out all together. Consider adding shrimp or even more chicken depending on your cravings that day!
Feel free to add more fresh spinach, since… you know… it cooks down to be just about nothing 😉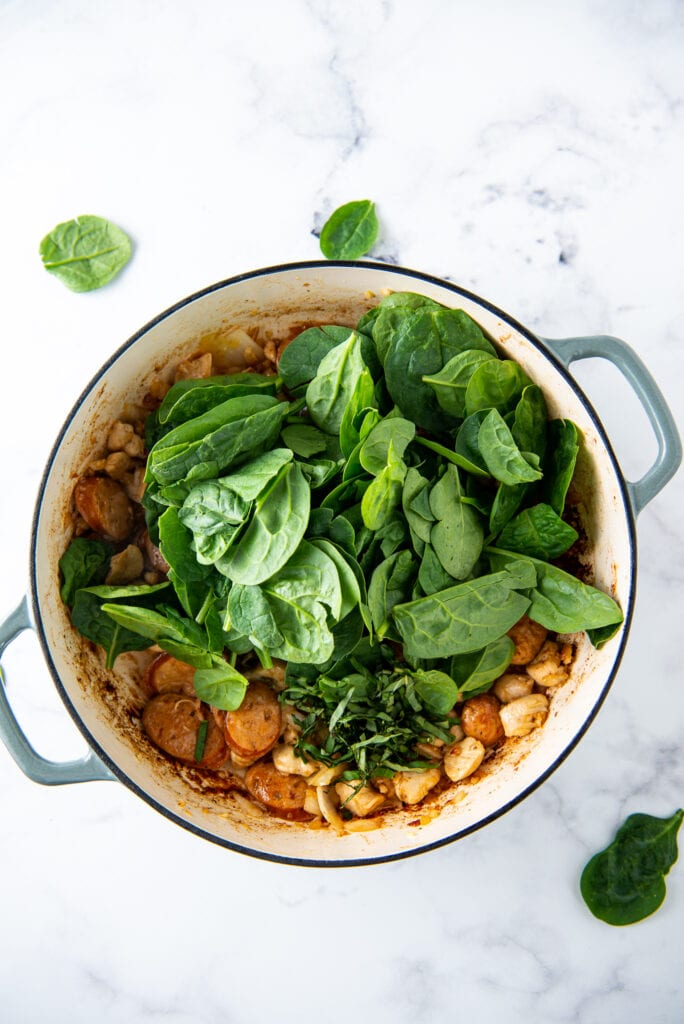 Tips for Creamy Cajun Chicken Pasta
Freshly shredded or shaved cheese. This is always essential to a recipe where you are melting cheese. Many pre-shredded cheeses have additives to help preserve their freshness. These additives usually prevent the cheese from melting properly. It is also important to add your cheese in batches and then mixing until melted.
Whatever you do, make sure when you add both the cream/milk and cheese that you are not adding it to the pot while it is at a rolling boil. It is best added at a Medium to Medium Low temperature. This will provide a nice boiling point without allowing it to seize.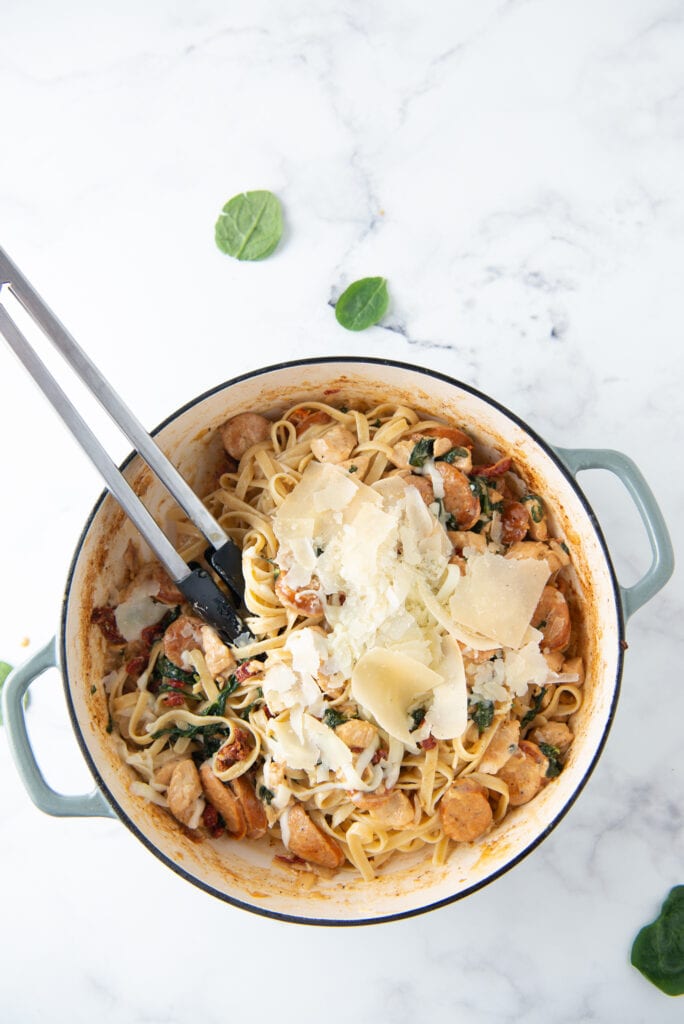 Can I make this recipe in advance?
My personal advice is yes and no. If you want to retain the creamy quality of this Creamy Chicken Cajun Pasta recipe, I would not make it in advance. Pasta has a tendency to absorb a lot of the sauce. If you don't mind the pasta soaking up the sauce, then feel free to make it a head of time. It really comes down to your personal preference.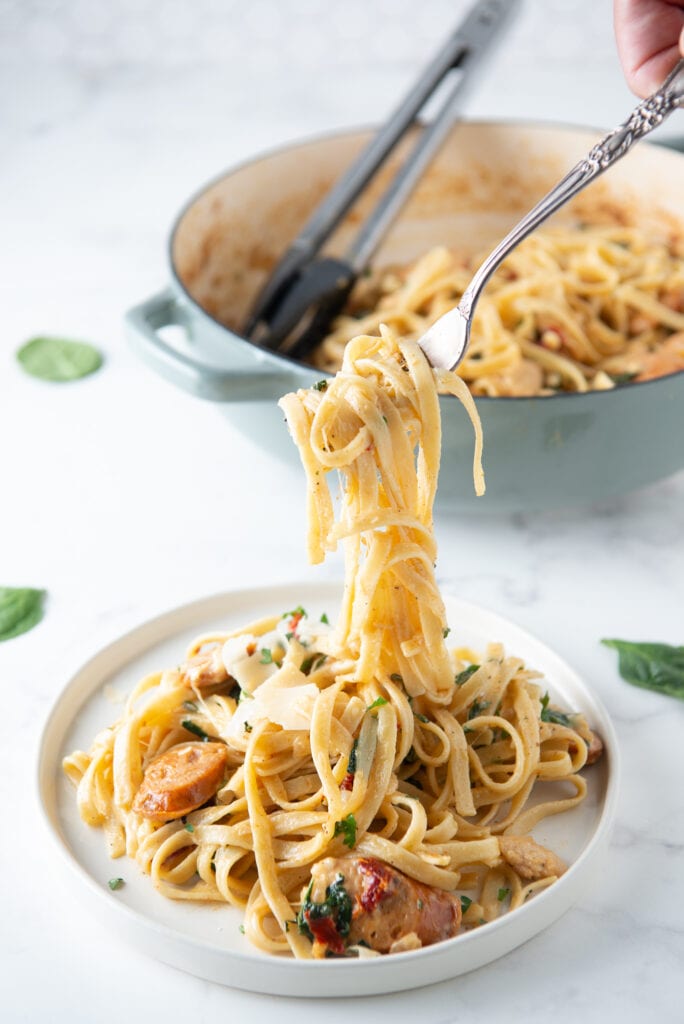 I made this for some friends a little while ago and even an 18 month old couldn't get enough. So, it's kid approved, which is a pretty incredible thing! It is a quick and easy dinner idea that will hit all the right notes especially after a long day. It is one of my husband's favorite meals and if I were to guess, we make it at least once a month.
Do you love easy flavor packed Cajun Inspired Recipes?! Then you'll also love this Chili Mac and Cheese!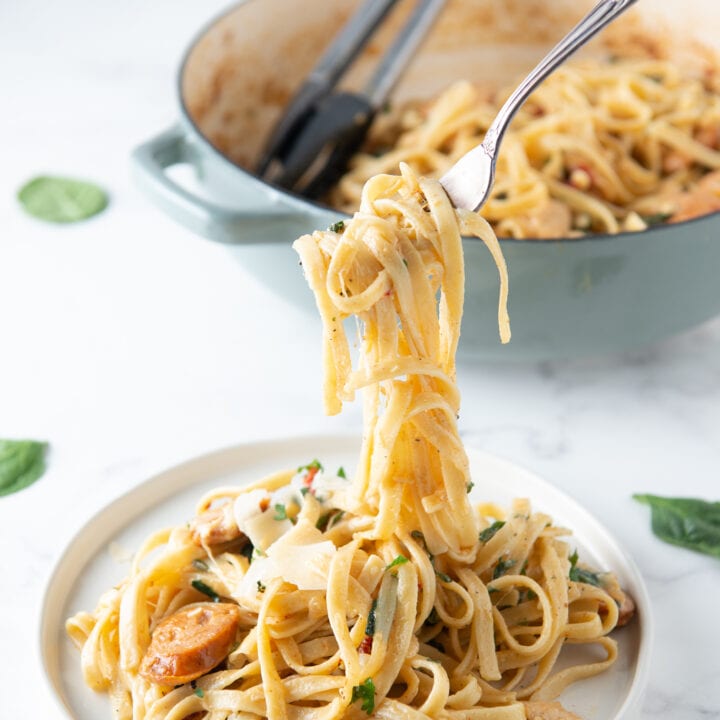 Cajun Chicken Alfredo
Ingredients
1 pound Chicken Tenders, sliced or diced
1/2 pound Andouille Sausage, sliced
8 ounces Fettuccini
1 1/2 teaspoons Cajun Seasoning
4 tbsp butter
1/2 medium onion, diced
2 cloves minced garlic
4 fresh large basil leaves, chopped
5 ounces fresh spinach
3/4 cup heavy cream
1/4 cup chicken stock
1/4 cup Sun Dried Tomatoes, chopped
1/2 teaspoon kosher salt
1/4 teaspoon fresh cracked black pepper
1/8 cayenne pepper
1/4 cup shredded parmesan
1/4 cup shredded mozzarella
Parsley, for decoration
Instructions
Boil a pot of well salted water and cook Fettuccini according to package directions
Salt and pepper chicken tenders
Add butter to deep sided skillet and melt
Then, add chicken and sausage to heated skillet until cooked through
Add the onion and garlic and cook until the onions soften
Sprinkle the cajun seasoning over skillet ingredients
Toss chopped basil into skillet and cook for approximately 1 minute
Pour heavy cream and chicken stock into skillet and and heat until sauce thickens
Add sun dried tomatoes, salt, pepper, and cayenne pepper - stir until combined
Next, add cheese and stir until melted
Toss pasta through skillet and serve immediately
Nutrition Information:
Yield:

6
Serving Size:

1
Amount Per Serving:
Calories:

617
Total Fat:

44g
Saturated Fat:

19g
Trans Fat:

1g
Unsaturated Fat:

21g
Cholesterol:

117mg
Sodium:

1552mg
Carbohydrates:

32g
Fiber:

2g
Sugar:

3g
Protein:

25g
The nutritional values above are auto calculated by a nutrition program and can vary based on brands of ingredients used.
This post may contain affiliate links. We are a participant in the Amazon Services LLC Associates Program, an affiliate advertising program designed to provide a means for us to earn fees by linking to Amazon.com and affiliated sites.