Here are 20 Last Minute Thanksgiving Side Dishes to finish your menu off right! Sides might just be my favorite part of Thanksgiving. From Mashed Potatoes to Mac and Cheese to Cornbread Stuffing to Green Bean Casserole there is no shortage of dishes that I dream of.
Don't miss out on these Easy and Delicious Thanksgiving Desserts!
Easy Thanksgiving Side Dishes
It may not be the side dish found on everyone's Thanksgiving table, however, this Creamy Mac and Cheese is a crowd pleaser! You can't go wrong with the combination of 5 melty cheeses and a silky smooth sauce! It is THE ultimate comfort dish. Better yet, you can have this on the table in under 30 minutes!
This Creamed Corn is a beautiful, comforting side dish that is creamy and slightly sweet from natural corn sweetness. This recipe for creamed corn uses ears of fresh corn, cream, milk, butter, flour, and a touch of sugar. It's better than anything from a can and will be a perfect easy side dish for the holidays.
These sautéed apples are lightly sweetened with maple syrup and are quick and easy to prepare! They're also gluten-free, vegan, paleo and dairy-free.
This delicious Cranberry Orange Sauce recipe is a classic that is perfect for Thanksgiving and the holiday season. It is super easy to make with a few simple ingredients and can be made ahead of time!
Thanksgiving Vegetable Side Dishes
These easy Crispy Fried Brussels Sprouts are tossed in a Sweet Thai Chili sauce! They are made in minutes and make the perfect side!
Sheet Pan Maple Balsamic Roasted Vegetables are full of flavor and come together quickly. Perfect for a weeknight meal addition, or to impress your holiday guests, these are the best roasted vegetables ever!
Beautifully roasted carrots with a caramelised glaze of maple syrup and mustard are a great vegetable side dish to a roast dinner. This recipe is a simple but super yummy change to boring plain carrots, yet fuss-free and easy.
Thanksgiving Casseroles
One of my favorite new things to make in the Instant Pot is Twice Baked Potato Casserole. This dish is already incredibly delicious, and the instant pot makes putting it together a breeze.
This veggie-loaded Vegan Cauliflower Casserole is layered with ooey-gooey cheese, topped with buttery breadcrumbs and then baked to perfection. It's easy and delicious!
Skip the same old green bean casserole this year. This easy Parmesan Bacon Green Bean Casserole gives the classic a whole new flavor that will rock the holiday season! Crispy bacon, parmesan cheese and topped with everyone's favorite fried onions. Only a few ingredients and it comes together in no time!
Jiffy Corn Casserole is a side dish that is made with a mixture of corn, corn bread, sour cream, cheese, onions, and peppers… and a lot of butter. It is a slightly sweet, yet savory, side dish. It has the perfect consistency, somewhere between soft bread and pudding.
Stuffing and Dressing Recipes
A necessary Thanksgiving Side Dish: This Spicy andouille sausage, juicy shrimp, chewy bread cubes and sweet cornbread make this Spicy Cajun Cornbread Dressing recipe a total hit for the holidays!
This Cornbread Sausage Stuffing is so easy and is the perfect comfort food to add to your Thanksgiving menu. This recipe isn't stuffed into the Turkey but baked in a casserole dish and it serves an army!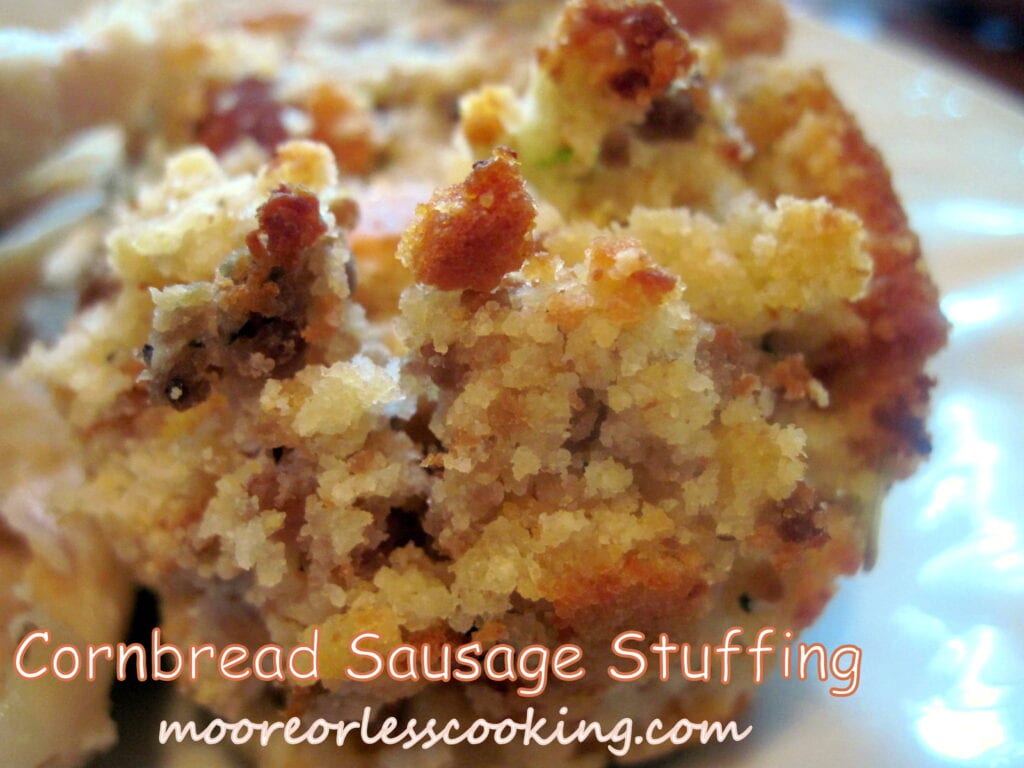 Thanksgiving Side Dishes: Potatoes
These Ranch Potatoes are bursting with flavor! Crispy outsides and tender insides. They are the perfect side to almost any meal! Plus, it's only 7 ingredients! If you are looking for something other than mashed potatoes, this make the perfect Thanksgiving Side Dish!
Perfectly Baked Sweet Potatoes have a deliciously soft, sweet, and fluffy inside with a crispy flavorful outside. Impossible to resist, learn how to bake sweet potatoes using my foolproof method and serve them sweet or savory, as an easy dinner, side dish, or as a light lunch – they're perfect for every occasion!
Classically delicious, Scalloped Potatoes with Cheddar, has tender buttery potatoes in a white sauce and topped with cheddar.
This easy oven baked Roasted Sweet Potatoes, Apples, and Cranberries casserole recipe is one of those go-to dishes that you will be making over and over. This is a simple, tasty, and healthy side dish, and these potatoes are sweet and savory and full of delicious fall flavors everyone loves.
Thanksgiving is the perfect time to make this Easy Potatoes Romanoff. You can even make it in the slow cooker, if you are looking for a more hands off approach!
Candied Sweet Potatoes is an easy side dish recipe that tastes like a dessert. Tender sweet potato rounds are covered in a rich, buttery glaze. It's so decadent!
This cream cheese mashed potatoes recipe is full of cream cheese, sour cream and butter, making them creamy, buttery and full of flavor. Rich and indulgent, they are the perfect side dish for any holiday.