This Creamy Mac and Cheese is a crowd pleaser! You can't go wrong with the combination of 5 melty cheeses and a silky smooth sauce! It is THE ultimate comfort dish. Better yet, you can have this on your table in under 30 minutes!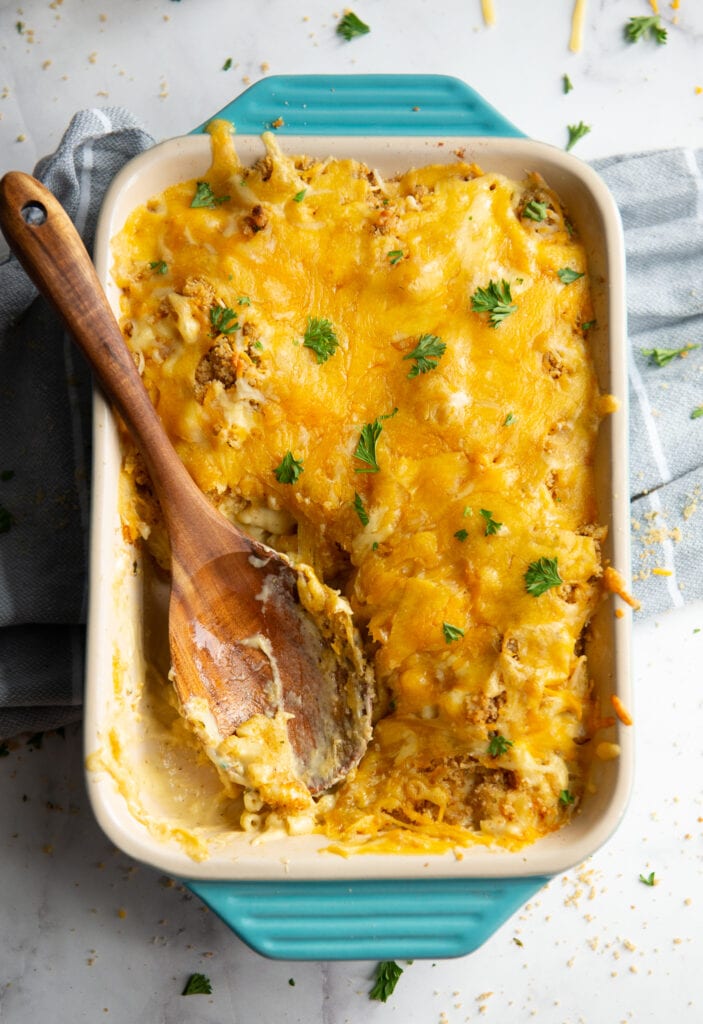 Y'all know this blog is about Comfort Food, right? Well, look no further than this seriously Creamy Mac and Cheese. It's perfect year round. Whether you are having a great day or need a pick me up. In my family it is dubbed The BEST Mac and Cheese… and it is. My Aunt Cheryl who is a pretty dang good cook herself said it was "The best mac and cheese" she's had in "her whole life". Now, that's a humbling compliment.
I've spent years tweaking and perfecting this recipe. I've also spent years keeping it a secret, but it's too good to not share! I promise you won't have any leftovers when you serve this to a crowd!
Ingredients
Elbow Macaroni
Unsalted Butter
Flour
Whole Milk or Heavy Cream
Full Fat Cream Cheese
Spicy Brown Mustard or Stone Ground Dijon
Kosher Salt
Fresh Cracked Black Pepper
Regular Velveeta Cheese
Smoked Gouda, Sharp Cheddar, Colby Jack
Paprika
Seasoned Panko Breadcrumbs
Black Truffle Oil (optional)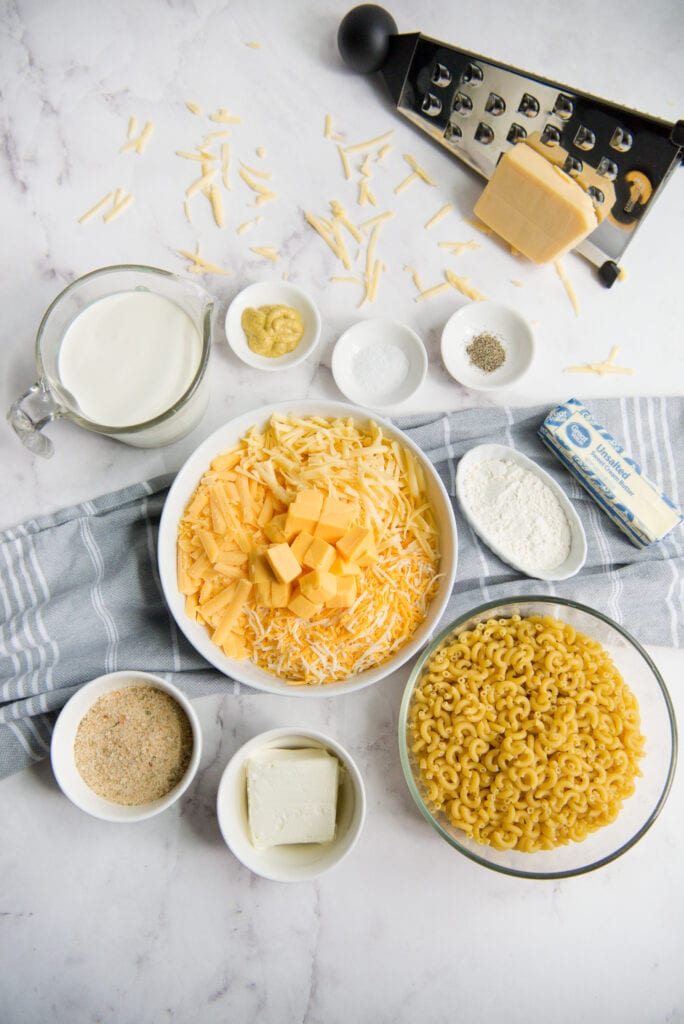 How to make Creamy Mac and Cheese
Start a pot of water on the stove and bring to a boil. Once the water is boiling, add about 2 tablespoons of Kosher Salt to the boiling water and allow to dissolve
Next, prepare the elbow macaroni noodles to almost al dente. This means under cook the noodles by about a minute. They will continue to cook while baking in the oven
Once noodles are done, save about 1/2 cup of pasta water before draining
While the noodles are cooking, melt the butter in a heavy bottom deep sided skillet over medium heat
Once the butter is melted, add the flour and create a roux, cook off the flour for approximately one minute
Next, add the milk or heavy cream (or a combination of both – totally a personal preference)
Then, add the mustard, salt, and pepper and stir until combined
Next, add the Velveeta cheese and stir until melted
Continue adding the remaining cheeses making sure to melt after each addition
Once all the cheeses have been added and melted add the drained noodles to the cheese sauce and fold to combine
My secret trick is to add about 2 teaspoons to the mixture and gently stir to combine (this is totally an optional step but I think it kind of kicks things up a notch!)
Add to prepared baking dish and lightly sprinkle with paprika
Top with breadcrumb mixture and remaining cheese
Bake the macaroni and cheese at 350*F for about the 15-20 minutes or until cheese is awesome and bubbly!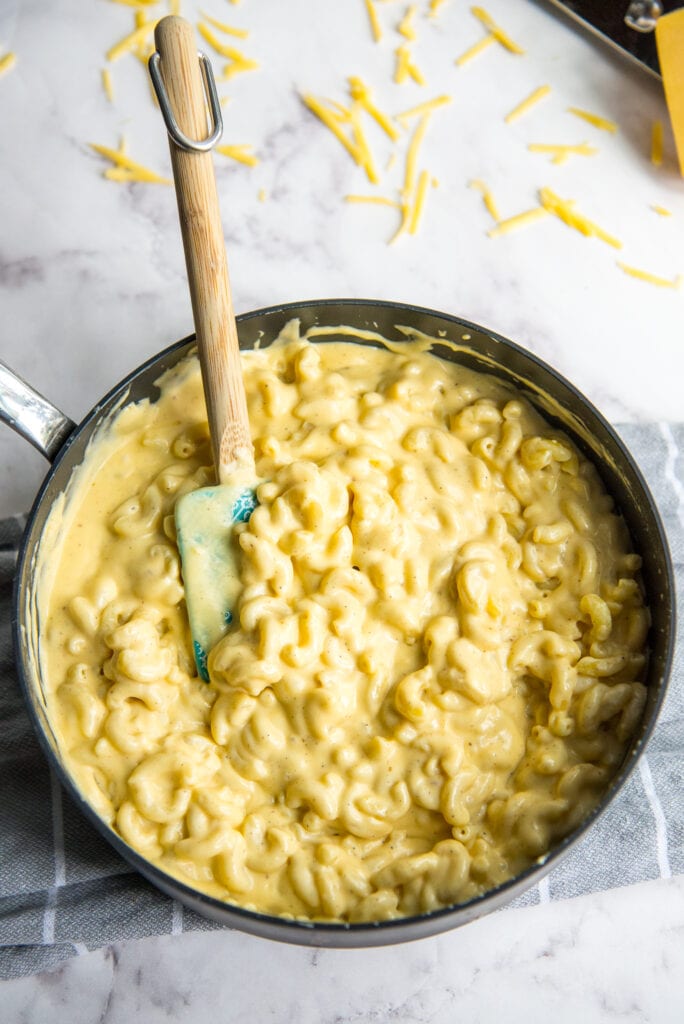 Tips for the Creamiest Mac and Cheese
These are my tips for the best creamy mac and cheese!
Do not allow the cheese sauce to cook down too much as your sauce will thicken – if this happens add a tablespoon of pasta water at a time to help thin the sauce back out
It's important to follow the measurements for the cheeses as closely as possible – to much cheese and your sauce will be too viscous and too little and it will be too soupy
So just remember if it is too thick: use some of that pasta water we saved earlier and use one tablespoon at a time help help thin it out
If it is too soupy: add more cheese about 1/4 cup at a time and melt until you reach your desired consistency
Use full fat milk or heavy cream to make this. Reduced fat milk will not give you the creamy texture mac and cheese deserves
Do not use reduced fat cheese – I've tried it once and it was devastating. Learn from my mistake 😉
I recommend shredding your own cheese. Pre-shredded cheese has potato flour to help preserve the freshness but also thickens your sauce more as you continue to add cheese. However, if all you have on hand is pre-shredded cheese, it will work just fine, you might need to add more liquid to keep that delicious cheese sauce creamy
This isn't necessarily a tip for making the creamiest mac and cheese, but more so to remind you to taste your sauce and make sure you are happy with the flavor before baking. Sometimes, I find that different cheeses can absorb your seasoning more than others, so be sure to take a quick taste and adjust as needed
Variations of Mac and Cheese
The beauty of macaroni and cheese is that you can alter it to be whatever you want it to.
Cheese: You can pretty much use any combination of cheese that you prefer – want a little heat without too much commitment? Add some Pepper Jack Cheese. YUM
Add meat: Bacon is a great addition to mac and cheese. But, do yourself a favor, make a BBQ Pulled Pork, shred it and top this mac and cheese with it. You're welcome.
Play with seasoning: I've amped this up and swapped kosher salt with Cajun Seasoning and a little sprinkle of Cayenne Pepper
I know I mention using Black Truffle Oil. I promise it does kick the flavor up a notch. But a little goes a long way. Whatever you do… do not use white truffle oil. That will send this dish sideways super quick!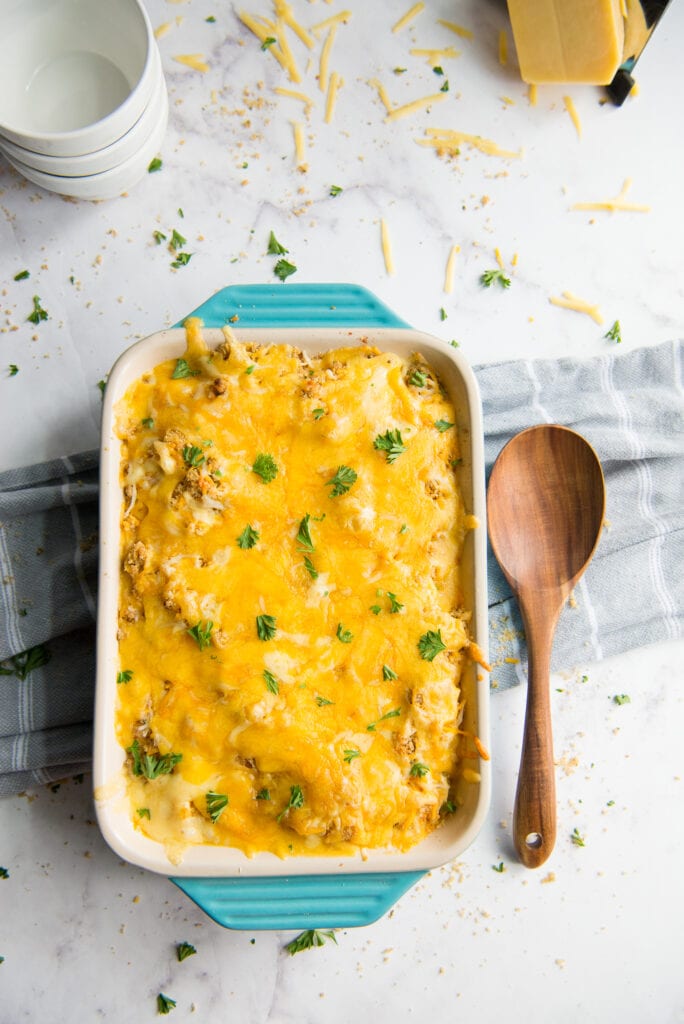 Can this be made ahead of time?
It can, but do not bake it. You can prep this ahead of time – I would say no more than a day. Make sure that it is tightly covered and stored in the fridge. Once you take it out in preparation for baking, let it sit on the countertop for at least 30 minutes to allow it to start warming back up to room temp. You may need to adjust cooking time to make sure the macaroni and cheese cooked through.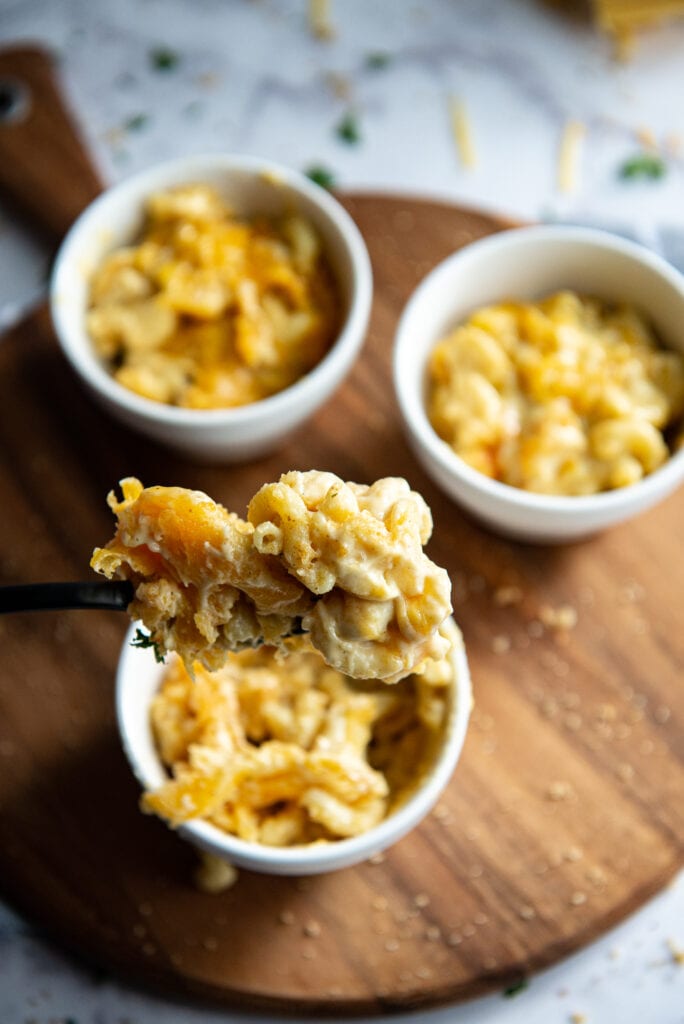 How to store leftovers?
If you have any leftovers of this macaroni and cheese , you can store it in the fridge for 3-4 days in an airtight container. Keep in mind that it will not retain all of its creaminess because the noodles will soak up some of that moisture the longer it sits. It is best served fresh out of the oven but, will still be dynamite to nosh on a couple of days later!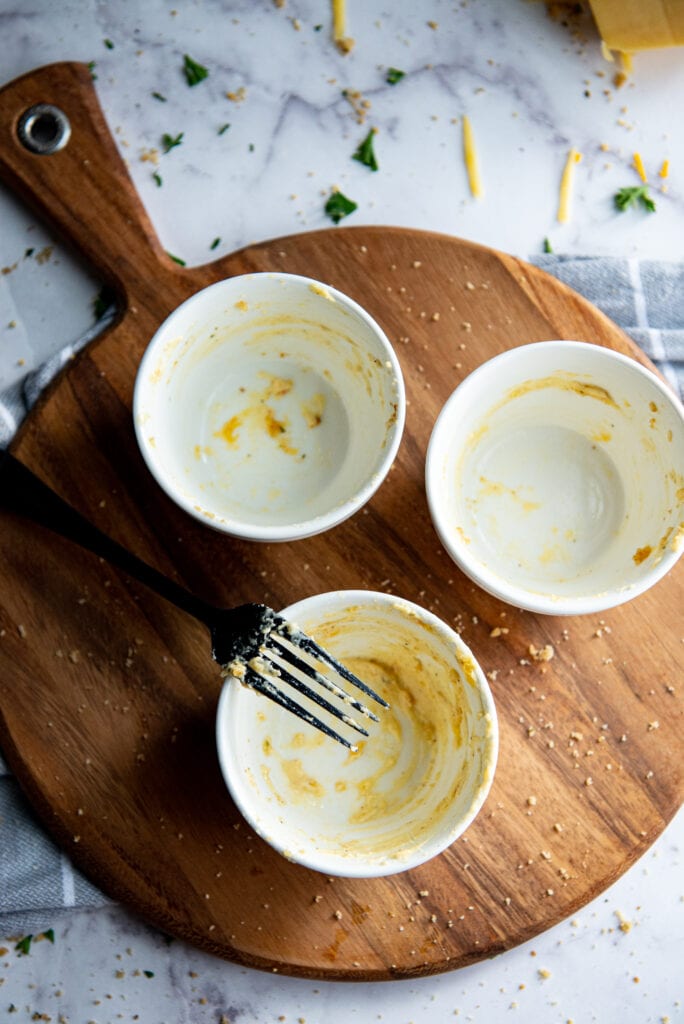 This is my all-time favorite comfort meal. I know must people think of mac and cheese as a side. But, for me, this is all I need. Give me a bowl straight from the oven and I'm happy as a clam. It's so creamy, flavorful, and warm. If I could make it and give it to everyone I know, especially these days, I would. This Creamy Mac and Cheese is good for the soul and filled with love. Now come on… let's go make some good food!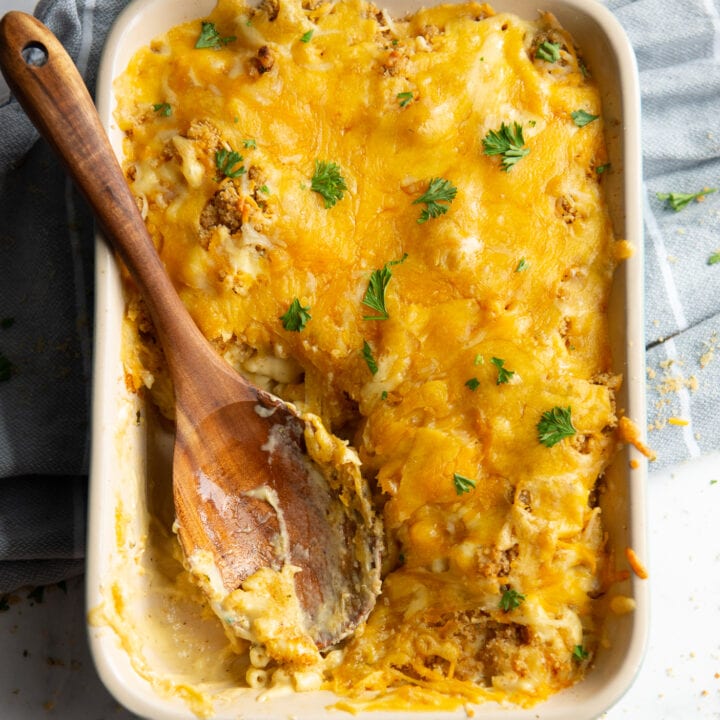 The Best Mac and Cheese Recipe
This Creamy Mac and Cheese is a crowd pleaser! You can't go wrong with the combination of 5 melty cheeses and a silky smooth sauce! It is THE ultimate comfort dish. Better yet, you can have this on your table in under 30 minutes!
Ingredients
12 ounces Elbow Macaroni
4 tablespoons Unsalted Butter
2 tablespoons Flour
2 Cups Whole Milk
4 ounces Cream Cheese, room temperature
1 1/2 tablespoons Spicy Brown Mustard
Kosher Salt, to taste (approx. 1-2 teaspoons)
Fresh Cracked Black Pepper, to taste (approx 1/2-1 teaspoon)
3 ounces Regular Velveeta Cheese, cubed
4 ounces Smoked Gouda, shredded and divided
8 ounces Sharp Cheddar, shredded and divided
8 ounces Colby Jack, shredded and divided
2 teaspoons Paprika
1/2 cup seasoned panko breadcrumbs
2 tablespoons unsalted butter, melted
2 teaspoons Black Truffle Oil (optional)
Instructions
Preheat oven to 350*F
Prepare an 11x7 dish and lightly spray or butter inside of dish
Boil large stockpot of water for noodles.
Once water is boiling, season water with Kosher Salt (DO NOT add oil to water)
Cook noodles until just al dente - save approx. 1/2 cup water from noodles
Drain noodles and set aside
While noodles are cooking, add 4 tablespoons unsalted butter to deep heavy bottomed skillet over medium heat
Once butter is melted, add flour and stir to create a roux
Stir roux for about a minute to thoroughly cook flour
Next, slowly add milk and stir until combined
Add cream cheese, then break up and stir until melted
Then, add mustard, salt, and pepper
Stir until combined
Add velveeta and stir until melted
Add 3 ounces Smoked Gouda, 6 ounces Sharp Cheddar, 6 ounces Colby Jack, stir until melted
If cheese mixture is looking too thick, add 1 tablespoon of pasta water at a time until it reaches desired consistency
If choosing to use Black Truffle Oil, add this to mixture and gently combine, if omitting move to next step
Pour mixture into prepared baking dish
Sprinkle paprika over the top of mixture
Combine breadcrumbs and melted butter and crumble over the top of Mac and Cheese
Cover with remaining cheese
Bake for 15-20 minutes or until cheesy is bubbly and just beginning to brown
Nutrition Information:
Yield:

8
Serving Size:

1
Amount Per Serving:
Calories:

589
Total Fat:

43g
Saturated Fat:

25g
Trans Fat:

0g
Unsaturated Fat:

14g
Cholesterol:

122mg
Sodium:

856mg
Carbohydrates:

27g
Fiber:

2g
Sugar:

6g
Protein:

25g
The nutritional values above are auto calculated by a nutrition program and can vary based on brands of ingredients used.
This post may contain affiliate links. We are a participant in the Amazon Services LLC Associates Program, an affiliate advertising program designed to provide a means for us to earn fees by linking to Amazon.com and affiliated sites.