Key Lime Sheet Cake: The ultimate Summer dessert! Packed with a sweet yet subtle tang of key lime flavor. This cake feeds a crowd and is a family favorite!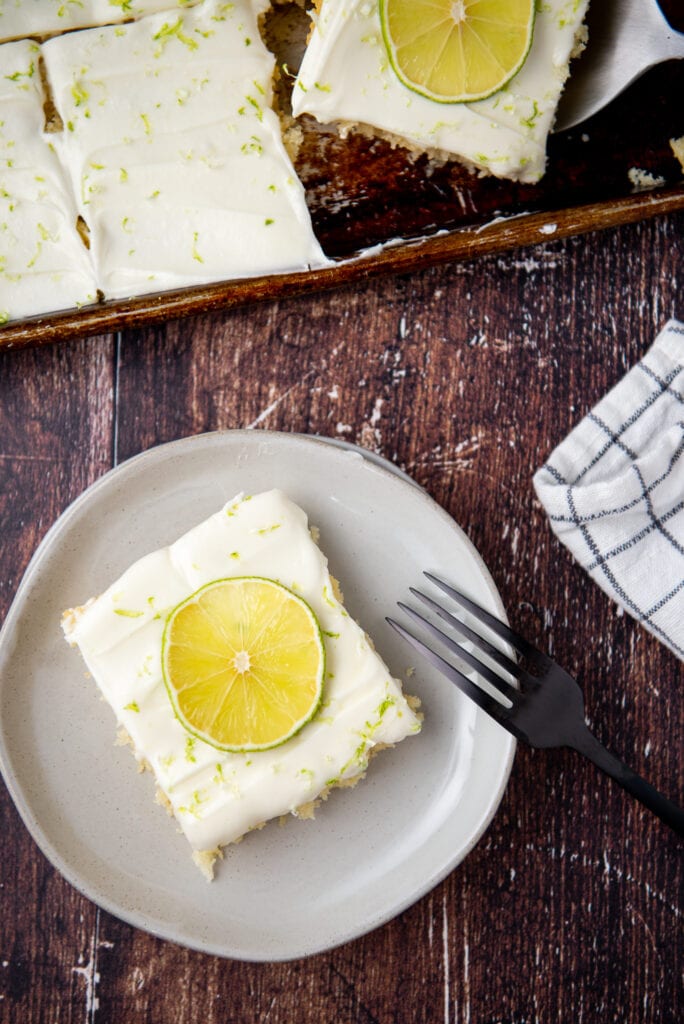 I began making Key Lime pies with my dad when I was a kid. I feel in love with the sweet tartness of those little limes. I'm really picky about key lime flavor. Some key limes recipes are just too sweet. I need that tart bite for it to feel real! This recipe was born from my love of Key Lime and my grandma's favorite Texas Sheet Cake. It's super easy and is the perfect addition to any Summer gathering!
Ingredients
Sheet Cake Batter
Unsalted butter
Water
Key Lime Juice – Fresh is always best but Key Limes can be difficult to find, and they're tiny so you need a bunch! Unlike most recipes that bill themselves as Key Lime they are typically just Lime recipes. The juice I've linked here has been a staple in our house for YEARS. I've been able to find it near the bottled juices in my local grocery store, Target, WalMart, etc.
Flour
Baking Soda
Salt
Sugar
Eggs
Sour Cream
Vanilla Extract – I typically use clear extract in this recipe to keep the color of the batter light, but if you only have dark extract, use it, just beware that your batter will darker.
Syrup
Cream Cheese Icing
Butter
Cream Cheese
Powdered Sugar
Vanilla Extract – see note above about clear vs dark extract
Key Lime Juice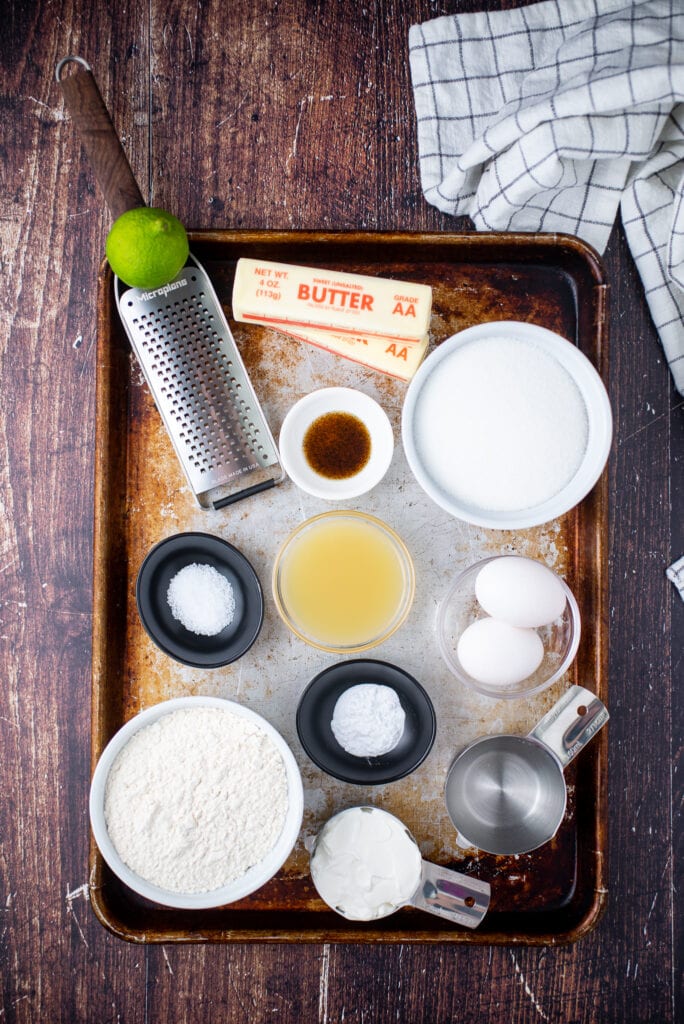 How to make Key Lime Sheet Cake
Melting Butter: In a medium sauce pan, melt butter then add water and key lime juice. Bring to a quick boil, then remove from heat and allow to cool while making the batter.
Cake Batter: Combine flour, salt, baking soda, and sugar in a mixing bowl. Add sour cream, and eggs and mix until well combined. Next, slowly pour in melted butter mixture. Mix on low as batter will be very thin. Scrape down sides and bottom of the bowl several times during mixing. Pour batter into a prepared jelly roll pan.
Baking Cake: Bake at 350*F for 20 minutes.
Syrup: a few minutes before the cake is done. baking, combine key lime juice and sugar over medium heat and allow sugar to melt. Once cake is done baking, use a fork to poke hole over the top of the cake. Drizzle or brush on syrup over warm cake. Allow to cool before icing.
Cream Cheese Icing: Add softened butter and cream cheese to mixing bowl and beat on medium-high for about 90 seconds or until well combined. Next, turn down mixer to low and begin adding powdered sugar in batches allow to fully incorporate between additions. Next add, vanilla and key lime juice and gradually increase speed to medium high and allow to mix for an additional 90 seconds until no powdered sugar pieces remain.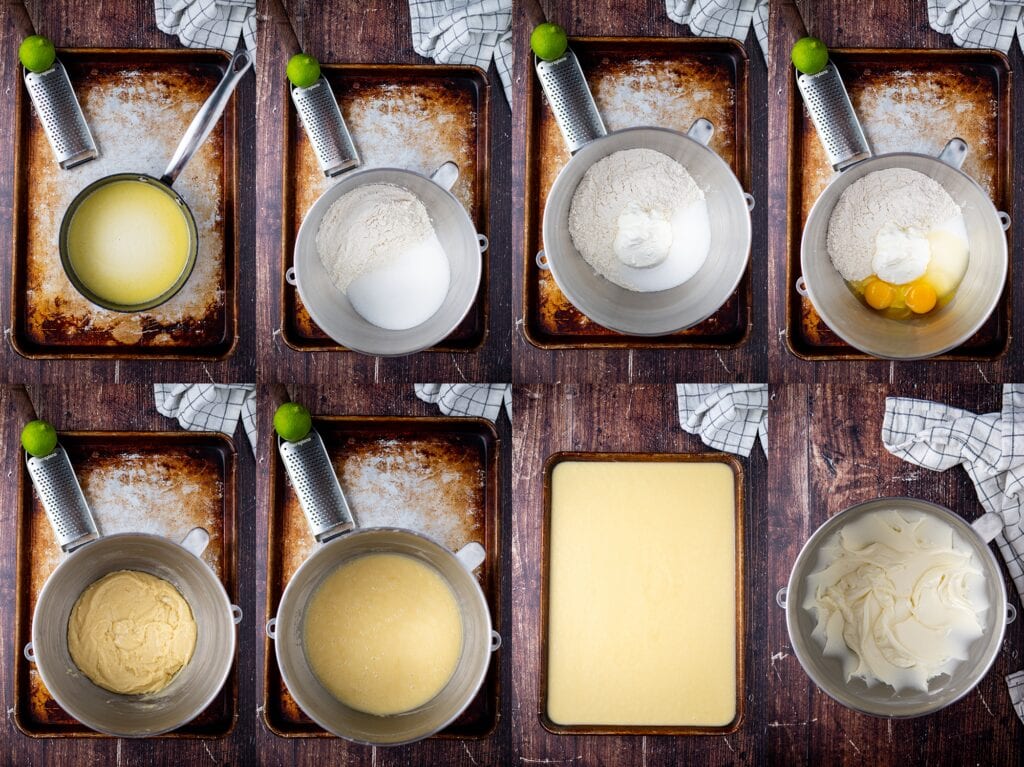 Convert this recipe to a Coconut Key Lime Sheet Cake
It couldn't be easier to convert this Key Lime Sheet cake into an even more tropical-y flavored Coconut Key Lime Sheet Cake. All you need to do is replace the standard milk measurement in this recipe with coconut milk and add two tablespoons of Cream of Coconut when the recipe calls for melting the butter. Continue with the recipe below, however, feel free to add shredded coconut to the top of the cake once it has been iced. I prefer toasted coconut.
How to toast coconut
There are a few ways to toast your coconut – in the oven, on the stove, and if you can believe it right in your microwave. For this recipe, I suggest using sweetened shredded coconut as opposed to unsweetened. Keep an eye on your coconut – sweetened tends to brown a little faster because of the sugar. However, either way, they can burn quickly if not watched.
Oven Method – This process will take 5-10 minutes
Preheat oven to 325*F. Spread 1-1.5 cups on a cookie sheet in a thin layer. Stir coconut every few minutes to ensure even toasting. I urge you to not walk away from the oven. They can go from toasted to burnt VERY quickly. Once done to your desired toastiness, allow to cool for several minutes before scattering over the top of the icing.
Stovetop Method
In a heavy bottomed skillet, add coconut and heat over medium-low heat. Stir constantly to help coconut toast evenly. Once your shredded coconut is toasty and golden brown, remove from heat and allow to cool before scattering over the top of the icing.
Microwave Method
This method will need to be done in batches. Place 1/2 cup of shredded coconut on a microwave safe plate. Microwave in 30 second increments and stir in-between. Continue to microwave 30 seconds at a time until coconut is thoroughly toasted. Repeat process 1/2 cup at a time.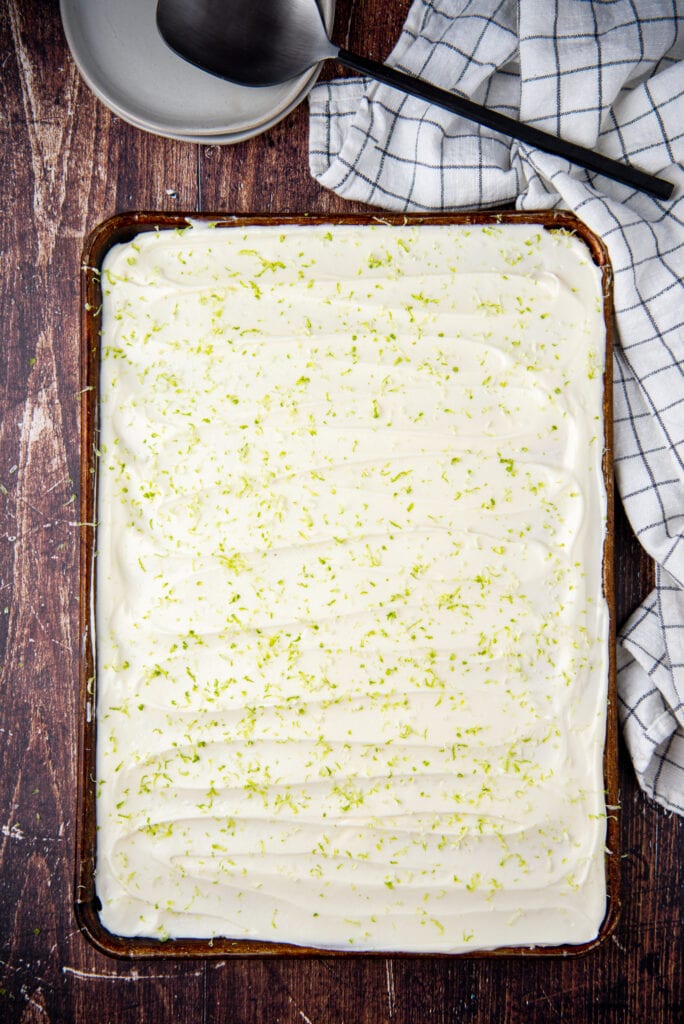 What if I can't find Key Lime Juice?
If you cannot find Key Lime Juice or prefer to use regular lime juice, you can do so. You will need to make the following alterations to the recipe.
Melted butter: Instead of 1/2 cup water and 1/2 cup Key Lime juice, replace with 1/3 lime juice and 2/3 cup water.
Syrup: make a 1:1 replacement swapping out the juice for lime juice
Cream Cheese Icing: Use 1-2 tablespoons of lime juice. Taste the icing after incorporating 1 tablespoon to determine if you desire another tablespoon.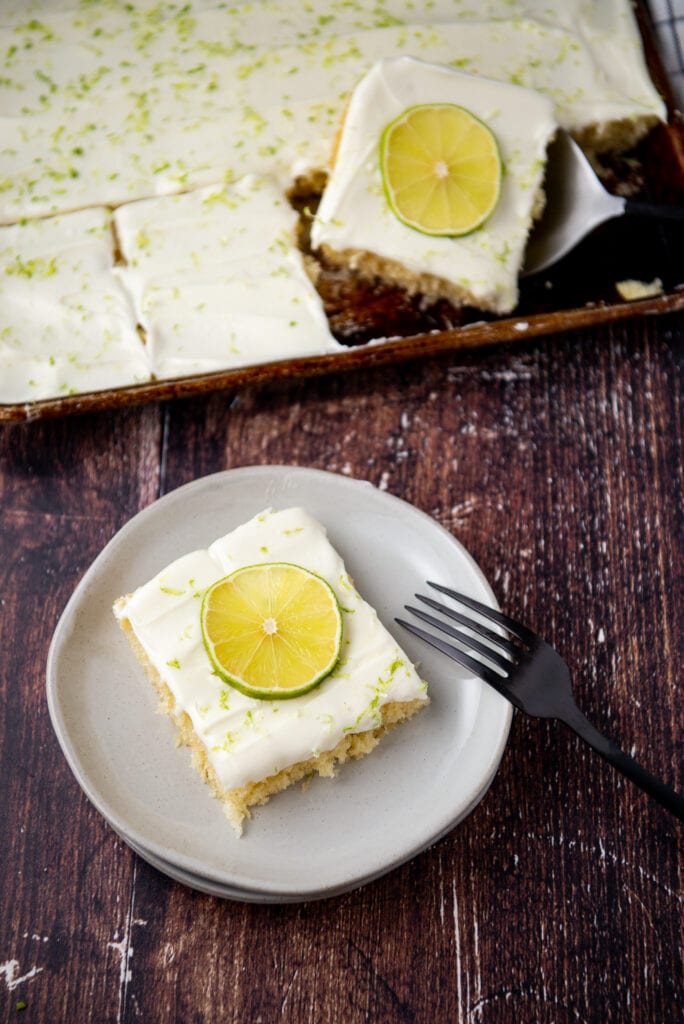 I love transforming old family recipes and giving them new life, like this Pumpkin Caramel Dump Cake. Sheet cakes are a delicious past time in our family. This fresh take on a traditional sheet cake is a refreshing addition to any Summer get-togethers. Do yourself a favor and give this Key Lime Sheet Cake a try!
Don't miss out on these Summer favorites: The Best Lemon Bars, Buffalo Chicken Dip and Blackberry Margaritas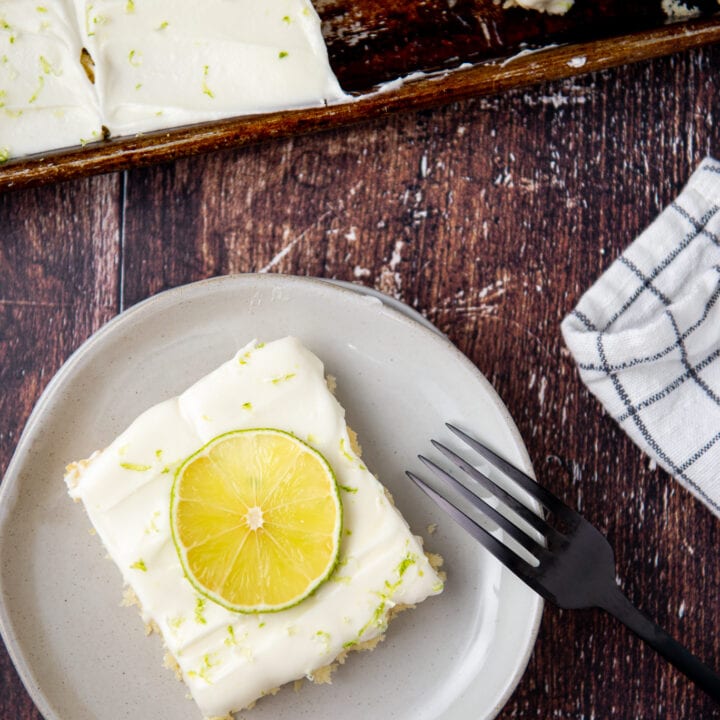 Key Lime Sheet Cake
Key Lime Sheet Cake: The ultimate Summer dessert! Packed with a sweet yet subtle tang of key lime flavor. This cake feeds a crowd and is a family favorite!
Ingredients
Key Lime Sheet Cake Batter:
1 cup butter, softened
1/2 cup water
1/2 cup key lime juice
2 cups flour
1 tsp baking soda
1 tsp salt
2 cups sugar
2 eggs beaten
1/2 cup sour cream
1 teaspoon vanilla extract
Key Lime Syrup:
2 tablespoons key lime juice
2 tablespoons sugar
Key Lime Cream Cheese Frosting:
1/2 cup Butter (softened)
8 ounce Cream Cheese (softened)
4 - 4 1/2 cups Powdered Sugar
1 teaspoon vanilla extract
2 Tablespoon Key Lime Juice
Instructions
Preheat oven to 350* and prepare a 13x18 jelly roll pan with Bakers Joy (or another baking spray with a flour base)
In a medium saucepan over medium heat, melt butter
Add water and key lime juice to butter and bring to a boil
Once boiling, remove butter mixture and allow to cool
Next, combine flour, salt, and baking soda in a mixing bowl and whisk together
Then, add sugar and combine
Incorporate sour cream and one egg at a time - beating between each addition
Add vanilla and slowly incorporate butter mixture
Scrape down the sides and bottom of mixing bowl several times to ensure all ingredients are thoroughly combined
Pour batter into prepared jelly roll pan and bake for 20 minutes or until a toothpick comes out of the center of the cake clean
Next, in a small sauce pan, add key lime juice and sugar and cook until all sugar is dissolved
Once out of the oven, quickly poke holes over the cake using a fork
Pour or brush sugar mixture over the cake and allow to cool
In a clean mixing bowl, add the butter and cream cheese and mix on medium high until light and fluffy
Reduce mixer speed and begin adding 1/2 cup of powdered sugar at a time mixing well between each addition
Add vanilla and key lime juice to icing, gradually increase the speed of the mixer back to a medium-high setting and allow to continue mixing for another 90-120 seconds ensuring that all powdered sugar has been incorporated
Notes
This recipe usually takes 4 cups of powdered sugar. If you find the consistency too thick add a tablespoon of extra powdered sugar at a time until you reach your desired consistency
Nutrition Information:
Yield:

20
Serving Size:

1
Amount Per Serving:
Calories:

715
Total Fat:

21g
Saturated Fat:

12g
Trans Fat:

1g
Unsaturated Fat:

7g
Cholesterol:

74mg
Sodium:

350mg
Carbohydrates:

133g
Fiber:

0g
Sugar:

120g
Protein:

3g
The nutritional values above are auto calculated by a nutrition program and can vary based on brands of ingredients used.
This post may contain affiliate links. We are a participant in the Amazon Services LLC Associates Program, an affiliate advertising program designed to provide a means for us to earn fees by linking to Amazon.com and affiliated sites.