Instant Pot Butter Chicken: Skip the take-out and make this rich and creamy restaurant quality Butter Chicken! It's ready in 30 minutes and will soon become your next favorite meal!
Need more Instant Pot or One Pot Meals? Check out this Apple Cider Pork Tenderloin, Instant Pot Pork Belly Ramen, 40 Clove Garlic Chicken, or this One Pot Chili Mac and Cheese!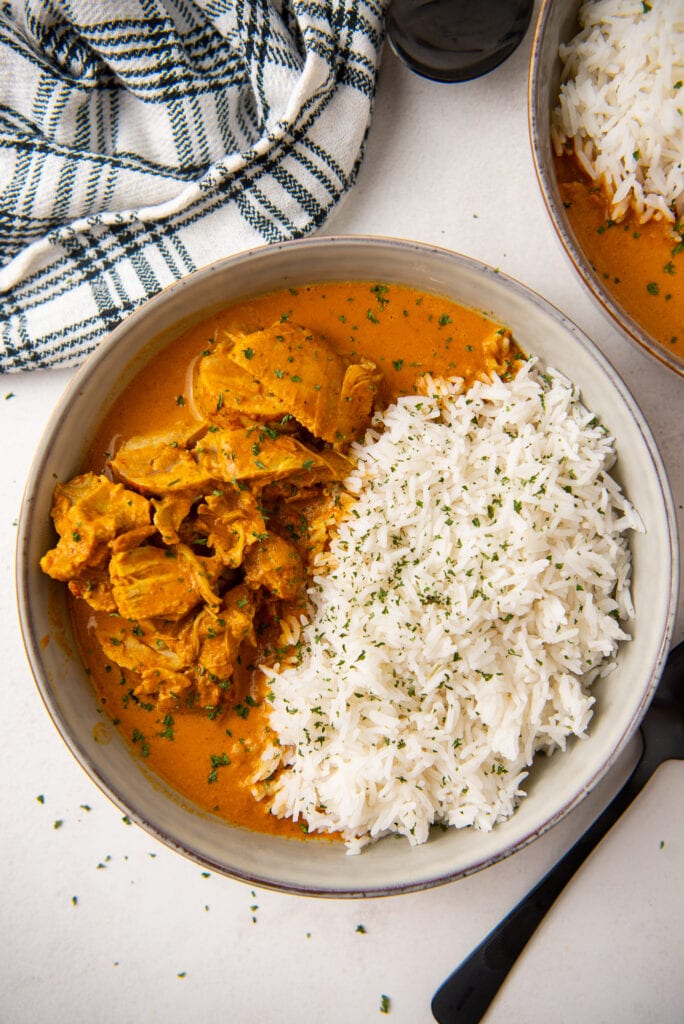 This recipe was born out of a request from my mom. She was looking for something quick and easy after a long day at work. Low carb was a plus – just don't serve it with rice! Also, she wanted something with a lot flavor and but not too spicy. So mama, here you go, this Instant Pot Butter Chicken is just for you. Love you. xo
Ingredients for making Instant Pot Butter Chicken
14.5 oz can of diced or crushed tomatoes
Minced garlic
Minced ginger or ginger paste
Garam Masala
Smoked Paprika
Cayenne Pepper
Ground Cumin
Turmeric
Curry Powder
Kosher Salt
Chicken Stock
Boneless Skinless Chicken Thighs
Whipping Cream (you may substitute Half & Half, Coconut Milk, or Greek Yogurt)
Unsalted Butter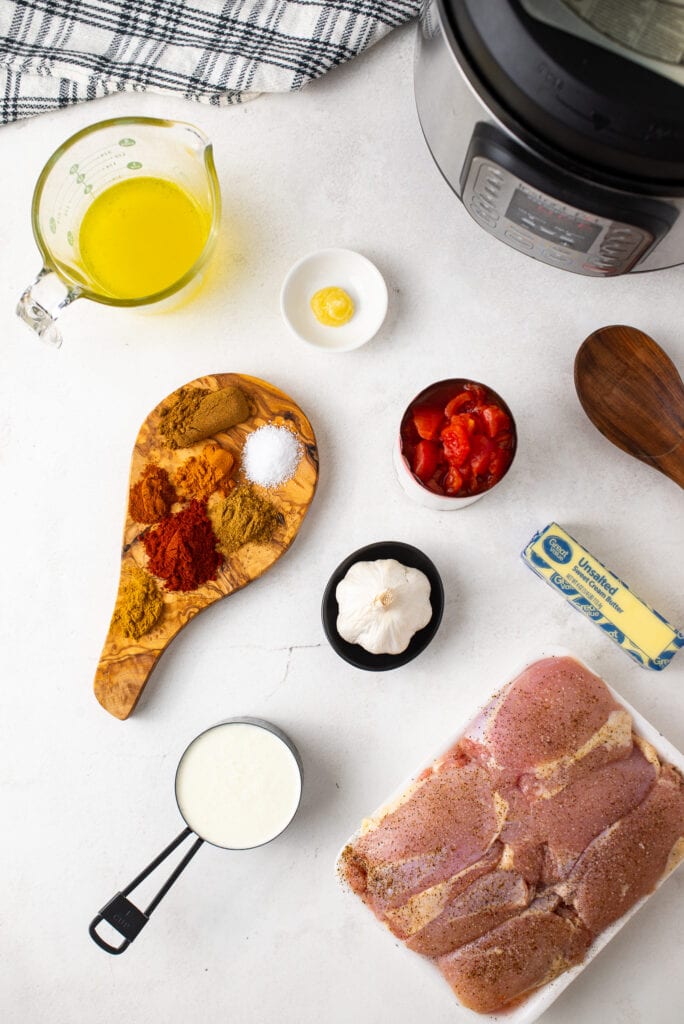 How to make Butter Chicken in the Instant Pot
This recipe takes very little effort and you'll be shocked at just how flavorful it is! Not for nothing, but the sauce is good enough to drink!
To pull the sauce together for this Butter Chicken, you will need either an Immersion blender or a standard blender.
Immersion blender: Add the tomatoes, garlic, ginger, garam masala, cayenne pepper, ground cumin, smoked paprika, turmeric, curry powder, salt, and chicken stock to the Instant Pot. Using the Immersion Blender blend until smooth
Standard Blender: Add the above ingredients to a blender jar and blend until smooth. Then, add the sauce to the Instant Pot and continue with the recipe.
Next, add the chicken to the Instant Pot and make sure it is completely submerged in the sauce. You can either cut the chicken up beforehand or after it cooks. It's up to you.
Then, close the Instant Pot and make sure that the vent is sealed. Next, cook on Manual High Pressure for 10 minutes. Once the Instant Pot Butter Chicken is done cooking, allow the Instant Pot to natural release for another 10 minutes.
Once 10 minutes has passed, release the rest of the pressure from the Instant Pot. Turn the Instant Pot to
sauté , add the butter and whipped cream. Stir until butter is melted and allow the sauce to thicken slightly – approximately 5 minutes. Make sure not to allow the sauce to burn.
NOTE: If you are serving with rice, make your rice while the Instant Pot is cooking so the rice will be done around the same time as the Butter Chicken.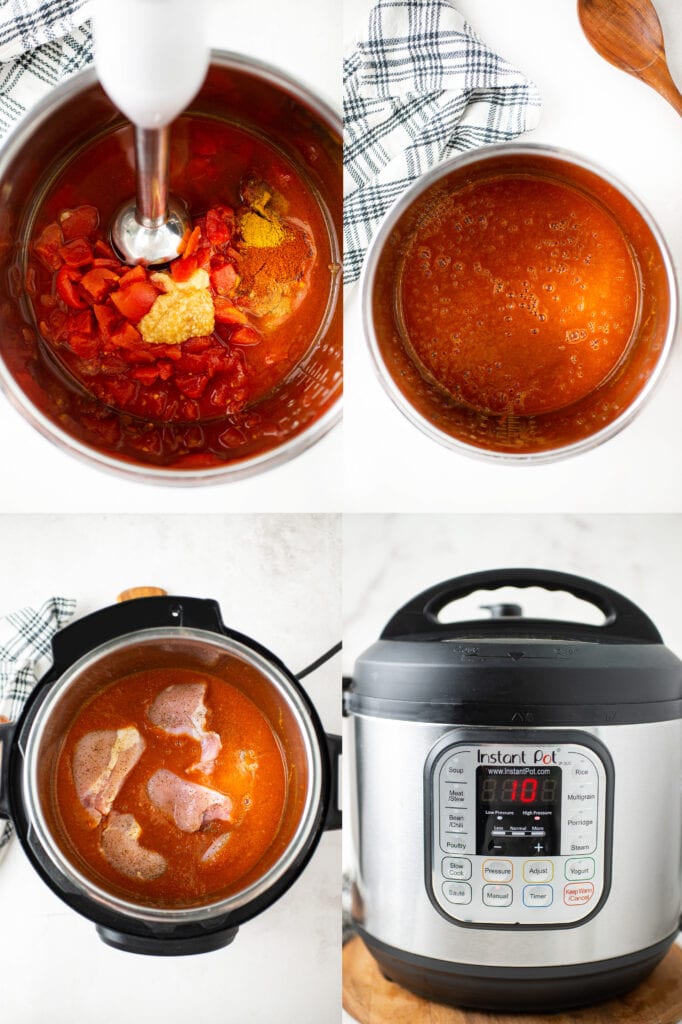 Chicken Thighs vs Chicken Breasts
I highly recommend chicken thighs for this Instant Pot Butter Chicken. However, if you are in a pinch you can use chicken breasts. Chicken thighs tend to stay more tender and juicy than a standard chicken breast, but, both are still super delicious here!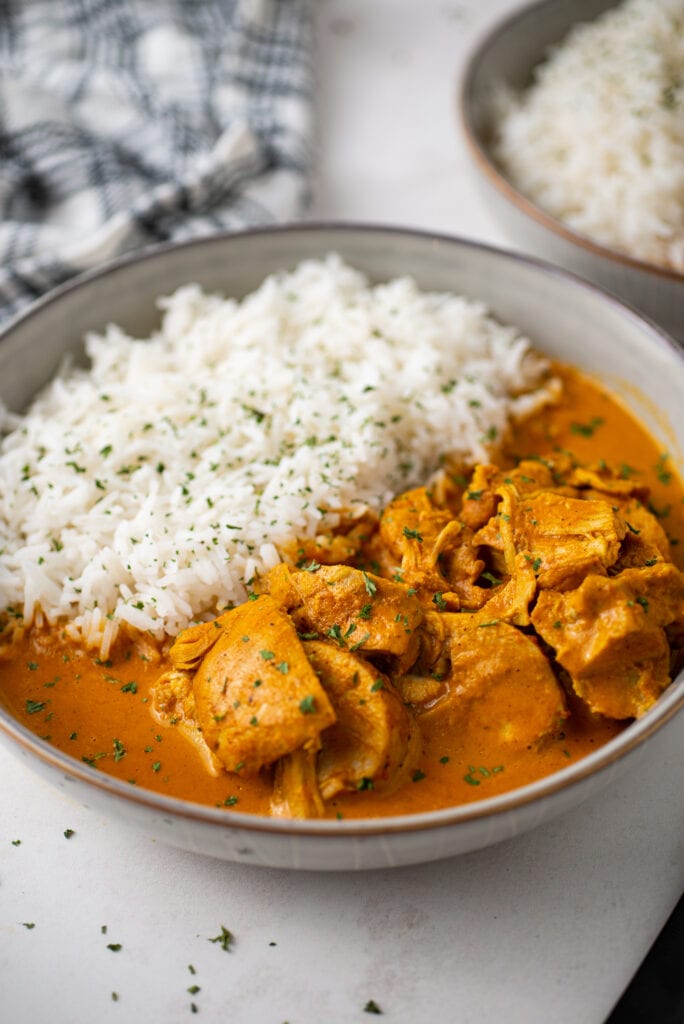 How to Store Leftovers
If you happen to have any leftovers, it can be stored in an air tight container in the fridge for up to 5 days. Instant Pot Butter Chicken freezes very well. It can be stored in the freezer for up to 3 months.
Butter Chicken Sauce
This sauce is TO. DIE. FOR. Honestly, I could drink it. It's rich, silky, and totally comforting. It's packed with flavor without being spicy. If you find yourself with leftover sauce, here are some ideas to help you figure out how to use it up:
Use it as pizza sauce
Freeze it for the next time you make Butter Chicken
Use it as a pasta sauce
Over crispy potatoes
Use it as a dip
It's really that good.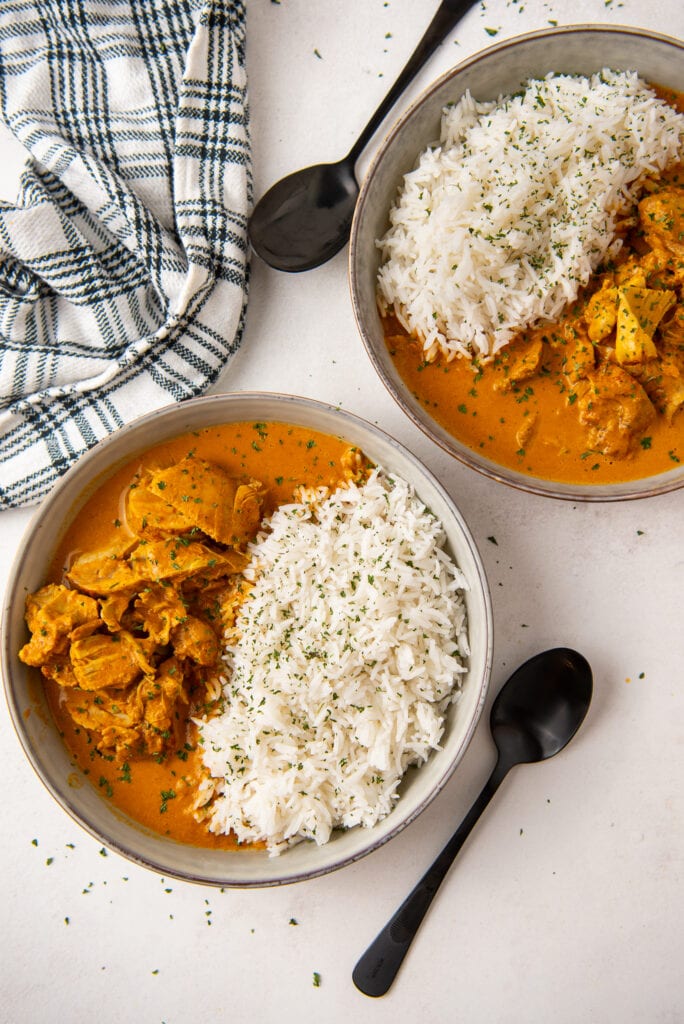 This quick and easy meal has quickly become one of our family's favorites. It's also low carb and keto friendly – serve over a plate of steamed broccoli or enjoy on its own!
This Braised Short Rib Recipe is another incredible recipe! Takes just a few minutes to prep and let the oven do the rest of the work!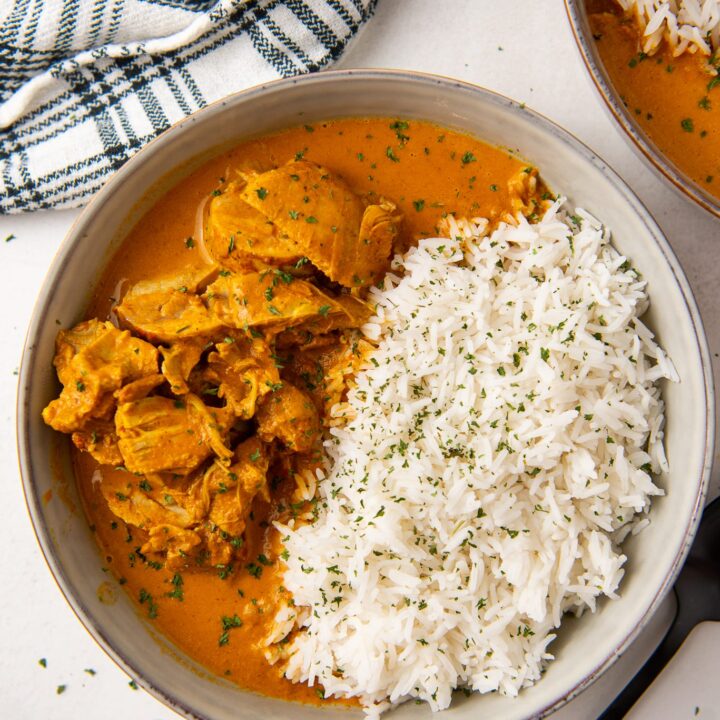 Instant Pot Butter Chicken
Ingredients
1 (14.5 oz) can Diced or Crushed Tomatoes (DO NOT DRAIN)
6-8 Cloves Minced Garlic
2 tsp Minced Ginger or Ginger Paste
1 tbsp Garam Masala
1 tbsp Smoked Paprika
1/2 tsp Cayenne Pepper
1 tsp Ground Cumin
1 tsp Turmeric
1/2 tsp Curry Powder
1 tsp Kosher Salt
1 cup Chicken stock
2 lbs Boneless Skinless Chicken Thighs
1 cup Whipping Cream (may also use half & half or coconut milk)
4 tbsp Butter, Unsalted
Instructions
Pour can of tomatoes into the bottom of the Instant Pot
Add garlic, ginger, garam masala, smoked paprika, cayenne pepper, ground cumin, turmeric, curry powder, salt, and chicken stock
With an immersion blender, blend the ingredients thoroughly
Next, add the chicken thighs to the sauce and make sure that they are completely covered by sauce
If the thighs are still peeking through, add a little bit more liquid - either water or chicken stock - until the chicken is covered
Close the Instant Pot, making sure the vent is sealed, cook on Manual High for 10 minutes
Once the Instant Pot is done cooking, allow the IP to natural pressure release for another 10 minutes
Then, release the rest of the pressure from the IP
Next, turn the IP to sauté then, add the whipping cream and butter
Allow to come to a simmer and stir until the butter is melted
Serve over rice or mashed potatoes - if you have any Naan, ever better!
Notes
If you do not have an immersion blender, use a regular blender to blend the sauce together then add it to the Instant Pot and continue recipe as normal.
Nutrition Information:
Yield:

6
Serving Size:

1
Amount Per Serving:
Calories:

496
Total Fat:

35g
Saturated Fat:

18g
Trans Fat:

1g
Unsaturated Fat:

16g
Cholesterol:

251mg
Sodium:

766mg
Carbohydrates:

8g
Fiber:

2g
Sugar:

3g
Protein:

40g
The nutritional values above are auto calculated by a nutrition program and can vary based on brands of ingredients used.
This post may contain affiliate links. We are a participant in the Amazon Services LLC Associates Program, an affiliate advertising program designed to provide a means for us to earn fees by linking to Amazon.com and affiliated sites.