Buttermilk Blueberry Muffins are the perfect way to start your day! Every bite is bursting with blueberry flavor and a mouthwatering cinnamon streusel topping!
Another great breakfast recipe are these Banana Chocolate Chip Bars!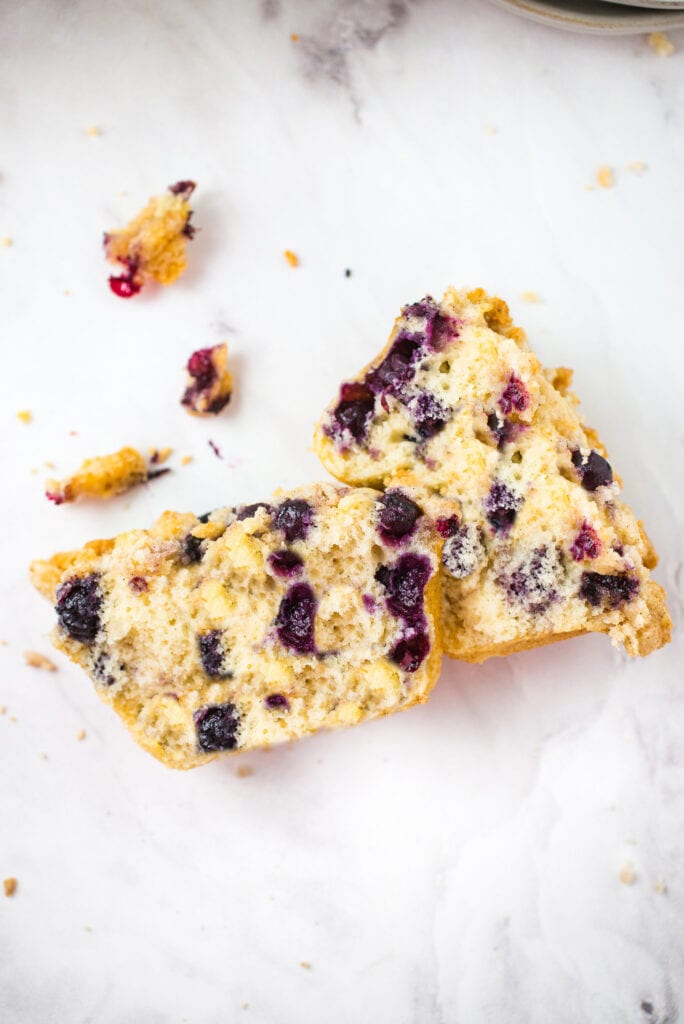 I'm a huge breakfast fan – Rick could take it or leave it. We're opposites that way. I'd rather have breakfast, he'd rather enjoy dinner. But for me, there is nothing better than starting my morning out with a comfort food – like a good muffin (and a cup of joe!). It gets me started and sets me up to be able to focus better throughout the day! Are you a breakfast fan?
Ingredients
Buttermilk Blueberry Muffins

All-purpose flour
Baking powder
Kosher Salt
Egg
Granulated sugar
Buttermilk
Vegetable oil
Vanilla extract
Blueberries
Flour

Cinnamon Streusel Topping

All-purpose flour
Granulated sugar
Unsalted butter
Kosher salt
Cinnamon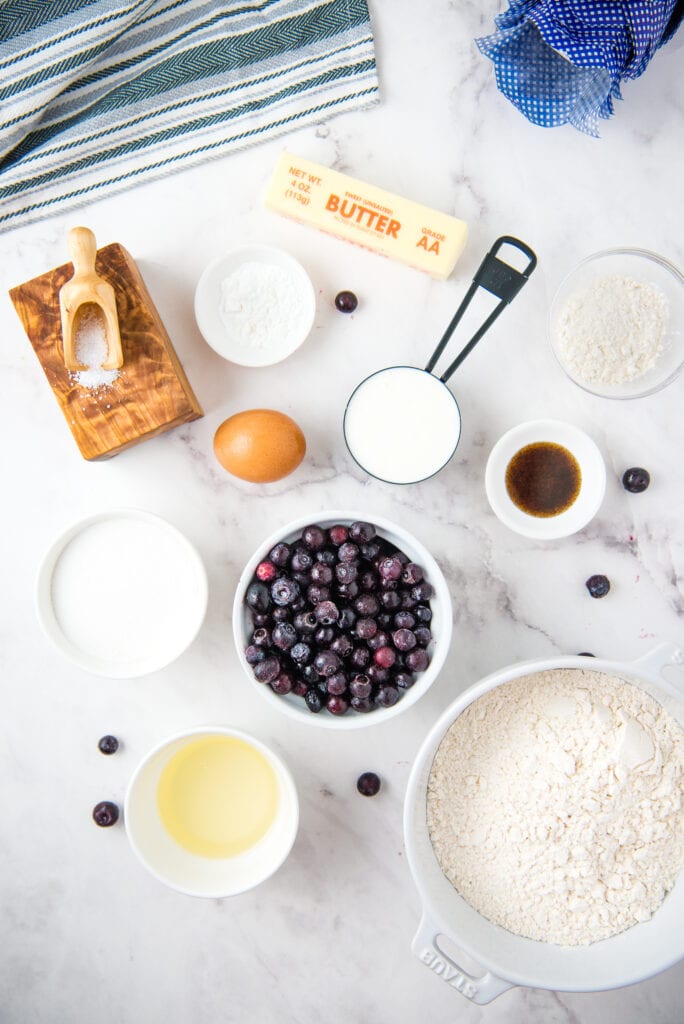 How to make Buttermilk Blueberry Muffins
Blueberries: Toss blueberries and one tablespoon of flour together in a bowl and set aside.
Batter: Combine buttermilk, oil, and vanilla together and set aside. Mix together egg and sugar until well combined. Next, add the dry ingredients to the sugar mixture. Add in wet ingredients and combine. Mix until flour is just absorbed. Do not over mix. Next, fold in the blueberries.
Scoop the batter into a prepared muffin tin. Fill the muffin tins or cupcake liners about 2/3 of the way full.
NOTE: Batter should be thick and scoopable – but NOT dry or runny. If you find the batter to be too runny, add a tablespoon of flour at a time, until the batter consistency firms up. If you find the batter to be too thick and dry, add a tablespoon of milk at a time until the desired consistency.
Cinnamon Streusel: Add flour, sugar, salt, butter, and cinnamon and combine until crumbly. Start adding streusel to the top of the batter (roughly two tablespoons each). Gently press the streusel on to the top of the muffin batter to help it bake into the blueberry muffins.
Bake: Bake at 375*F for about 15-20 minutes – check at 15 minutes with a toothpick. Depending on your oven, you may need to bake for up to 20 minutes. Check periodically after 15 minutes and test until the toothpick comes out clean.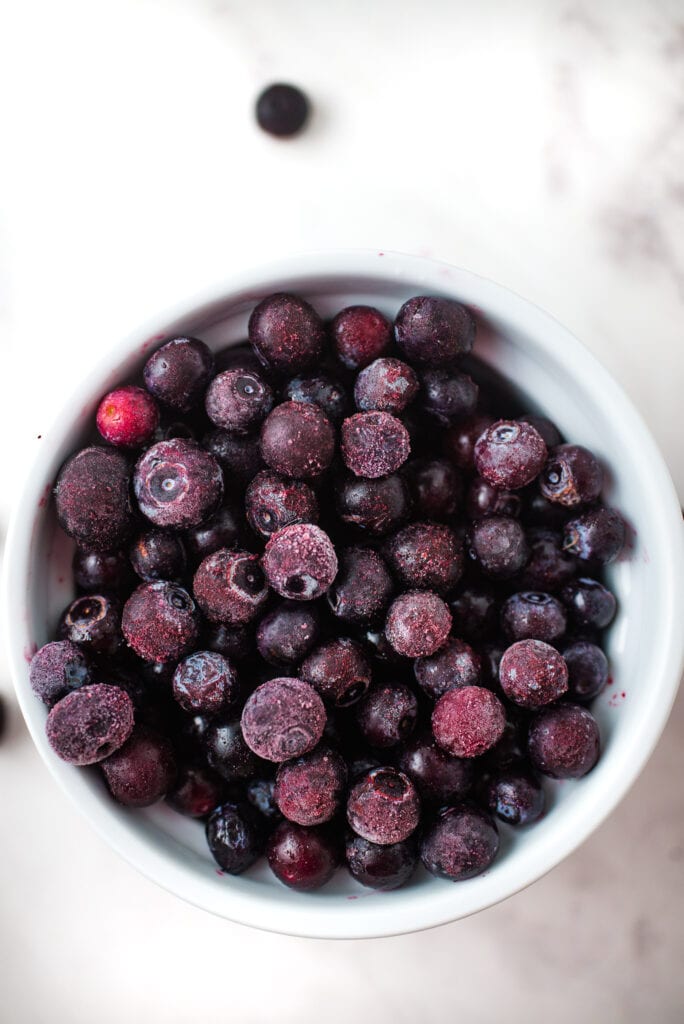 Can you freeze these muffins?
Yes! These Buttermilk Blueberry Muffins (and the batter) freeze very well. There are a few tricks to get the most longevity out of the muffins.
The muffins need to cool completely. If the muffins are too hot before they are frozen it affects the texture of the muffin.
After the muffins come to room temperature, 'Flash Freeze' your muffins. Line the Blueberry Muffins up on a cookie sheet and place in the freezer for about 30 minutes.
Once pre-frozen, you can store the muffins in a gallon size freezer bag – make sure to squeeze out the air from the bag.
The muffins freeze well for up to 3 months.
Want to freeze the batter? No problem! Line a muffin tin with cupcake liners, fill the liner 2/3 with batter and pop in the freezer until they are frozen solid. Once frozen, remove the liners and store in a freezer bag (squeeze out the extra air) for up to 2 months. Allow to thaw before baking. I suggest making the streusel fresh before baking.
Why toss blueberries in flour?
This is a really important step – DO NOT SKIP IT. The flour prevents the blueberries from sinking to the bottom of the muffin. Think of it as gravity prevention. The flour allows the blueberries to essentially float in the batter while baking.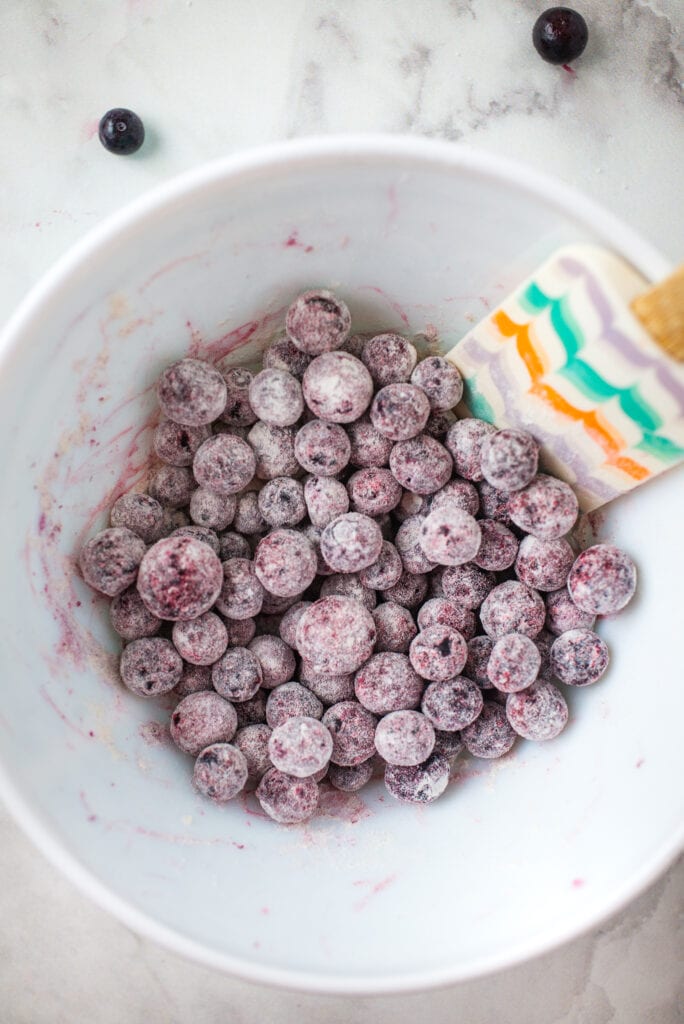 Fresh vs Frozen Berries
You can easily use both fresh or frozen blueberries in this recipe. If you use frozen blueberries, do not let the blueberries thaw out. I personally prefer frozen, because I can pretty much always have them on hand when the mood strikes!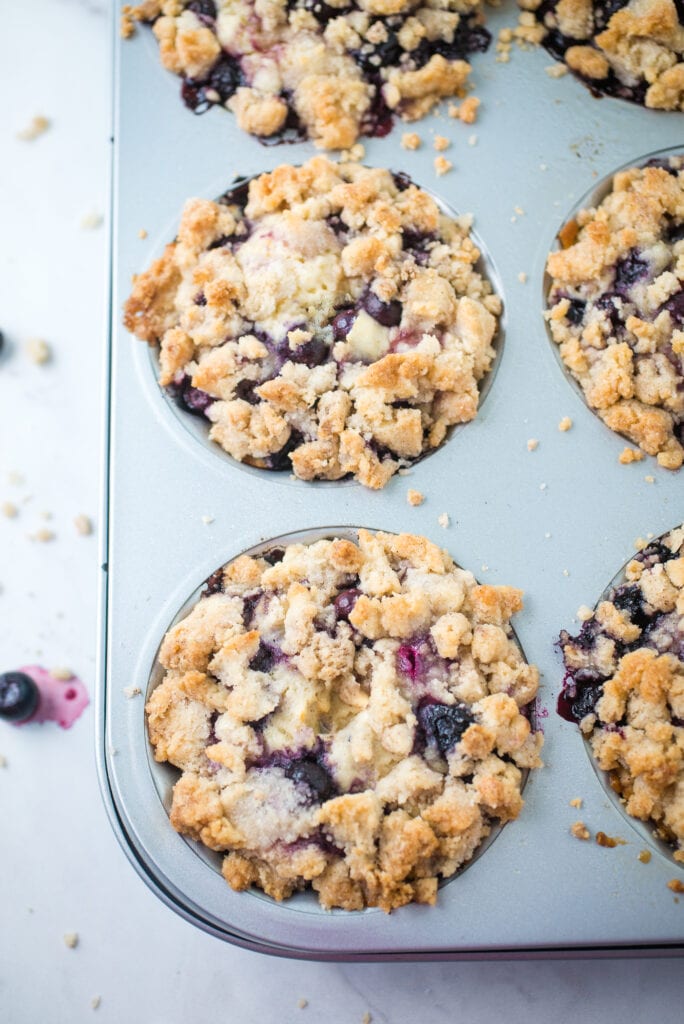 How to store Buttermilk Blueberry Muffins
Store the muffins in an air tight container or zip lock bag for up to 4 days. Make sure to line the container or zip lock bag with a paper towel.
If you do not think you will be able to eat all the Blueberry Muffins in 4 days, I would suggest freezing the remaining muffins. See Freezing instructions above!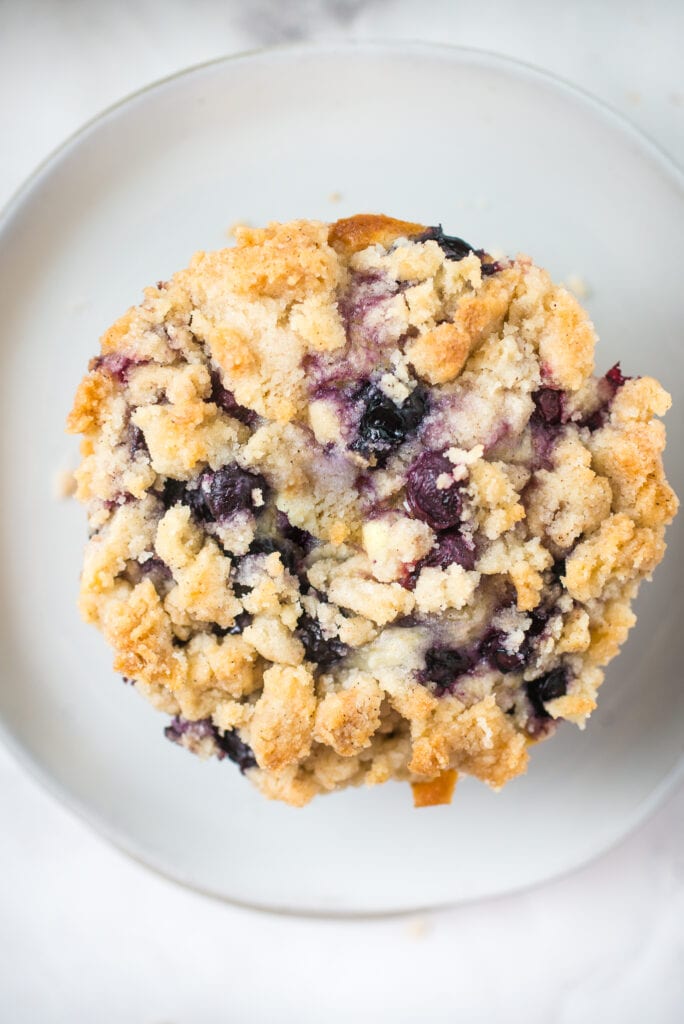 These Buttermilk Blueberry Muffins take just a few minutes to prepare and they can be ready for you in under 30 minutes. I love to add a pat of butter to a warm muffin before diving in. They also take me back to my childhood when my mom and I would bake muffins together on the weekends and I'm all about reminding. myself of those memories.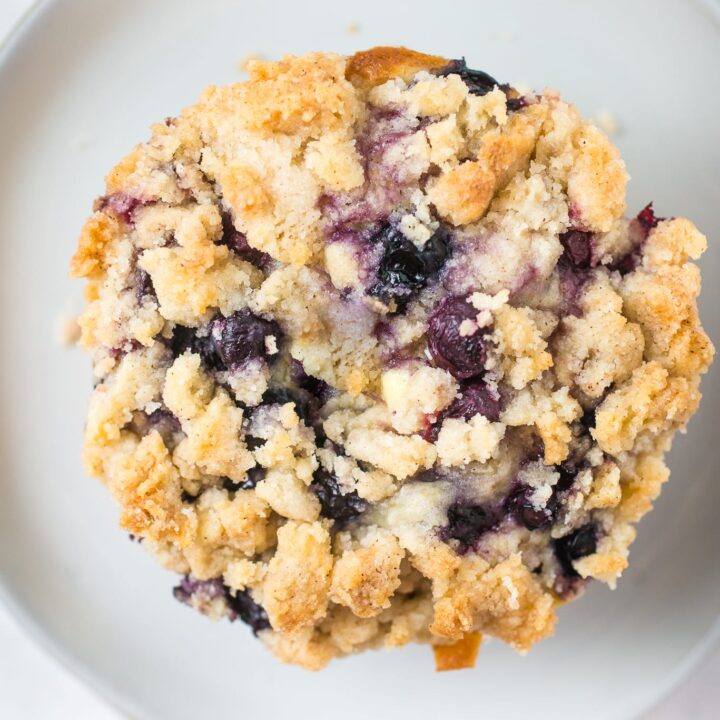 Buttermilk Blueberry Muffins
Yield:
6 large - 12 regular muffins
Buttermilk Blueberry Muffins are the perfect way to start your day! Every bite is bursting with blueberry flavor and a mouthwatering cinnamon streusel topping!
Ingredients
Buttermilk Blueberry Muffins
1 1/2 cups all-purpose flour
2 1/4 teaspoons baking powder
1/3 teaspoon salt
1 large egg
3/4 cup granulated sugar
1/2 cup + 2 tablespoons buttermilk
1/3 cup vegetable oil
1 teaspoon vanilla extract
2 cups blueberries
1 tablespoon flour
Cinnamon Streusel Topping
3/4 cup all-purpose flour
1/2 cup granulated sugar
3/4 stick butter, melted
pinch kosher salt
3/4 teaspoon cinnamon
Instructions
Preheat oven to 375*F
Line tin with muffin liners
In a small bowl, toss blueberries together with 1 tbsp flour until well coated
Combine buttermilk, oil, and vanilla extract into a pourable container
In a medium bowl, sift together flour, baking powder, and salt
Add to a mixing bowl, beat egg together with sugar
Next, add flour mixture 1/2 cup at a time
Pour in buttermilk mixture
Mix until just combined - careful not to over mix
Then, gently fold in blueberries
Fill each muffin tin approximately 2/3 of the way full
Next, make the Cinnamon Streusel Topping
Combine all Streusel ingredients and mix until crumbly
Start by adding 2 tablespoons of streusel to the top of the muffin mix- gently press down to help the streusel stick to the muffins
Add more streusel topping until it is distributed among all muffins
Bake for 15-20 minutes - test with a toothpick until it comes out clean
Nutrition Information:
Yield:

12
Serving Size:

1
Amount Per Serving:
Calories:

339
Total Fat:

14g
Saturated Fat:

5g
Trans Fat:

0g
Unsaturated Fat:

9g
Cholesterol:

34mg
Sodium:

288mg
Carbohydrates:

49g
Fiber:

2g
Sugar:

27g
Protein:

4g
The nutritional values above are auto calculated by a nutrition program and can vary based on brands of ingredients used.
This post may contain affiliate links. We are a participant in the Amazon Services LLC Associates Program, an affiliate advertising program designed to provide a means for us to earn fees by linking to Amazon.com and affiliated sites.