These easy Banana Chocolate Chip Bars have quickly become a family favorite! Don't throw out your overripe bananas. Put them to good use here! If you like Banana Bread, you'll love this recipe!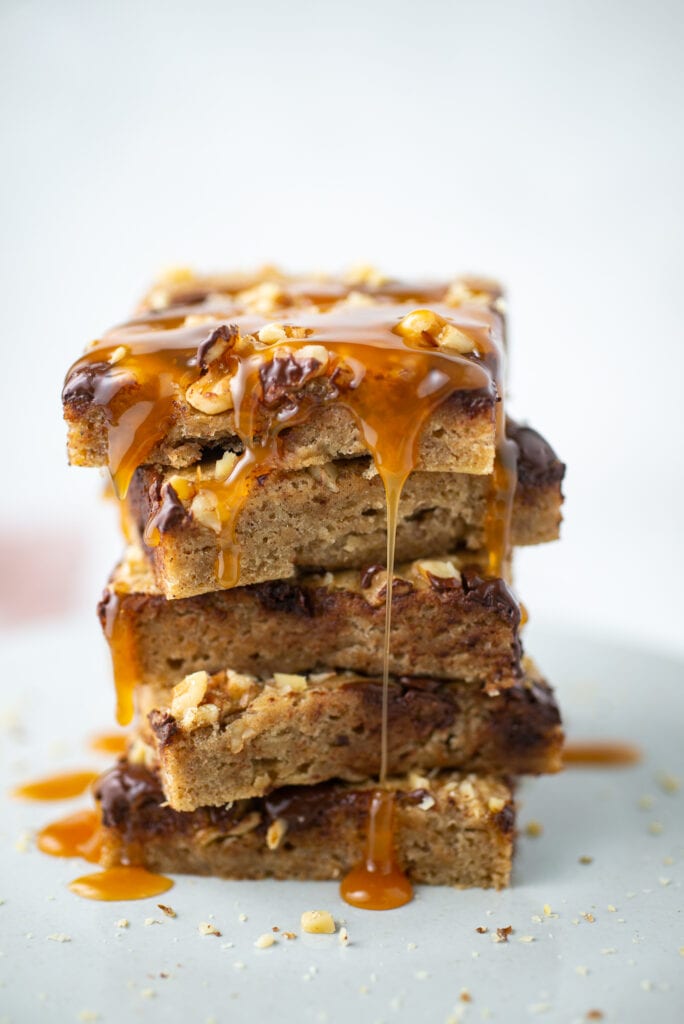 I don't know about you but, in my house, our bananas frequently never get eaten before they over ripen. I also have the best intentions to never let them go too far. But, that doesn't always happen. Our dogs love bananas however, so they never go to waste! I finally caught a few over ripe bananas in time and put this together. Let me just say that they did not last long.
Ingredients for Banana Chocolate Chip Bars
I bet you probably have most if not all of these ingredients in your pantry already. One of the great things about this recipe is that it can easily traverse breakfast, a snack, or a delicious dessert.
3 small bananas or 2 medium bananas
Brown sugar
Eggs
Oil
Milk
Vanilla Extract
Flour
Salt
Baking Soda
Cinnamon
Dark Chocolate Chips
Finely Chopped Walnuts
What if my bananas aren't ripe enough yet?
It is important that your bananas are very ripe (similar to the photo below). The riper the banana the more sweetness that gets distributed in the recipe. However, If you find that your bananas aren't ripe enough there are a couple of tricks to help your bananas ripen a little faster.
If you place your bananas in a paper bag along with an apple and close it tightly, your bananas should ripen in about 24 hours.
You can also ripen your bananas in the oven. To do this: preheat your oven to 250*F. Place your unpeeled bananas on a cookie sheet and allow to cook for roughly 30 minutes. The bananas will turn black. Once they are cooked, allow them to rest for at least an hour. Once they have cooled down, proceed with the recipe.
Alternatively, you can use thawed previously frozen bananas for this recipe as well.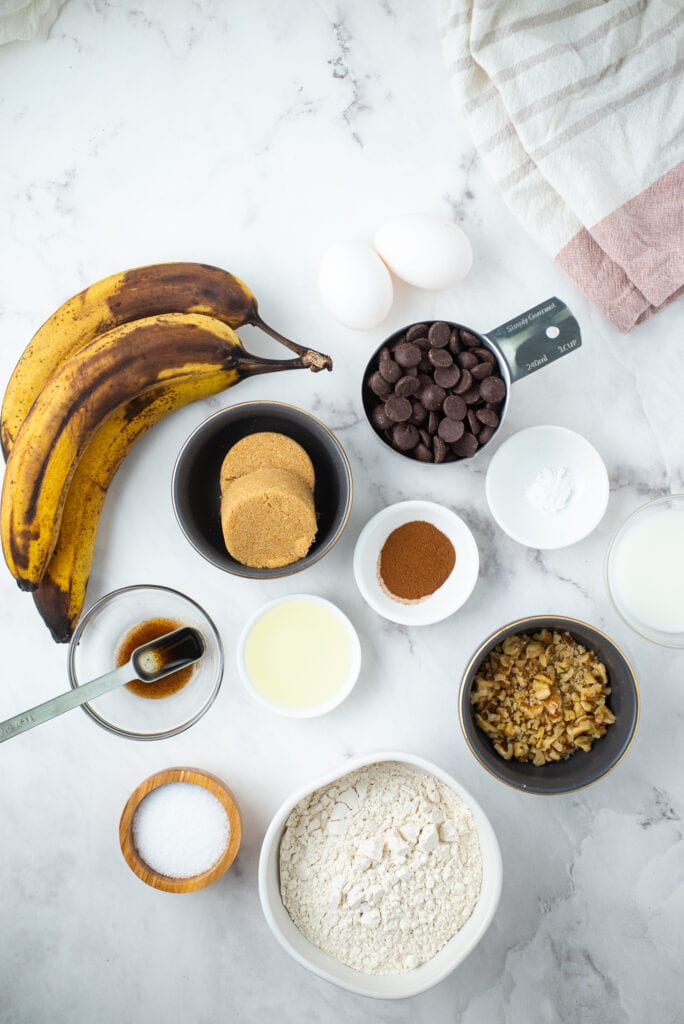 How to make these Banana Chocolate Chip Bars
Mash bananas and combine with brown sugar until well combined.
Combine flour, salt, cinnamon, baking soda in a medium bowl and whisk together.
Add eggs to the banana and sugar and mix. Add oil, milk, and vanilla and mix.
Gradually add flour mixture into bowl and combine after each addition.
Add half of the chocolate chips and fold into the batter.
Add batter to prepared baking dish and top with chocolate chips and finely chopped walnuts.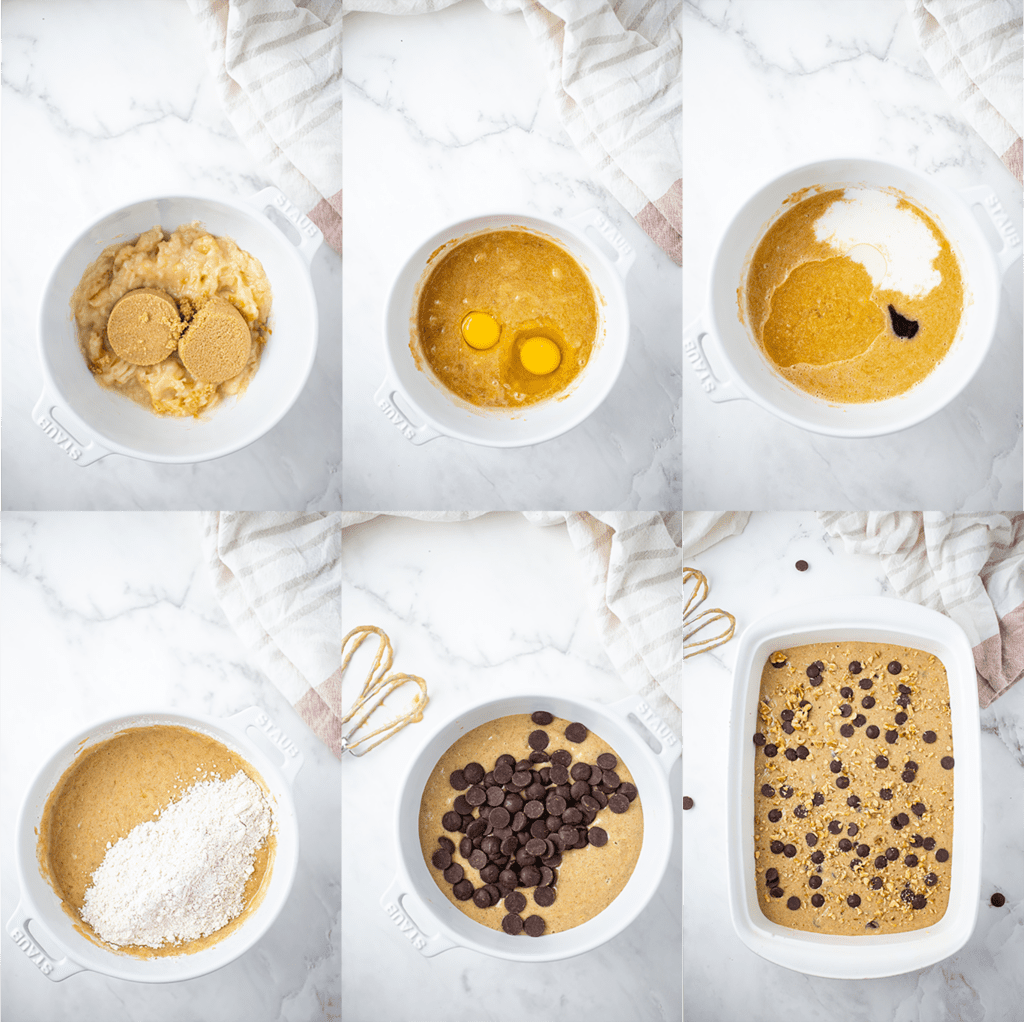 Easy Recipe Additions or Substitutions
There are so many different options to make these easy bars.
Feel free to use any type of chocolate chip you desire (white, milk, semi-sweet, sugar-free, dairy-free, etc.)
Caramel or butterscotch chips can be added in addition – add up to 1/2 cup
1/4 cup of creamy peanut butter may be added as well
Replace half of the brown sugar with standard granulated sugar
Swap out the oil for applesauce or butter
We love to add a drizzle of caramel to the bar when eating them. It adds a little bit of sweetness and decadence to this easy recipe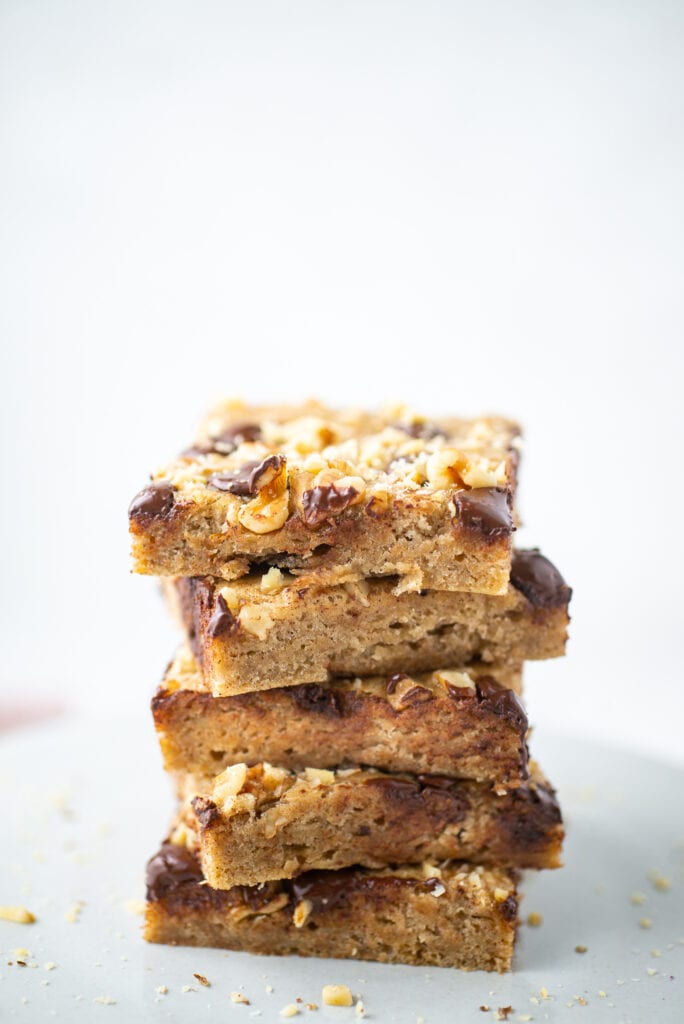 Can these be frozen?
Yes, they can! These freeze really well. Allow them to completely cool down before freezing them. I would suggest separating each piece either in its own freezable baggie, a freezer proof Tupperware container, or in between some parchment paper in a freezer bag. They freeze well for up to a month.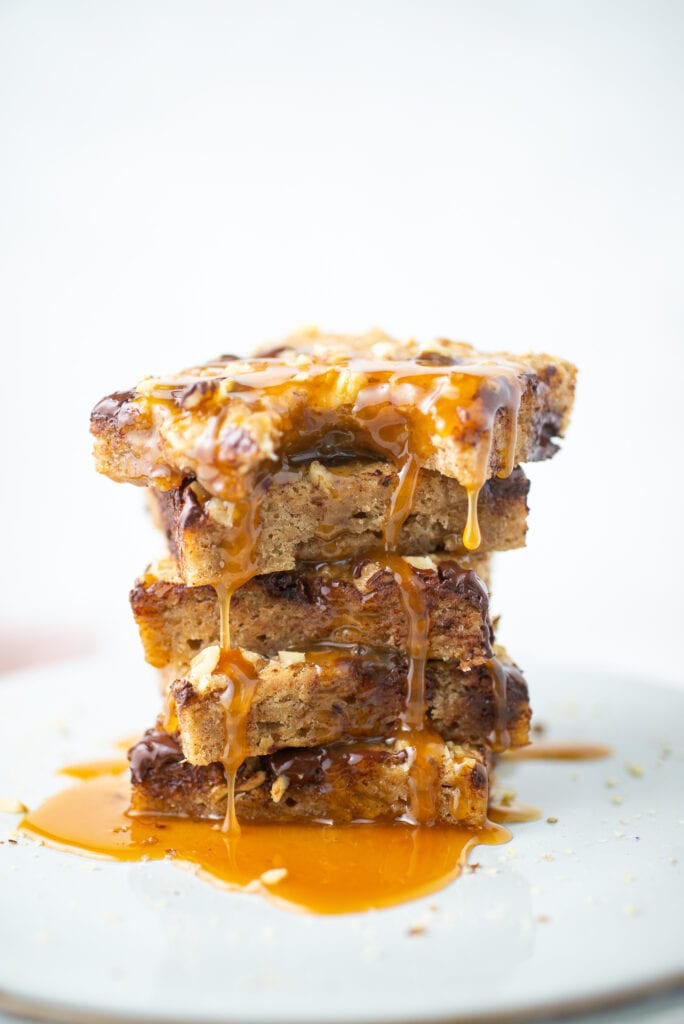 This recipe has quickly become one of our favorite treats. They make a perfect breakfast, snack, or dessert – heat up for a few seconds in the microwave, drizzle with caramel sauce and add a scoop of ice cream! From beginning to end this recipe will be done in under 30 minutes. They are not overly sweet and have the perfect amount of flavor to be soothing to your palette.
Love desserts? Check out our growing archive here.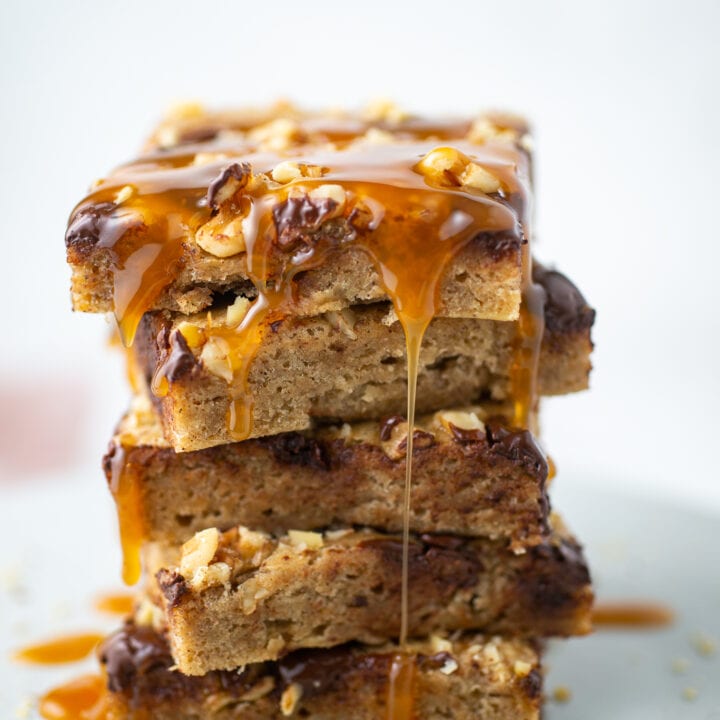 Banana Chocolate Chip Bars
Banana Chocolate Chip Bars are easy and really delicious! Don't throw out your overripe bananas instead make these! If you like Banana Bread, you'll love this recipe!
Ingredients
3 medium ripe bananas (or 2 large bananas)
1/2 cup light brown sugar
1 whole egg plus 1 egg yolk
2 tbsp vegetable oil
2 tbsp whole milk
1 tsp vanilla extract
1 1/2 cup all-purpose flour
1/2 tsp baking soda
1/4 tsp salt
1 tsp ground cinnamon
1 cup dark chocolate chips, divided
1/4 cup walnuts, finely chopped
Optional: Caramel Sauce
Instructions
Preheat oven to 350*F and lightly grease a 9x13 baking dish
In a medium bowl combine flour, baking soda, salt, and cinnamon then whisk together
In a large mixing bowl, mash bananas with a fork
Add brown sugar and stir until combined
With a hand mixer, add eggs and mix until incorporated
Add oil, milk, and vanilla and mix well
Add flour and use hand mixer to combine
Stir in 1/2 of the chocolate chips
Pour mixture into prepared baking dish
Sprinkle top with remaining chocolate chips and chopped walnuts
Bake for 18-20 minutes until bars are lightly golden brown
Nutrition Information:
Yield:

16
Serving Size:

1
Amount Per Serving:
Calories:

183
Total Fat:

7g
Saturated Fat:

2g
Trans Fat:

0g
Unsaturated Fat:

4g
Cholesterol:

24mg
Sodium:

95mg
Carbohydrates:

28g
Fiber:

2g
Sugar:

15g
Protein:

3g
The nutritional values above are auto calculated by a nutrition program and can vary based on brands of ingredients used.
This post may contain affiliate links. We are a participant in the Amazon Services LLC Associates Program, an affiliate advertising program designed to provide a means for us to earn fees by linking to Amazon.com and affiliated sites.