Kettle Corn Cookies: The perfect mix of salty and sweet! Packed with white chocolate chips and real Kettle Corn. PLUS – find out my favorite trick when making cookies!
Don't miss out on these Pumpkin Snickerdoodles!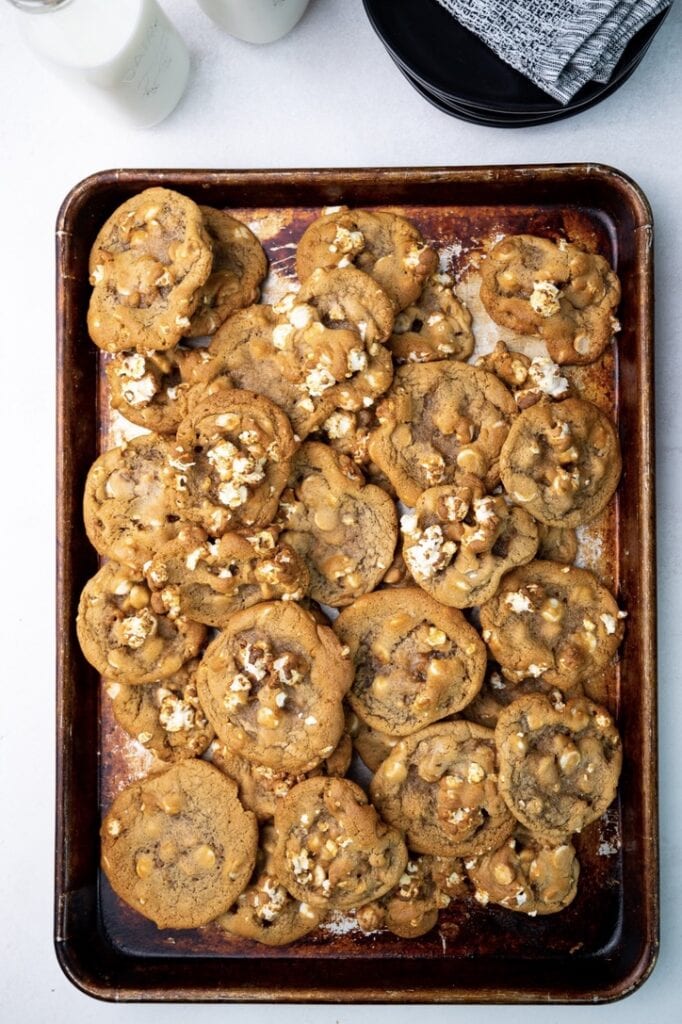 When it comes to treats, there isn't much better than a great combination of salty and sweet! These Kettle Corn Cookies hit all the right boxes! I had a bag of our favorite popcorn and had a wild and crazy idea to merge two of our favorite treats together – Popcorn and Cookies. They do not disappoint!
9 Ingredients needed for Kettle Corn Cookies
All-purpose flour
Baking soda
Kosher salt
Unsalted butter
Dark brown sugar
Eggs
Pure vanilla extract
White chocolate chips
Kettle corn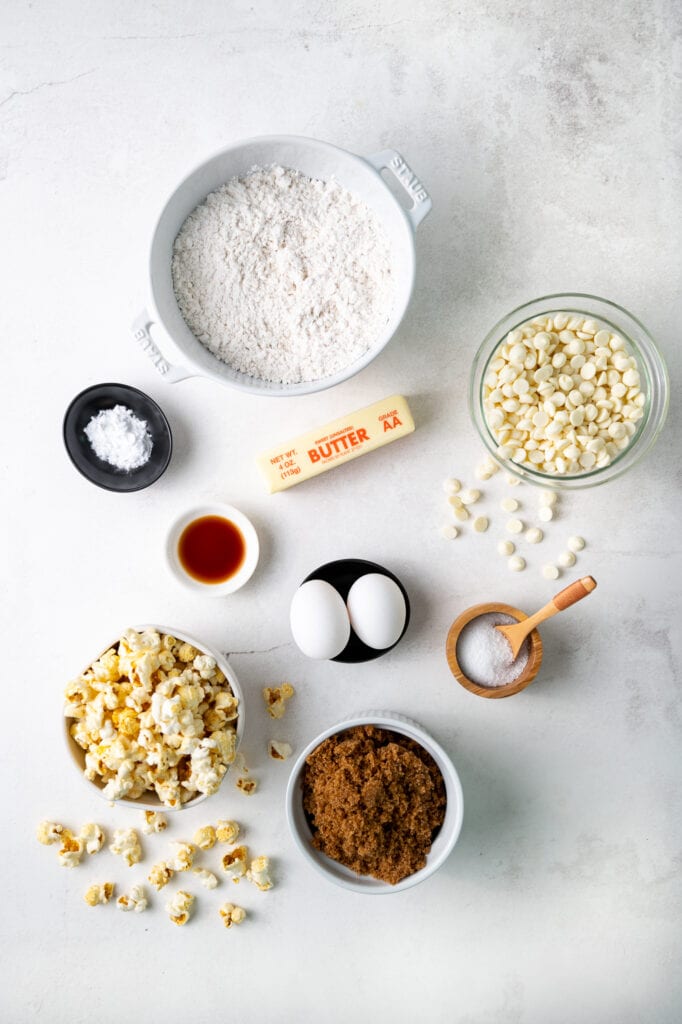 How to make Kettle Corn Cookies
In a mixing bowl, add the brown sugar and eggs and beat until well combined
Cream in the room temperature butter and mix for several minutes on a medium high speed
Next, add in the vanilla
Gradually add the dry ingredients until incorporated with the sugar mixture
Next, fold in the white chocolate chips, followed by the Kettle Corn
Then, using a cookie scoop, place dough on a prepared cookie sheet
NOTE: If you use a larger scoop for bigger cookies, then bake for 12 minutes instead of 10
Bake at 350*F for 10 minutes
Allow to set and cool, then move to a cookie rack to finish coming to room temperature
This recipe makes about 40 cookies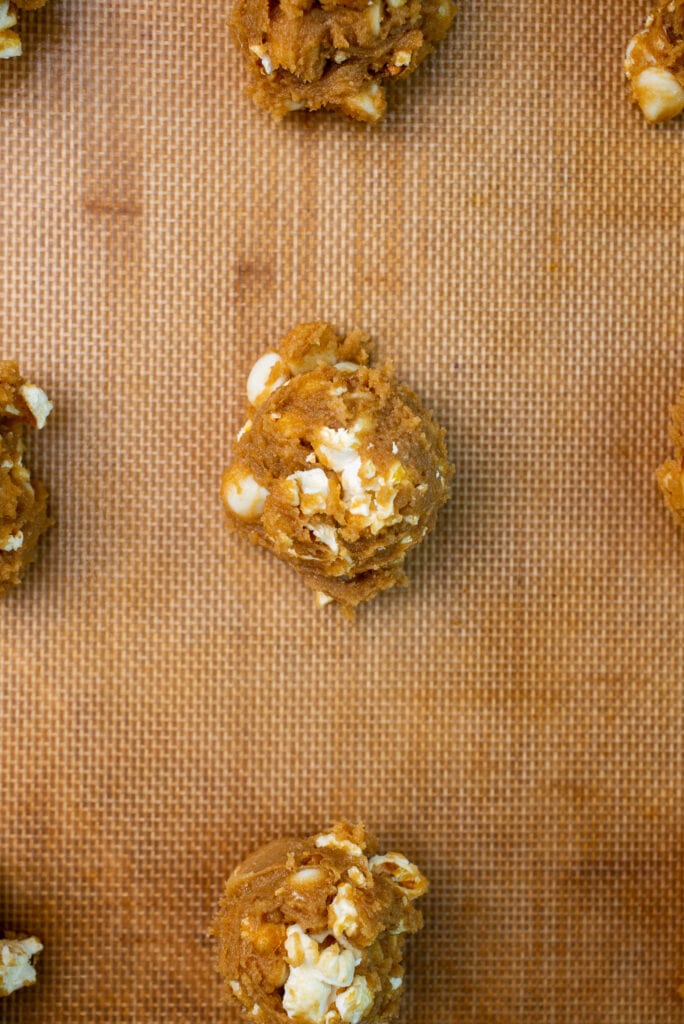 Why dark brown sugar?
I love using brown sugar in my cookies. I frequently (but not always) replace all the granulated sugar with brown sugar. For me, it's a cookie game changer – however, not all cookies work best with just brown sugar. You have to take the overall flavor profile into consideration when swapping out the sugar!
Brown sugar is made with molasses, which provides a nice depth of flavor to your cookies. By using Dark Brown Sugar in these Kettle Corn Cookies, we are increasing the amount of molasses used which makes the center of the cookies slightly gooey and delightfully chewy with a caramel bite!
If you do not have dark brown sugar on hand, you can substitute light brown sugar or a half and half mix of light brown sugar and granulated sugar. Just know that it will change the texture and overall taste of the cookie, but they will still be delicious.
Do I have to use White Chocolate Chips?
You don't have to. However, I tested these Kettle Corn Cookies with several different types of chocolate chips and the white chocolate chips were the only ones that did not overpower the overall flavor of the cookie itself. The next closest was the pure milk chocolate chips – this would be my suggestion if you choose to swap out the chocolate. Semi-sweet and dark chocolate were both too strong and in my opinion did not play well with the cookie base.
How long are these cookies good for?
Store these cookies in an air tight container for up to 3 days.
Can these Kettle Corn Cookies be frozen?
I would not suggest freezing the baked cookies. However, you can freeze the dough WITHOUT the popcorn for up to 30 days. Popcorn can be a little fickle and would not hold up well frozen in the dough. If you do freeze the dough for these Kettle Corn Cookies, allow the dough to warm up a little before adding the Kettle Corn and baking.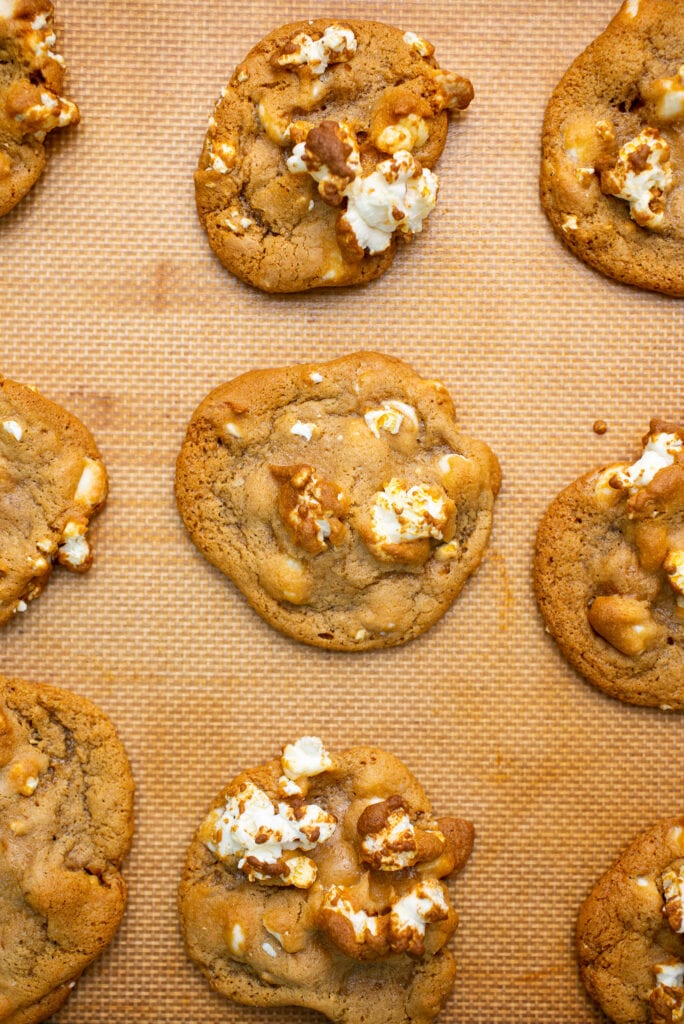 The Kettle Corn adds a fun and unique bite to your cookies. However, if you happen to not be a popcorn fan, you can easily omit it from this recipe and still enjoy these delicious cookies. The rest of the preparation and baking time remains the same.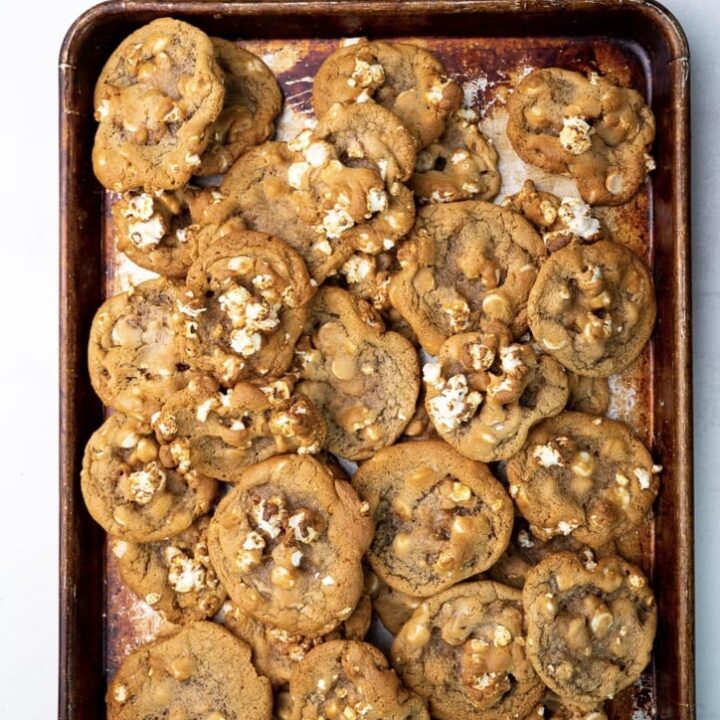 Salty Sweet Kettle Corn Cookies
Kettle Corn Cookies: The perfect mix of salty and sweet! Packed with white chocolate chips and real Kettle Corn. PLUS - find out my favorite trick when making cookies!
Ingredients
2 1/2 cups all-purpose flour
1 1/8 teaspoon baking soda
1/2 teaspoon kosher salt
1 stick unsalted butter, room temperature
2 cups packed dark brown sugar
2 large eggs
2 teaspoons pure vanilla extract
1 bag (10 ounces) white chocolate chips
Instructions
Preheat oven to 350*F and grease a cookie sheet or line with a Silpat and set aside
Combine flour, baking soda and salt in a medium bowl - whisk together and set aside
Using a stand or hand mixer, add brown sugar and eggs to large bowl and mix on medium-low speed until well incorporated
Next, add 1 stick of room temperature butter, increase speed to medium-high speed until butter is fully creamed together with the sugar mixture
Add vanilla
Then, turn mixer down to low and begin gradually adding in the flour mixture - occasionally scraping down the sides and bottom
Mix until just incorporated be careful to not over mix
Next, fold in the white chocolate chips and mix together until spread throughout the dough
Then, add the kettle corn and fold throughout the dough
Using a cookie scoop or large spoon place mounds of dough on the prepared cookie sheet about 2 inches a part from each other
Bake at 350*F for 10 minutes
Nutrition Information:
Yield:

40
Serving Size:

1
Amount Per Serving:
Calories:

98
Total Fat:

3g
Saturated Fat:

2g
Trans Fat:

0g
Unsaturated Fat:

1g
Cholesterol:

15mg
Sodium:

68mg
Carbohydrates:

16g
Fiber:

0g
Sugar:

10g
Protein:

1g
The nutritional values above are auto calculated by a nutrition program and can vary based on brands of ingredients used.
This post may contain affiliate links. We are a participant in the Amazon Services LLC Associates Program, an affiliate advertising program designed to provide a means for us to earn fees by linking to Amazon.com and affiliated sites.