Looking for a quick and easy satisfying dessert? Look no further than this Oreo Mug Cake for one. It takes a little over 3 minutes from start to finish!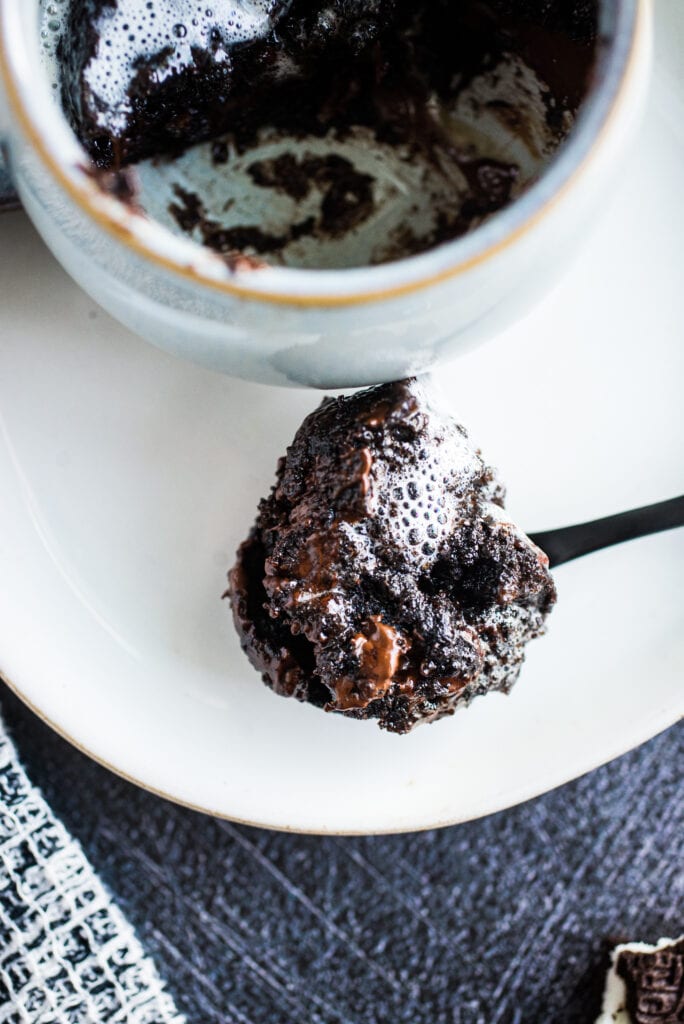 My love for chocolate is a well known fact.. and give me a Chocolate Mug Cake any day. So, I went on a mission to develop a Mug Cake that met all of my favorite things in treats. A little sweet, a hint of salt, and decadent chocolate. Oreos and dark chocolate it was. I went through countless versions trying to find the exact right combination.
You are going to love the light texture, Oreo flavor and the rich decadent dark chocolate spread throughout. The Oreos provide an almost fudgy quality. It is one of my favorite little treats when I need a pick-me-up. 7 ingredients and 3 minutes to perfection!
Ingredients for making this Oreo Mug Cake
Oreo Cookies
Milk
Flour
Baking Powder
Salt
Chocolate Chips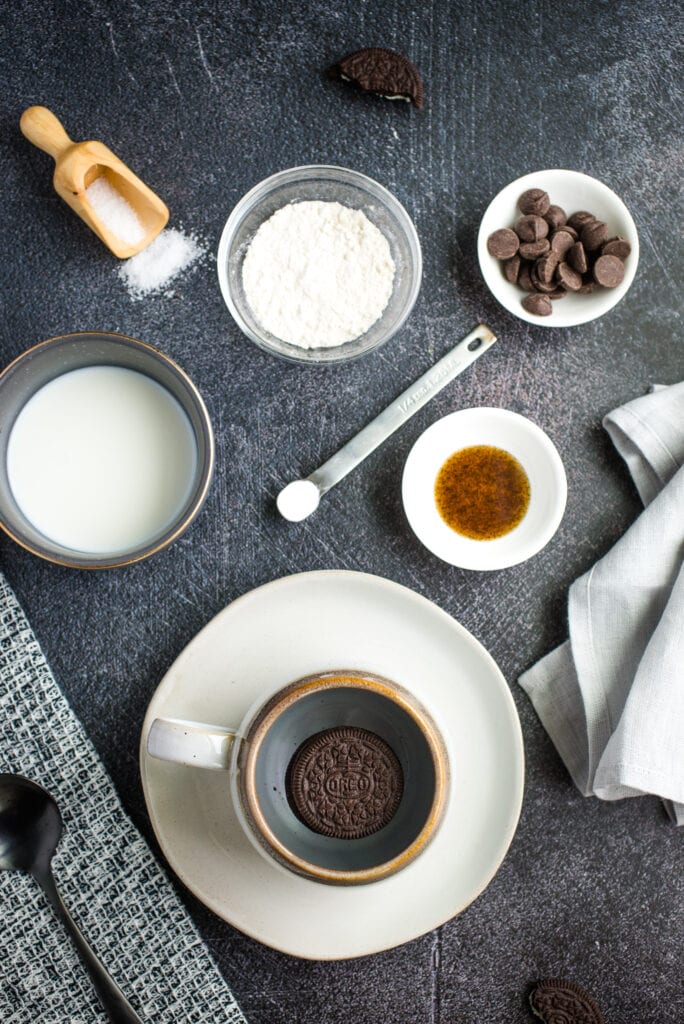 How to make an Oreo Mug Cake
Break up Oreos and add them to a coffee mug
Pour milk on top of cookie and allow to sit for several seconds, then stir to break up the cookies
Combine flour, baking powder, and salt, with batter and stir well
Add vanilla and chocolate chips, stir once more
Microwave for 80-90 seconds
Top with ice cream or whipped cream, if desired and enjoy!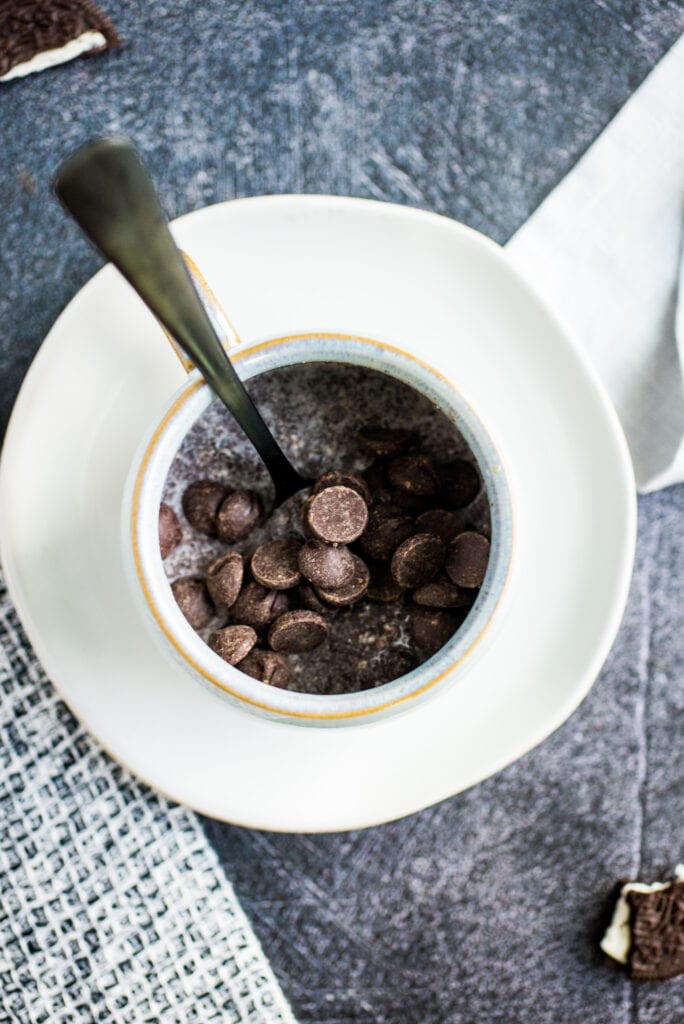 Recipe Additions or Substitutions
I will always and forever be a dark chocolate girl. However, I know that not everyone agrees with me on that. Milk or semi-sweet chocolate chips can be used in place of the dark chocolate wafers.
You can top your cooked mug cake with whipped cream, cool whip, another crushed Oreo or even ice cream. Sometimes I like to top mine off with a little bit of caramel drizzle.
If you really want a treat to knock you off your feet, top it off with a scoop of ice cream and any additional toppings that speak to you. You really can't go wrong!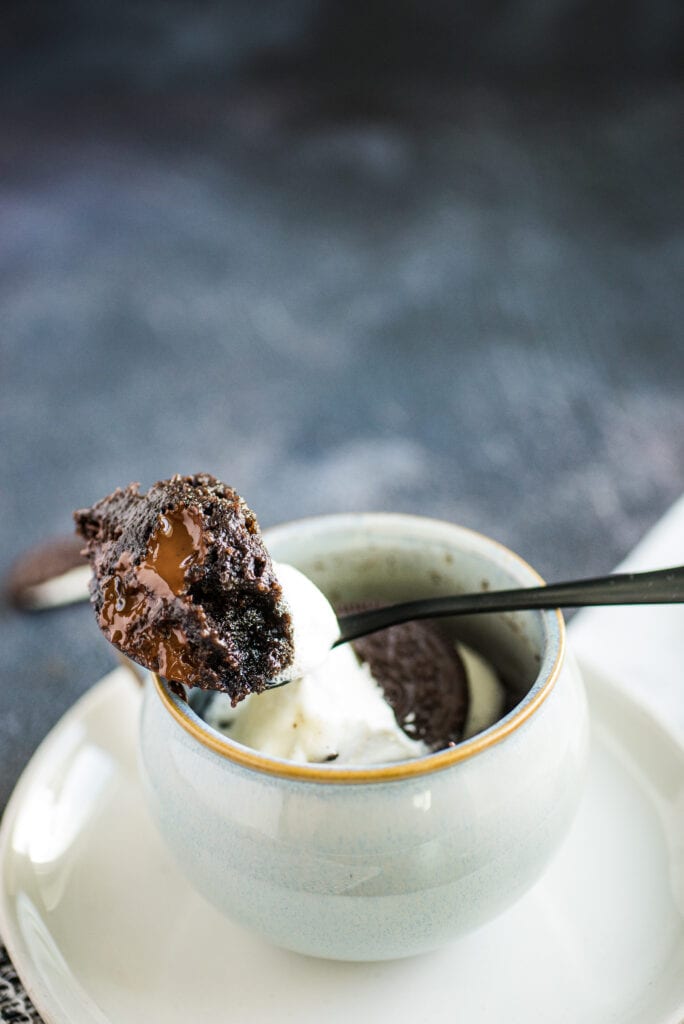 I love this mug cake because it is a quick and easy treat that satisfies my chocolatey sweet tooth. It doesn't get much easier. There are just a few simple ingredients and a couple of minutes of time before you can sink into the couch under a comfy blanket and enjoy this delicious Oreo Mug Cake.
Looking for a refreshing take on a sheet cake? Check out my Key Lime Sheet Cake!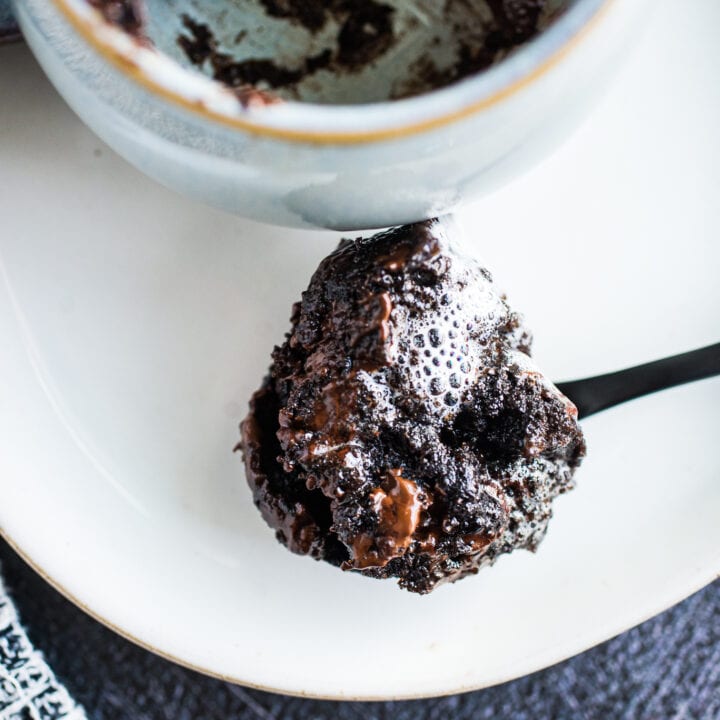 Oreo Mug Cake
Looking for a quick and easy satisfying dessert? Look no further than this Oreo Mug Cake for one. It takes a little over 3 minutes from start to finish! 
Ingredients
4 oreos, crushed
3 tbsp milk
2 tbsp flour
¼ tsp baking powder
½ tsp vanilla
Salt, pinch
1-2 tbsp chocolate chips
Optional: Whipped cream
Instructions
In a coffee mug, add broken oreos and milk. Let sit for 30 seconds. Then continue to creak up the oreos in the mug.
Next, add flour, vanilla, baking power and a pinch of salt and stir to combine.
Finally, add the chocolate chips and stir once more.
Microwave for approximately 80-90 seconds based on the strength of your microwave.
Optional: Once cooked, add whipped cream
Enjoy!
Nutrition Information:
Yield:

1
Serving Size:

1
Amount Per Serving:
Calories:

407
This post may contain affiliate links. We are a participant in the Amazon Services LLC Associates Program, an affiliate advertising program designed to provide a means for us to earn fees by linking to Amazon.com and affiliated sites.