These Cinnamon Apples are simple to make. They are packed with warm comforting spices! They're perfect alone or atop a bowl of ice cream for a delicious dessert!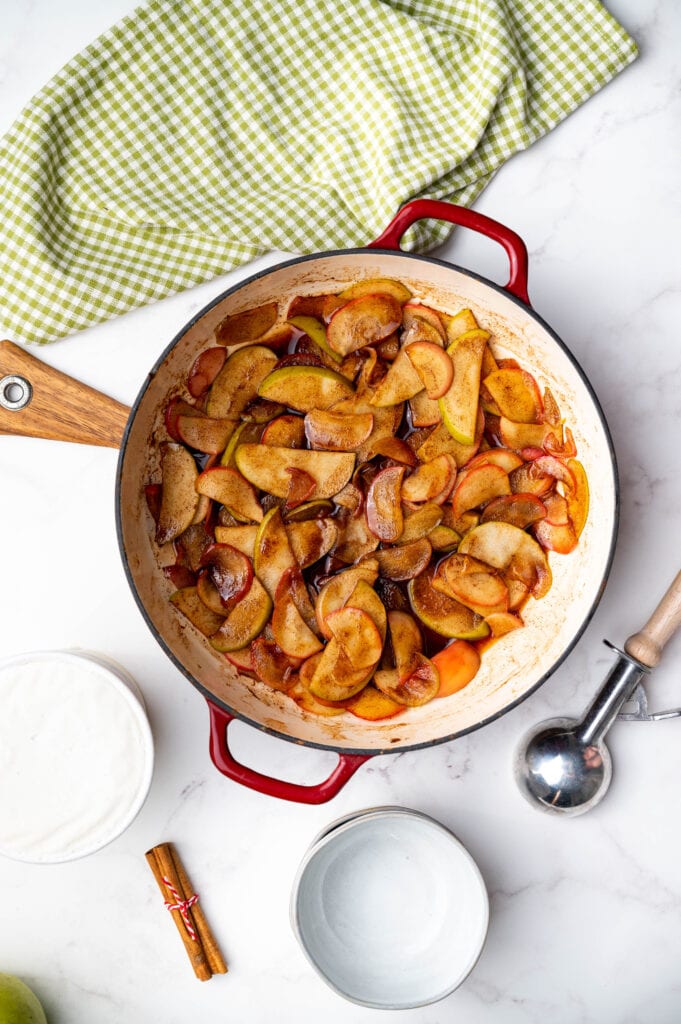 This Cinnamon Apple Recipe is one of our easy favorites and takes less than 20 minutes from beginning to end! It's been a long standing tradition in Rick's family. His mom makes them for him several times a year. I know that they are a total comfort food for him. I've changed a couple of things over the years, they're delicious no matter how you make them!
Ingredients
Combination of sweet and tart apples
Brown Sugar – helps create the dark flavorful syrup
Vanilla Extract – adds depth of flavor
Cinnamon – gives a level of warmth
Butter – i mean… it's butter.
Apple Juice or Fireball Whiskey (if you feel like some adult flavored action!)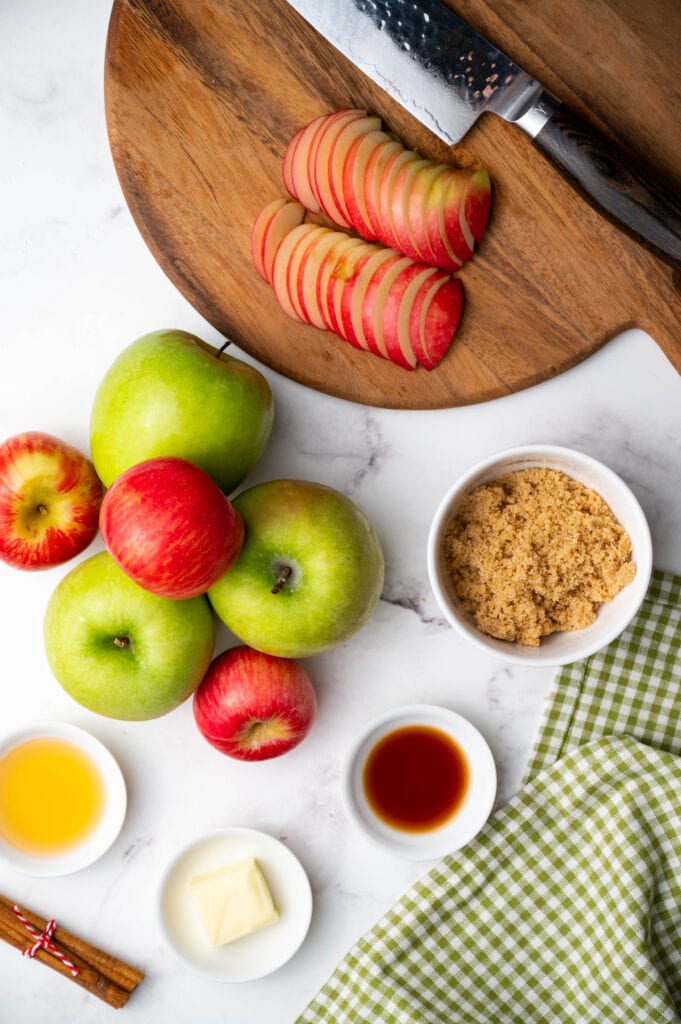 How to make Cinnamon Apples
These take less than 20 minutes from beginning to end!
First, wash all of your apples. Then, slice them thin-ish. If you prefer to remove the skins, feel free to peel them. We like them skin on as the skin gets tender as the cook down. Plus, it's a totally time saver!
You can do this next step one of two ways:
Toss all of the apples and dry ingredients into a ziplock baggie and shake to cover all of the apples, then add to large pan over medium heat.
Add the apples to a large pan and sprinkle the brown sugar and cinnamon over and toss together.
Add the butter to a pan and melt over medium heat. Then, add vanilla extract and apple juice or Fireball Whiskey as you choose. I use Fireball for a little extra kick. Cook for about 10-12 minutes until the apples are soft and you are left with a nice cinnamon syrup in the pan. Turn off stove and allow to cool for a few minutes before serving.
NOTE: The alcohol in the Fireball burns off while the apples are cooking down.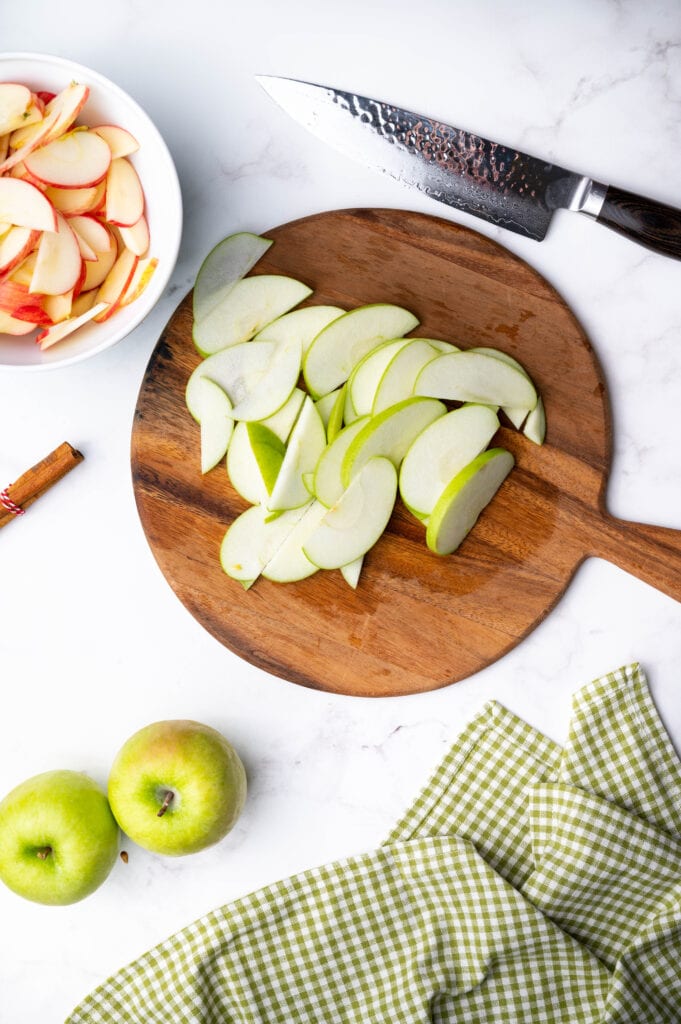 Ideas for using Cinnamon Apples
Served by themselves: This is a perfectly acceptable way to enjoy these Cinnamon Apples. Sometimes we just walk by the pan and pick a piece of apple out!
Over ice cream: Again, you cannot go wrong. Add a spoonful of apples to a scoop of vanilla ice cream and drizzle some cinnamon syrup over the top!
If you are looking for a savory option: Adding these to the top of baked pork chops are a really great way to go as well!
In these Fried Apple Pies or Apple Pie Bars
As the filling in an Apple Dump Cake: Double this Cinnamon Apple recipe and then use this as the filling in a dump cake. It's wildly easy to make! In a 9×13 baking dish, add the cooked apples to the bottom of the dish. Sprinkle a box of Vanilla or Yellow cake mix – using the dry mix only – over the apples. Then thinly slice 1 1/2 sticks of butter and place the butter over the top of the dry mix and bake at 350*F for 45 minutes until top of cake is light golden brown. Allow to cool down some, serve with vanilla ice cream and a healthy drizzle of caramel sauce to set it off!
There are so many other ways to enjoy these – you really can't go wrong! Use these Cinnamon Apples as a topping for cakes or in a galette! Want to amp it up even more?! Top it off with a drizzle of Maple Syrup to really bring in those Fall flavors!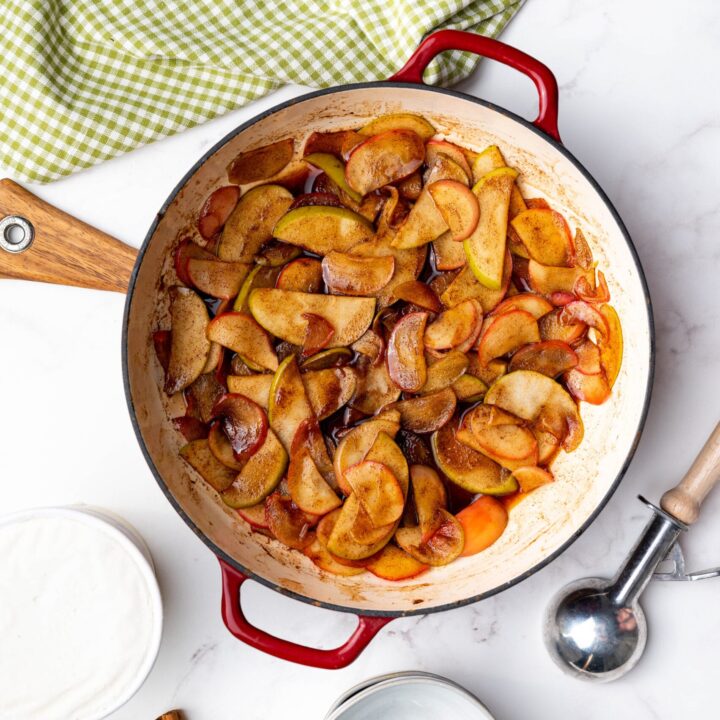 How to make Cinnamon Apples
Cinnamon Apples are simple to make. They are packed with warm flavors! They're perfect alone or top a bowl of ice cream for a delicious dessert!
Ingredients
2 pounds apple (Granny Smith & Honey Crisp)
2 tablespoon butter
1 teaspoon ground cinnamon
1/2 cup packed brown sugar
2 teaspoons vanilla extract
2 tablespoons Apple Juice or Fireball Whiskey
Instructions
Clean, peel (if desired), and thinly slice apples
Toss sliced apples with cinnamon and brown sugar
Melt butter in a large pan over medium heat
Add apples to pan and stir to combine with melted butter
Allow to cook down for 5 minutes
Add vanilla and apple juice (or Fireball) and stir to mix with apples
Cook for another 10 minutes or until apples are soft
Allow to cool for several minutes before serving
Nutrition Information:
Yield:

6 servings
Serving Size:

1
Amount Per Serving:
Calories:

196
Total Fat:

4g
Saturated Fat:

2g
Trans Fat:

0g
Unsaturated Fat:

1g
Cholesterol:

10mg
Sodium:

37mg
Carbohydrates:

39g
Fiber:

4g
Sugar:

33g
Protein:

0g
The nutritional values above are auto calculated by a nutrition program and can vary based on brands of ingredients used.
This post may contain affiliate links. We are a participant in the Amazon Services LLC Associates Program, an affiliate advertising program designed to provide a means for us to earn fees by linking to Amazon.com and affiliated sites.