This Easy Pesto Risotto is filled with bright flavors, Langostino or Shrimp (your choice!), asparagus, and roasted cherry tomatoes! PLUS, it can be on your table in 30 minutes!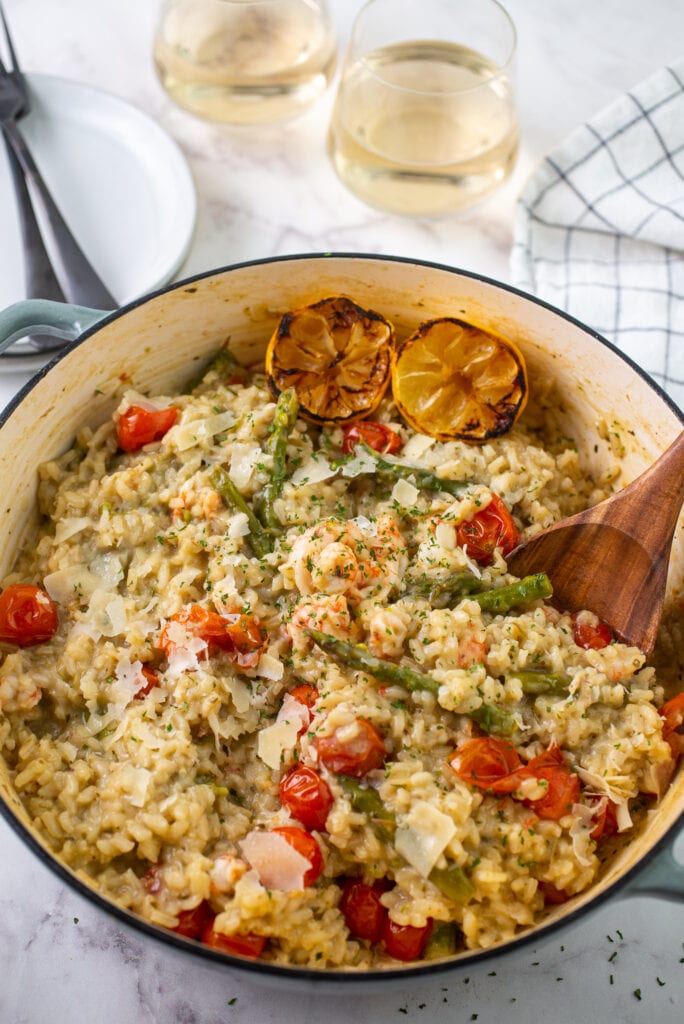 What is Risotto?
Risotto is a creamy Italian Rice dish. It is often confused with being pasta, but it is in fact rice. Many people are intimidated by the thought of making Risotto, however, I will tell you it's really easy – it takes just a little patience.
Unlike traditional rice, Risotto is slow cooked by adding roughly a 1/2 cup of stock at a time. This process allows each grain to release their starches thus creating a rich velvety texture – making this Pesto Risotto a decadent comforting meal. This process takes about 30 minutes from beginning to end.
Ingredients to make this Easy Pesto Risotto
Olive Oil
Arborio Rice
White Wine
Shallot
Cherry Tomatoes
Langostino or Shrimp
Salt
Pepper
Chicken Stock
Pre made Pesto
Garlic
Lemon Juice
Asparagus
Pecorino Romano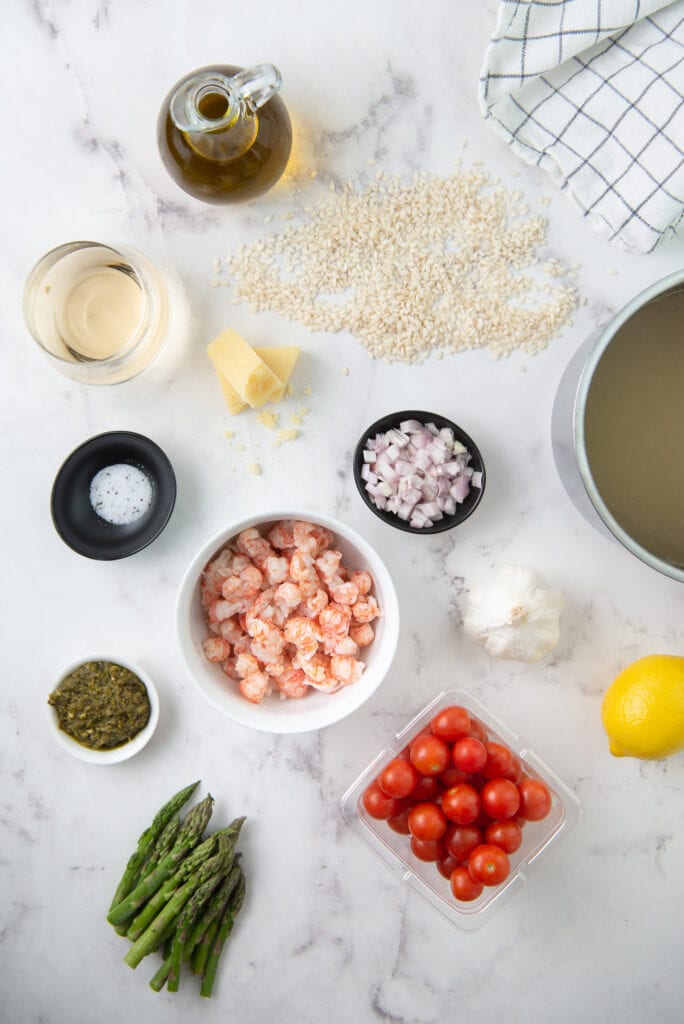 How to make this Easy Pesto Risotto
Garlic Roasted Cherry Tomatoes: Toss cherry tomatoes, olive oil, and garlic together in a bowl. Pour the tomatoes on a cookie sheet and bake at 450*F for roughly 12-15 minutes or until the skin on the tomatoes starts to break.
Chicken or Vegetable Stock: In a large saucepan over Medium-High, bring stock to a simmer. Turn down to Medium-Low.
Risotto: In a Dutch Oven, heat olive oil and cook shallots until soft. Next, add rice and garlic and cook for 2 minutes. Then, add white wine and allow liquid to absorb.
Next, this is where patience comes into play. These next steps of adding the stock cannot be rushed. Begin adding 1/2 cup of stock at a time – frequently stirring until all the liquid has been absorbed. Repeat this process until all liquid has been added.
Depending on how you like your asparagus there are two options here. If you prefer an al dente bite to your asparagus, add the asparagus after half of the stock has been added to the rice. If you prefer a softer asparagus, add the asparagus after 1 cup of stock has been added.
During the last 1/2 cup addition, add the langostino or shrimp, cherry tomatoes, pesto. Once the last 1/2 cup has just barely been absorbed, add the grated cheese and lemon juice and quickly stir together. Serve immediately.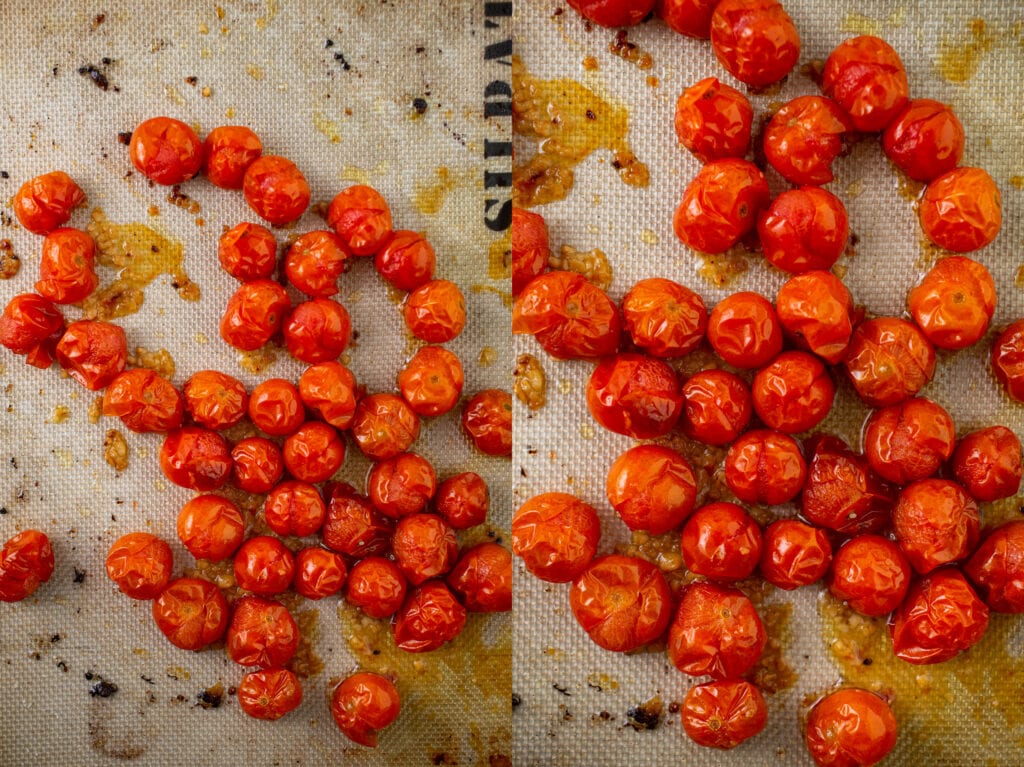 How to reheat leftovers
This Easy Pesto Risotto is best served immediately after cooking. The longer it sits, the more the sauce sets. That is not to say that you cannot enjoy it the next day. When you heat it up, you can add a couple of tablespoons of stock to the dish to help break down the starch again.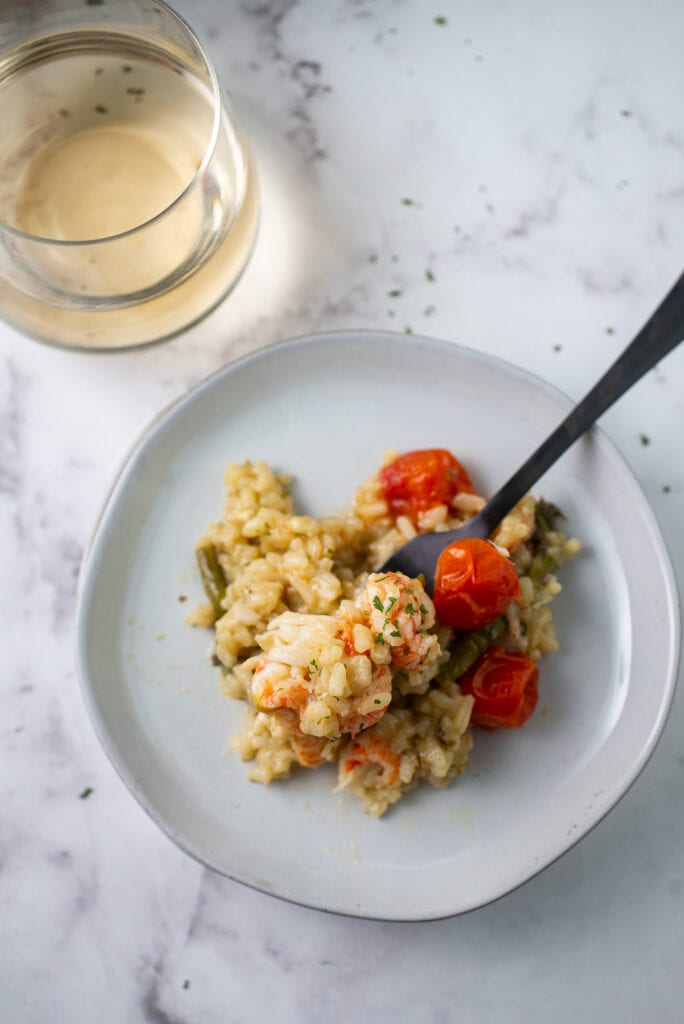 Recipe Alternatives
One of my favorite things about risotto is its versatility. The base of the recipe is pretty much the same at all times. Arborio Rice, Wine, Stock.
Protein: For this particular recipe, switch out the protein with cubed chicken – don't forget to season with salt and/or pepper before cooking! It will need to cook longer. I would suggest cooking it before starting the risotto to ensure it is cooked through.
Vegetarian: This can easily be made into a vegetarian meal by excluding the meat and using vegetable stock.
Mushrooms: pair very well with risotto recipes – I personally prefer portobello mushrooms for Risotto.
Appetizers: Another delicious recipe to make are Arancini Balls – they're fried risotto balls – delish!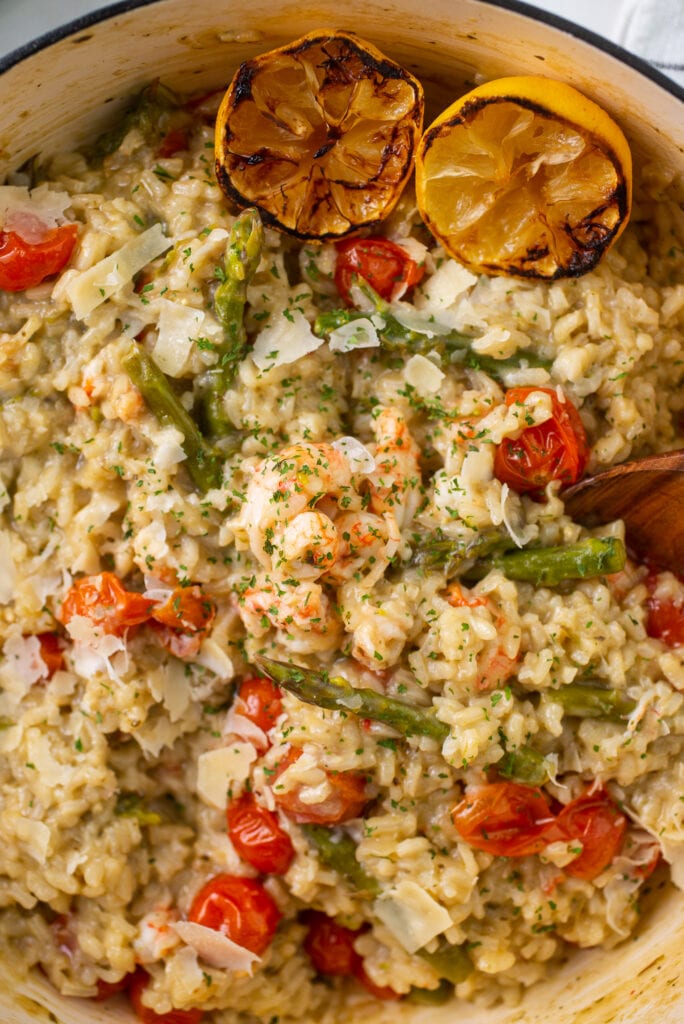 Risotto is typically considered a special occasion dish, but I'm hoping I can change your mind! This Easy Pesto Risotto is packed with flavor, it's a total crowd pleaser, and is super versatile based on your taste! It's one of our favorites especially paired with some fresh homemade Focaccia! I hope you enjoy!
Looking for another easy dinner in 30 minutes or less? You have to try this Creamy Cajun Chicken Pasta or this Balsamic Steak Salad with Fried Goat Cheese!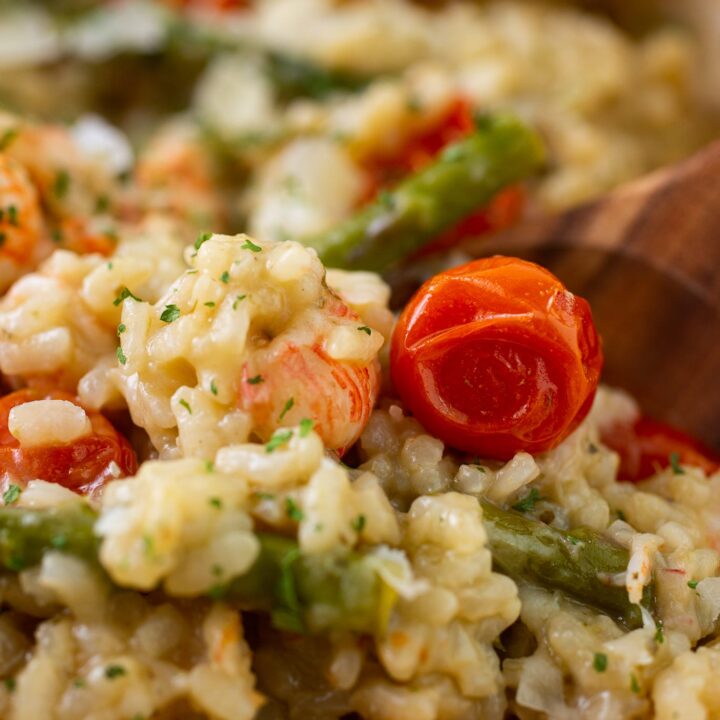 White Wine Pesto Risotto
This Easy Pesto Risotto is filled with bright flavors, Langostino or Shrimp (your choice!), asparagus, and roasted cherry tomatoes! PLUS, it can be on your table in 30 minutes!
Ingredients
Roasted Garlic Tomatoes
2 Tbsp olive oil
2 garlic cloves, minced
1/2 tsp salt
1/4 tsp cracked black pepper
8 ounces cherry tomatoes
Pesto Risotto
2 Tbsp olive oil, divided
3 shallots, rough chopped
2 garlic cloves, minced
Salt, to taste
Cracked Black Pepper, to taste
1 cup Arborio rice
1/2 c. dry white wine - like Sauvignon Blanc or Pinot Grigio
4 cups Chicken or Vegetable
8 ounces asparagus, rough chopped & ends removed
1 pound Langostino or Shrimp, cleaned and deveined
Juice of one Lemon
1/2 cup Pecorino Romano cheese, grated
Instructions
Preheat oven to 450*F
Rinse cherry tomatoes and dry off
In a medium bowl, combine the cherry tomatoes, 2 tbsp of garlic and 2 tbsp of olive oil and toss together
Line a cookie sheet with aluminum foil OR a Silpat and add tomatoes to sheet
Once oven is preheated, roast tomatoes for roughly 12-15 minutes until tomato begins to break
Next, in a large saucepan, add chicken stock and begin to heat over medium-high heat
When the stock begins to simmer, turn heat to low
In a Dutch Oven or a heavy bottomed pot, heat oil over medium heat
Add shallots and cook until tender - making sure not to let burn
Then, add rice and garlic - cook for another 2 minutes, stirring frequently
Pour wine into pot and deglaze - allowing the wine to completely absorb
Next, reduce heat to medium-low and add 1/2 cup of stock
Stir frequently until all stock is absorbed
Repeat adding 1/2 cup at a time - stirring frequently ensuring that all liquid is absorbed between each addition
Once half of the stock has been added, toss in the cut asparagus pieces - (please see note below for asparagus)
During the last 1/2 cup addition of stock, add the cherry tomatoes, pesto and the Langostino or Shrimp
Once the final 1/2 cup of liquid is just absorbed, add the Pecorino Romano cheese and juice of a lemon and quickly stir together
Serve immediately
Notes
If you prefer asparagus on the softer side, add the asparagus to the risotto after 1 cup of stock has been absorbed into the dish.
If you are adding the asparagus midway through, this will allow the asparagus to still have a little bite to it.
Nutrition Information:
Yield:

6
Serving Size:

1
Amount Per Serving:
Calories:

661
Total Fat:

32g
Saturated Fat:

8g
Trans Fat:

0g
Unsaturated Fat:

21g
Cholesterol:

259mg
Sodium:

1482mg
Carbohydrates:

33g
Fiber:

3g
Sugar:

6g
Protein:

48g
The nutritional values above are auto calculated by a nutrition program and can vary based on brands of ingredients used.
This post may contain affiliate links. We are a participant in the Amazon Services LLC Associates Program, an affiliate advertising program designed to provide a means for us to earn fees by linking to Amazon.com and affiliated sites.