Ramp up your salad game with this Balsamic Steak Salad & Fried Goat Cheese! Loaded with fruit and veggies topped with delicious flavorful steak and bursts of crispy goat cheese.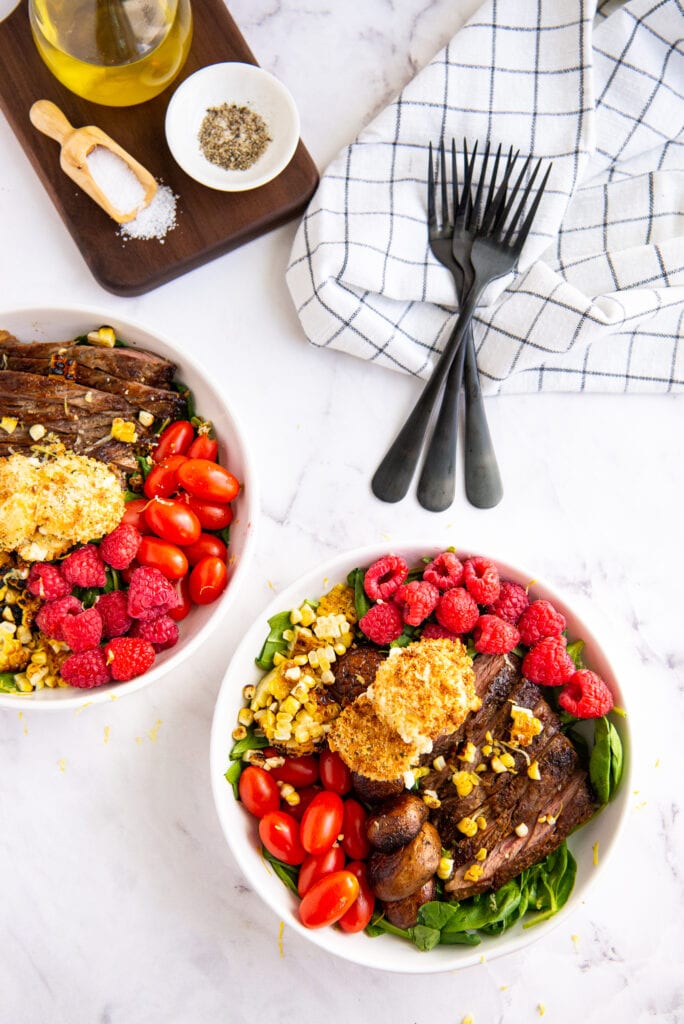 I've been making this salad for years. It has gone through several iterations over the years. But, I will tell you what, Rick is not a big salad guy. However, he LOVES this Balsamic Steak Salad. Whenever we have this for dinner, it feels a little fancy. Plus, sometimes we need a little extra fruits and veggies in our lives!
I've recently started making it with Fried Goat Cheese in our AirFryer and let me tell you what… it just kicks it up that extra notch! I love that extra crunchy bite!
What kind of steak can be used?
Really any steak can be used. I typically lean toward a flank steak for this salad. It cooks a little quicker which means it gets on the table faster. However, I've also made with other cuts of beef and they're all equally delicious.
Ingredients for Balsamic Steak Salad
Flank Steak
Baby Spinach
Raspberries
Mushrooms
Corn on the Cob
Cherry Tomatoes
Lemon
Balsamic Reduction
Kosher Salt
Fresh Cracked Black Pepper
Oil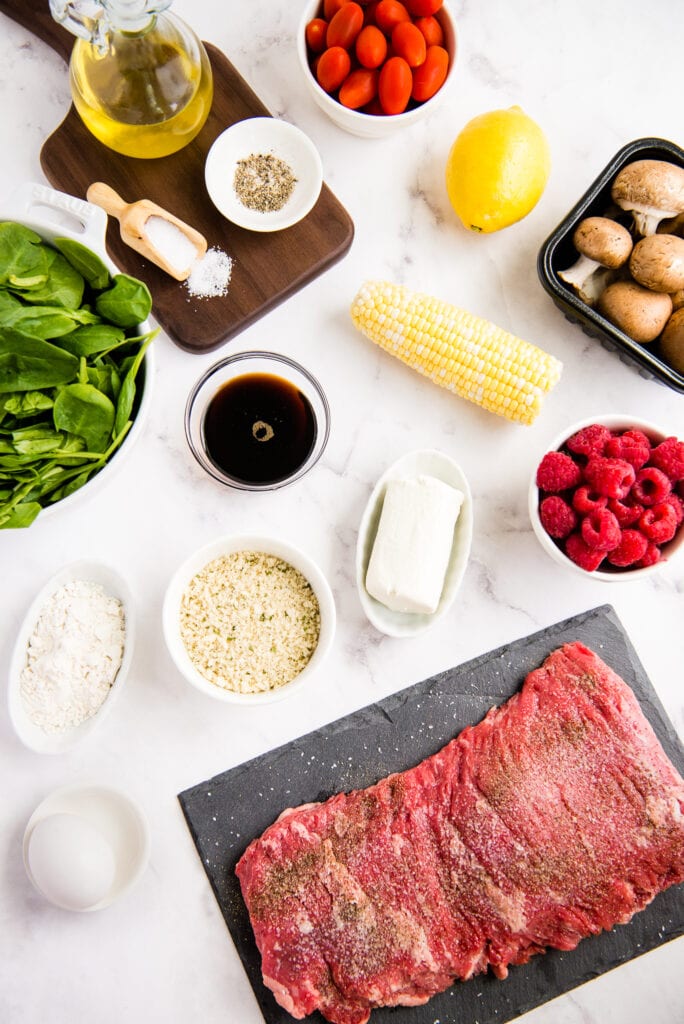 How to prepare the steak
I typically take the steak out of the fridge about 30 minutes before cooking it. This allows the steak to warm up a little bit which means you get a more even sear on the steak. We also like a nice crust on our steak, so I make sure to put a nice layer of kosher salt and some fresh cracked black pepper.
I cook our steak in a cast iron skillet. It imparts an incredible crust and awesome flavor. It is important to allow your skillet to heat up, add your oil and allow it to heat up for a few seconds, then add your steak. Everyone has their own preference on how they like their steak cooked. You will need to take the thickness of the steak into consideration in relation to cooking time.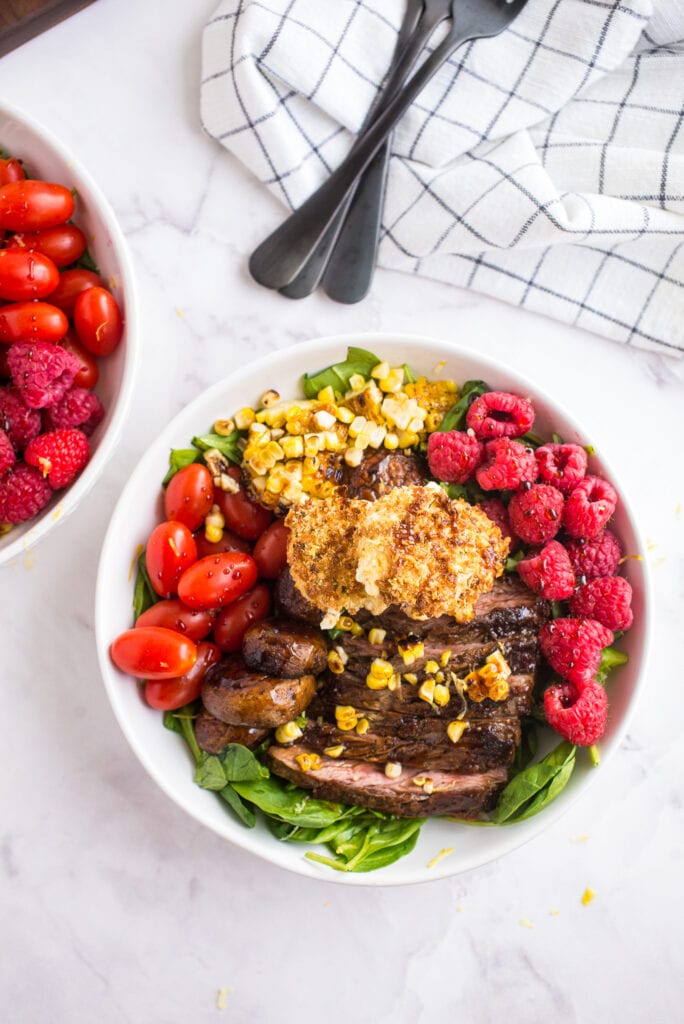 Ingredients for Fried Goat Cheese
Goat Cheese (any flavor will work just fine – I like honey)
Seasoned Panko Bread Crumbs
Egg
Flour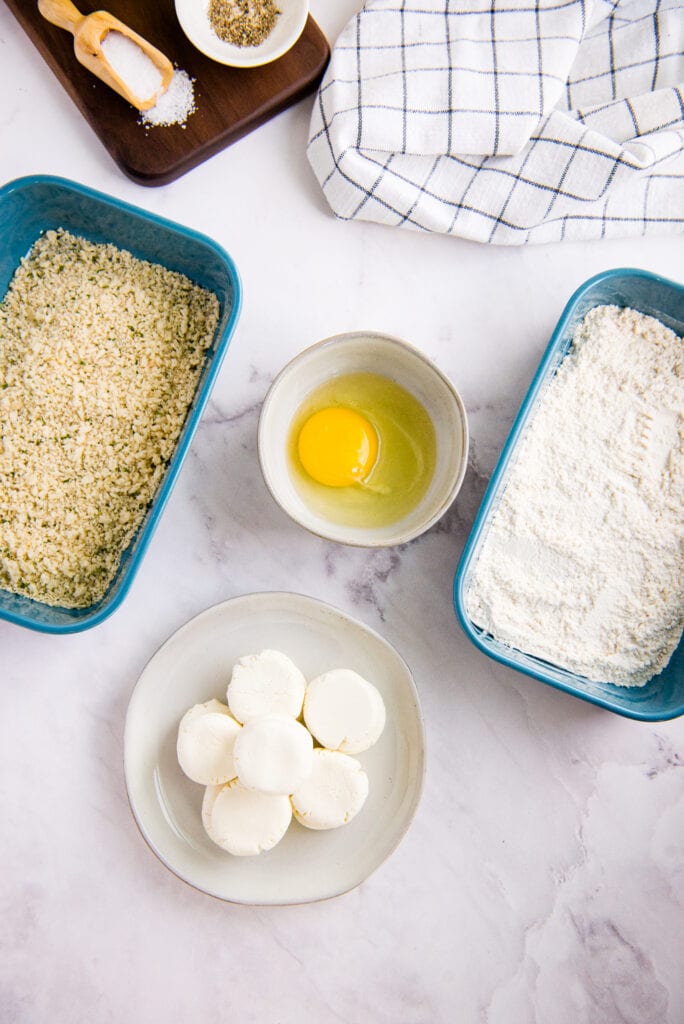 How to make Fried Goat Cheese
I make these in our AirFryer. I love that thing. It saves a little oil, some calories and fat from our diets. First, take your goat cheese out of the fridge and let it sit for 10 minutes. Next, put the cheese log into a bowl and crumbled. Gather roughly 2 tablespoons of cheese and roll into balls. Place on a cookie sheet with parchment paper and sit in freezer for 20 minutes.
Once out of the freezer, dredge each ball in flour, then move to the egg wash, the cover in panko. Once all balls are coated, line them on the bottom of your air fryer basket. Set temperature to 390*F for 6 minutes.
Quick tip: beforehand run your hands under water to make it easier to help roll the cheese into balls.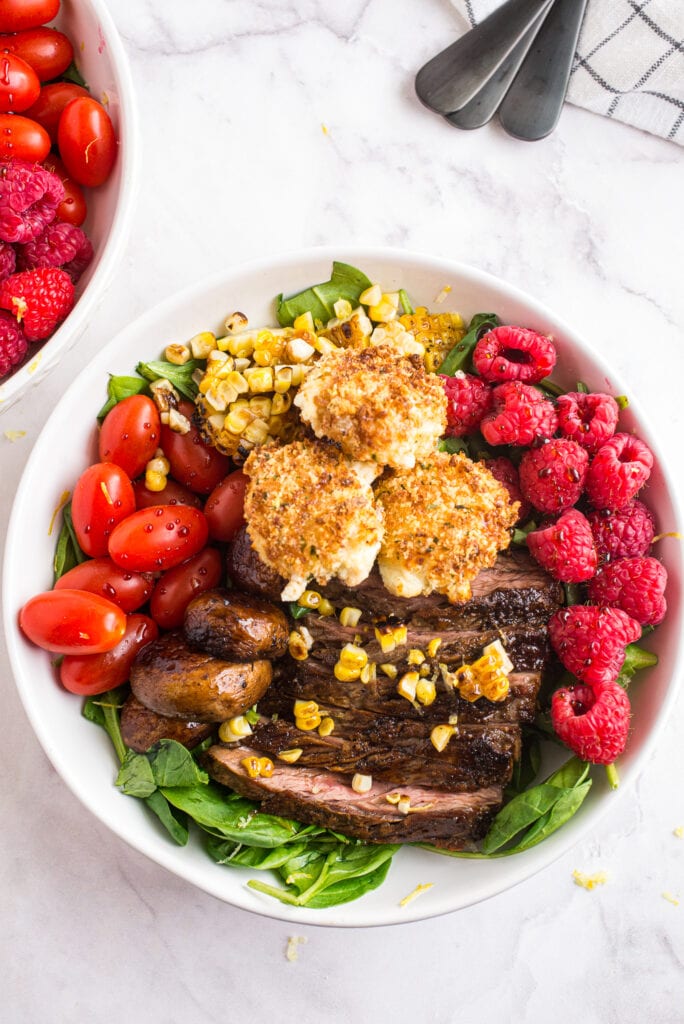 This is one of those meals that hits all the right buttons. It's savory and a teeny bit sweet. But, there is something about the combination of these flavors that just warms your heart. When my husband scarfs it down looking for seconds, I know I've hit a home run. This is our favorite way to jazz up our salads. I know you'll love it too!
This Balsamic Steak Salad pairs well with these Blackberry Margaritas!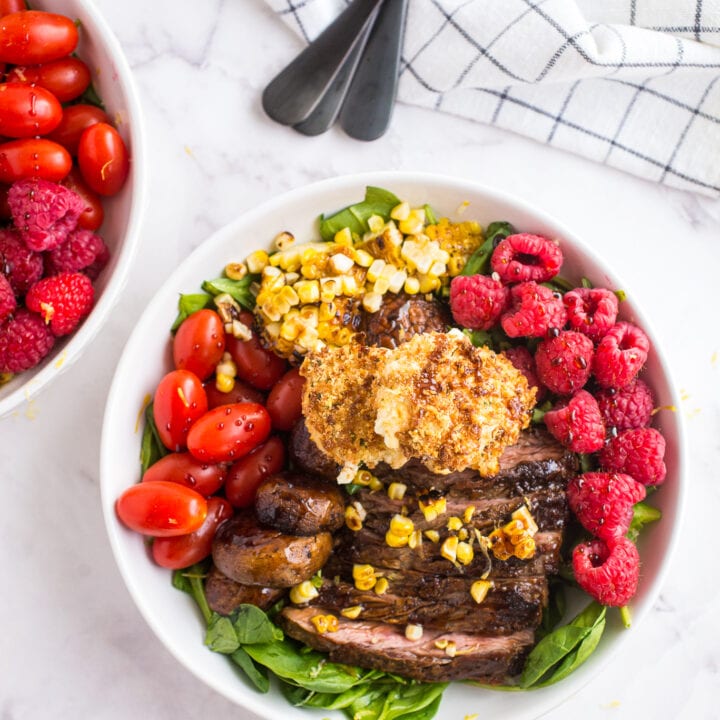 Balsamic Steak Salad & Fried Goat Cheese
Ramp up your game with this Balsamic Steak Salad & Fried Goat Cheese! Loaded with fruit and veggies topped with delicious flavorful steak and crispy bursts of goat cheese.
Ingredients
1 pound Flank Steak
1 tablespoon + 2 teaspoons oil
4 cups Fresh Baby Spinach
1 cup Raspberries
2 ears Corn on the Cob
8 ounces Button Mushrooms
1 cup Cherry Tomatoes
8 tablespoons Balsamic Reduction, divided
8 ounces Goat Cheese
3 tablespoons flour
1 egg, beaten
1/2 cup Seasoned Panko Breadcrumbs
Lemon Zest
Kosher Salt, to taste
Fresh Cracked Black Pepper, to taste
Instructions
Take steak and goat cheese out of the fridge 30 minutes
before cooking
Meanwhile wash all fruit and vegetables and dry off
thoroughly
Add goat cheese logs to bowl and crumble
Using a tablespoon, gather 2 tablespoons of goat cheese and
roll into balls
Place balls on a cookie sheet prepared with parchment paper
or a silpat, freeze for 20 minutes
Meanwhile, season both sides of teak generously with kosher
salt and fresh cracked black pepper
Heat a heavy bottomed skillet (preferably a cast iron) until
hot, add one tablespoon of oil and allow to heat up.
Add steak and cook for roughly 5.5-6 minutes per side (or
until desired doneness)
While steak is cooking, add the cobs of corn to another
skillet with 2 teaspoons of oil and cook until tender – periodically rolling the cobs around so all
side are evenly cooked
Once fully cooked, cut the kernels off the cob
Remove steak from heat, tent under aluminum foil until ready
to serve
Add the mushrooms to the steak pan and cook for several
minutes until brown
Next, take the goat cheese out of the freezer
Place each of the following in a bowl: flour, egg, and panko
Dredge each ball in flour, then the egg wash, the cover in panko
Place on the bottom of the air fryer pan on an even layer
Cook at 390* for 6 minutes
Slice steak into strips and divide all ingredients evenly between
4 bowls or plates
Top with Air Fried Goat Cheese
Drizzle each salad with 2 tablespoons Balsamic Reduction



Notes
I like to use honey goat cheese for this recipe. If you do not like goat cheese, you can substitute crumbled blue cheese or gorgonzola. You would not need to fry the cheese in this instance.
Nutrition Information:
Yield:

4
Serving Size:

1
Amount Per Serving:
Calories:

647
Total Fat:

27g
Saturated Fat:

13g
Trans Fat:

0g
Unsaturated Fat:

11g
Cholesterol:

162mg
Sodium:

724mg
Carbohydrates:

51g
Fiber:

6g
Sugar:

25g
Protein:

50g
The nutritional values above are auto calculated by a nutrition program and can vary based on brands of ingredients used.
This post may contain affiliate links. We are a participant in the Amazon Services LLC Associates Program, an affiliate advertising program designed to provide a means for us to earn fees by linking to Amazon.com and affiliated sites.